Aproximación de la dinámica poblacional de los microorganismos en diferentes sustratos empleados en el cultivo de rosa (Rosa spp. var. Charlotte) en la Sabana de Bogotá
Abstract
La identificación y estudio de la dinámica poblacional de los microorganismos permite reconocer y determinar sus cambios físicos o estructurales en una unidad de tiempo y espacio. En el caso de la rosa, son pocos los estudios que detallan esta información. Esta investigación evaluó la dinámica poblacional de los microorganismos (hongos y bacterias) en un cultivo experimental de rosa var. Charlotte ya establecido en la Sabana de Bogotá y dispuesto en cinco sustratos (suelo 100%, cascarilla de arroz 100%, mezcla de cascarilla de arroz y fibra de coco 65:35% (v/v), mezcla de cascarilla de arroz y fibra de coco 35:65% (v/v) y fibra de coco 100%) en un sistema con recircularización de nutrientes. Se realizaron dos muestreos con un mes de diferencia y las muestras de los sustratos fueron analizadas en el laboratorio, donde se caracterizaron e identificaron los microorganismos presentes. Se hicieron conteos a las 24 y 48 horas después de siembra en tres medios de cultivo (PDA, AN y D1M). Los resultados de la dinámica poblacional entre los dos muestreos determinaron una mayor actividad de hongos y bacterias en el segundo muestreo, indicando que los microorganismos cambian su actividad y en algunos casos la presencia o ausencia de ciertos géneros teniendo como variable el tiempo, siendo en el caso de los hongos los géneros Mucor y Cladosporium, los que mayor ocurrencia tuvieron en todos los tratamientos.
Downloads
Download data is not yet available.
References
Agrios, G. 2005. Plant pathology. 5th ed. Elsevier Academic Press, New York, NY.
Asocolflores. 2003. Asociación Colombiana de Exportadores de Flores. Boletín 176, Bogotá.
Asocolflores. 2007. Estadísticas 2007: Floricultura Colombiana. En: Asocolflores, http://www.asocolflores.org/asocolflores/servlet/Download?idExternalFile=236&name=HOJA-DATOS-2008-7.pdf. 4
p.; consulta: mayo de 2008.
Barnett, H.L. y B.B. Hunter. 1998. Illustrated genera of imperfect fungi. 4th ed. American Phytopathological Society, New York, NY.
Blaine, F. 1992. Soil microbial ecology: applications in agricultural and environmental management. Marcel Dekker, New York, NY.
Bergey, D.H. 1984. Bergey's manual of systematic bacteriology. Williams and Wilkins, Baltimore, MD.
Buyer, J.S.; D.P. Roberts y E. Russek-Cohen. 1999. Microbial community structure and function in the spermosphere as affected by soil and seed type. Can. J. Microbiol. 48(11), 955-964.
Cattelan, A.J.; P.G. Hartel y J.J. Fuhrmann. 1998. Bacterial composition in the rhizosphere of nodulating and non-nodulating soybean. Soil Sci. Soc. Amer. J. 62(6), 1549-1555.
Chave, M., P. Dabert, R. Brun, J.J. Godon y C. Poncet. 2008. Dynamics of rhizoplane bacterial communities subjected to physicochemical treatments in hydroponic crops. Crop Prot. 27(3), 418-426.
Damastri, C.; L. Chiarini; C. Cantale; A. Bevivno y S. Tabacchioni. 1999. Soil type and maize cultivar affect the genetic diversity of maize-associated Burkholderia cepacia populations. Microb. Ecol. 38(3), 273-284.
Dubey, S.K.; A.K. Tripathi y S.N. Upadhyay. 2006. Exploration of soil bacterial communities for their potential as bioresource. Biores. Technol. 97(17), 2217-2224.
Ezziyyani, M.; C. Pérez; A.S. Ahmed; M.E. Requena y M.E. Candela. Trichoderma harzianum como biofungicida para el biocontrol de Phytophthora capsici en plantas de pimiento (Capsicum annuum L.). Anales de Biología 26(1), 35-45.
Fernández-Larrea, O. 2001. Microorganismos antagonistas para el control fitosanitario. Man. Integr. Plag. 62(2), 96-100.
Ferrera-Cerrato, R. 2007. Microbiología agrícola. Trillas, México D.F.
Gomes, N.; O. Fagbola; R. Costa; N. Rumjanek; A. Buchner; L. Mendona-Hagler y K. Smalla. 2003. Dynamics of fungal communities in bulk and maize rhizosphere soil in the tropics. Appl. Environ. Microbiol. 69(7), 3758-3766.
Grayston, S.J.; S. Wang; C.D. Campbell y A.C. Edwards. 1998. Selective influence of plant species on microbial diversity in the rhizosphere. Soil Biol. Biochem. 30(3), 369-378.
Marschner, P.; C. Yang; R. Lieberei y D.E. Crowley. 2001. Soil and plant specific effects on bacterial community composition in the rhizosphere. Soil Biol. Biochem. 33(11), 1437-1445.
Miethling, R.; G. Wieland; H. Backhaus y C.C. Tebbe. 2000. Variation of microbial rhizosphere communities in response to crop species, soil origin, and inoculation with Sinorhizobium meliloti L33. Microb. Ecol. 40(1), 43-56.
Pizano, M. 2000. Clavel. Ediciones HortiTecnia, Bogotá.
Olalde, V. y L.I. Aguilera. 1998. Microorganismos y biodiversidad. Terra Latinoamericana 16(3), 289-292.
Steijl, H., G.J. Niemann y J.J. Boon. 1999. Changes in chemical composition related to fungal infection and induced resistance in carnation and radish investigated by pyrolysis mass spectrometry. Physiol. Mol. Plant Pathol. 55(5), 297-311.
Smith, I. 1992. Manual de enfermedades de las plantas. Ediciones Mundi-Prensa, Madrid.
Wild, A. 1989. Condiciones del suelo y desarrollo de las plantas según Russel. Ediciones Mundi-Prensa, Madrid.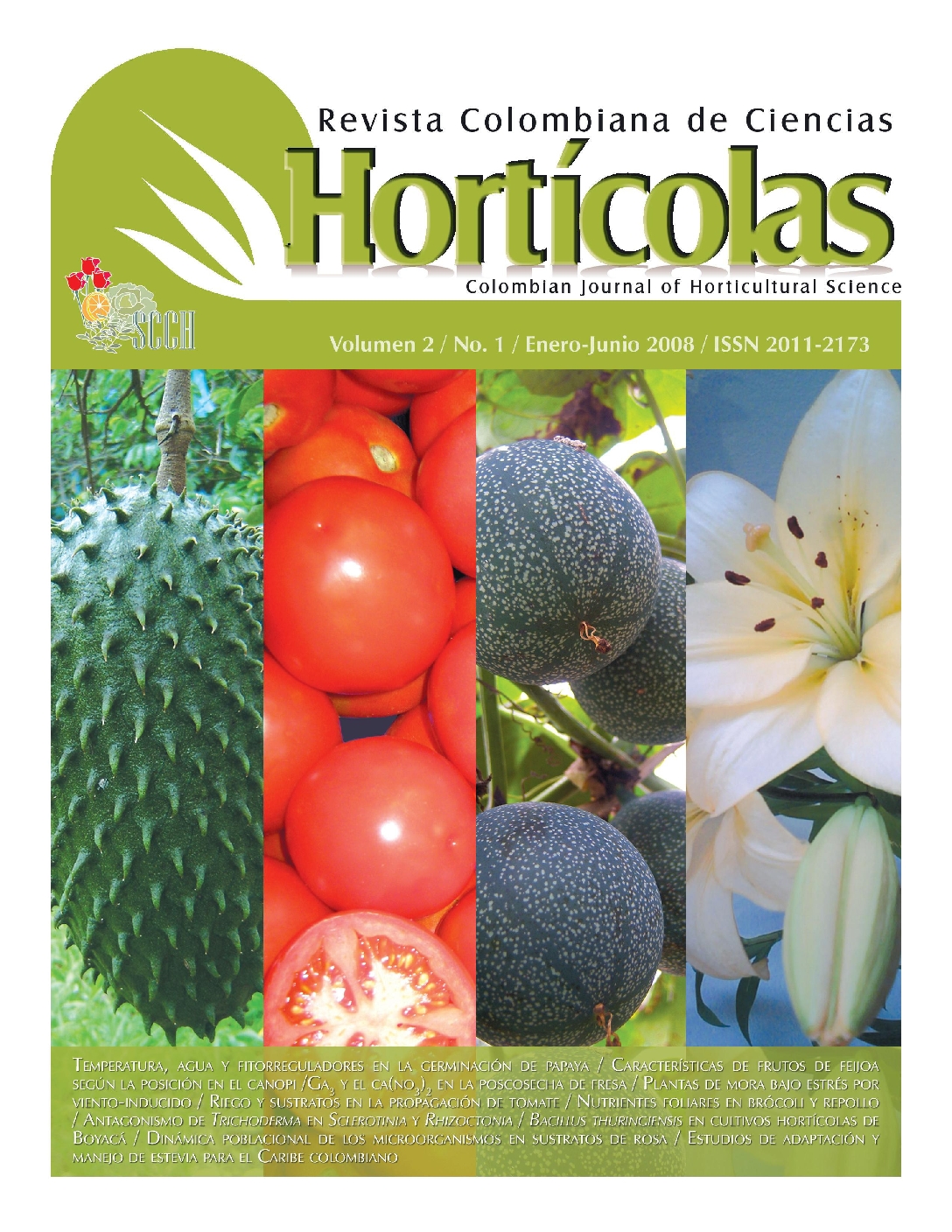 Downloads
How to Cite
Alfonso, M., Coca, A., Ramírez, W., & Hoyos-Carvajal, L. (2011). Aproximación de la dinámica poblacional de los microorganismos en diferentes sustratos empleados en el cultivo de rosa (Rosa spp. var. Charlotte) en la Sabana de Bogotá. Revista Colombiana De Ciencias Hortícolas, 2(1), 98–108. https://doi.org/10.17584/rcch.2008v2i1.1178
Section
Ornamental section
License
The copyright of the articles and illustrations are the property of the Revista Colombiana de Ciencias Hortícolas. The editors authorize the use of the contents under the Creative Commons license Attribution-Noncommercial-ShareAlike 4.0 International (CC BY-NC-SA 4.0). The correct citation of the content must explicitly register the name of the journal, name (s) of the author (s), year, title of the article, volume, number, page of the article and DOI. Written permission is required from publishers to publish more than a short summary of the text or figures.