Análisis financiero del sistema de producción cafetalera en seis municipios de la provincia de Vélez (Santander, Colombia).
Downloads
Download data is not yet available.
References
Aguilar, L. 2003. Crisis del café y el desarrollo regional. Cuadernos de Economía (22)38, 239-272.
Cámara de Comercio de Bucaramanga. 2009. Indicadores económicos. En: http: //www.camaradirecta.com;
consulta: mayo de 2010.
Cenicafé. 2006. Anuario meteorológico cafetero. En: Centro Nacional de Investigación de café. En: http: www.cenicafe.org. 564 p.; consulta: marzo de 2010.
Federación Nacional de Cafeteros de Colombia. 2010. Sistema de Información Cafetera. Encuesta Nacional Cafetera SICA. Estadísticas Cafeteras. Disponible online en: http://www.federacion d e c a f e t e r o s . o r g / c a f i c u l t o r e s / e s /s e r v i c i o s _ p a r a _ e l _ c a f e t e r o / sistema_de_informacion_sica; consulta: octubre de 2010.
Geilfus, F. 1997. 80 herramientas para el desarrollo participativo: Diagnóstico, planificación, monitoreo y evaluación. Instituto Interamericano de Cooperación para la Agricultura, San Salvador, El Salvador.
González, W. 2009. Educación y entorno en la Ingeniería Agronómica. Facultad de Ciencias Agropecuarias y Facultad de Ciencias Económicas y Administrativas, UPTC, Tunja, Colombia.
López, E. 2004. Manual para el diseño, establecimiento y manejo de los principales sistemas agroforestales
como cedro rojo, cedro nogal y primavera en los Tuxtlas, Veracruz. Tesis. Universidad Autónoma de Chapingo, Chapingo, México.
Mendieta, J. y J. Perdomo. 2007. Factores que afectan la eficiencia técnica y asignatura en el sector cafetero
colombiano: una aplicación con análisis envolvente de datos. Desarrollo y Sociedad 60, 1-25.
Mora, J.; C. Ramírez y O. Quiros. 2007. Labor, cost benefit analysis, and energy productivity in peasant coffee growing farms in Puriscal, Costa Rica. Cuadernos de Administración (20)33, 49-76.
Mungaray, A.; F. Castellanos y M. Sánchez. 2008. Asistencia microempresarial a través del servicio social universitario. Asociación Nacional de Universidades e Instituciones de Educación superior (ANUIES), México.
Muschler R. 2000. Árboles en cafetales. Colección módulos de enseñanza agroforestal. Centro Agronómico Tropical de Investigación y Enseñanza (CATIE), Turrialba, Costa Rica.
Ramírez, O.; E. Somarriba; T. Ludewigs y P. Ferreira. 2001. Financial returns, stability and risk of cacaoplantain-
timber agroforestry systems in Central America. Agroforestry Systems 51, 141-154.
Riveros, H. 2003. El agroturismo, una alternativa para revalorizar la agroindustria rural como mecanismo
de desarrollo local. Serie de documentos de trabajo, Prodar, Lima.
Sanjinés, F.; B. Vargas y Z. Herrera. 2002. Ventajas comparativas y competitivas del comercio regional orureño. Offset Boliviana Ltda., La Paz.
Tobasura, I. 2005. La crisis cafetera: una oportunidad para el cambio en las regiones cafeteras de Colombia. Agronomía 13(2), 35–46.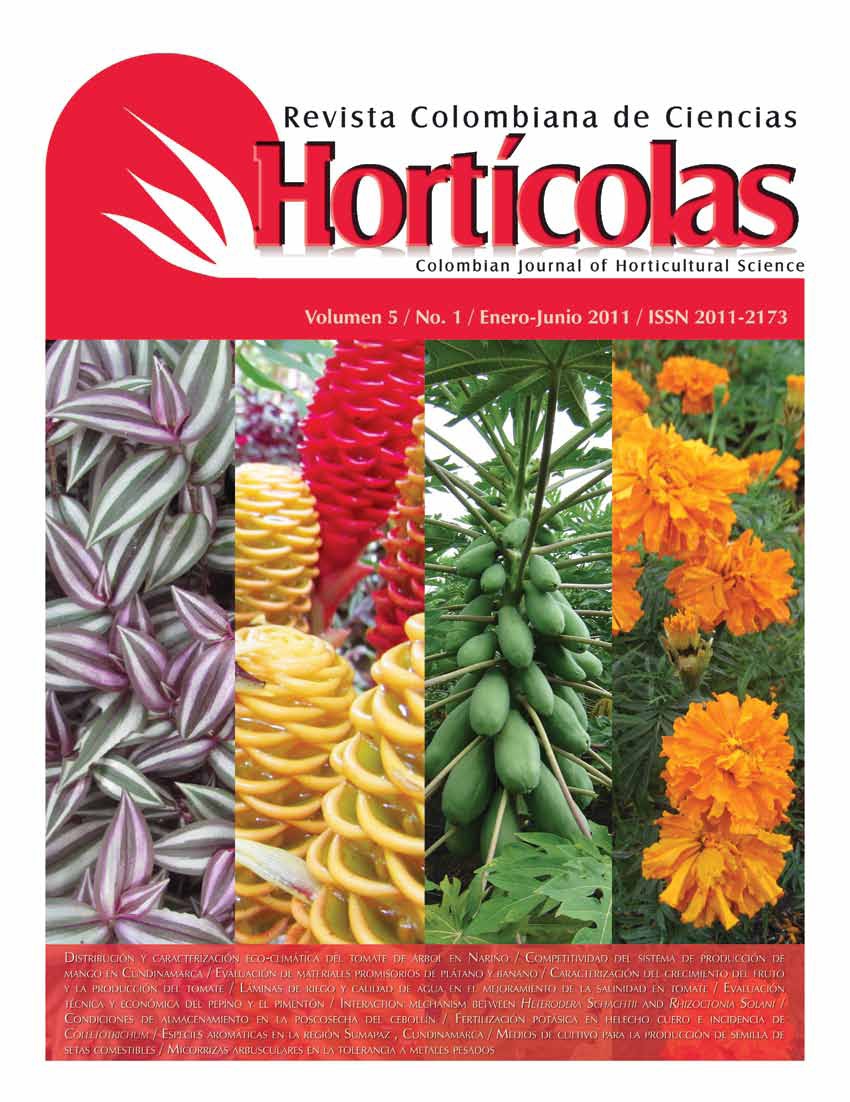 Downloads
Metrics
Views/Downloads
Abstract

470

PDF (Español)

3250
How to Cite
González S., W, Perilla, S P, & Pulido E., A. (2012). Análisis financiero del sistema de producción cafetalera en seis municipios de la provincia de Vélez (Santander, Colombia). Revista Colombiana de Ciencias Hortícolas, 4(2), 223–234. https://doi.org/10.17584/rcch.2010v4i2.1243
Section
Other species section
License
The copyright of the articles and illustrations are the property of the Revista Colombiana de Ciencias Hortícolas. The editors authorize the use of the contents under the Creative Commons license Attribution-Noncommercial-ShareAlike 4.0 International (CC BY-NC-SA 4.0). The correct citation of the content must explicitly register the name of the journal, name (s) of the author (s), year, title of the article, volume, number, page of the article and DOI. Written permission is required from publishers to publish more than a short summary of the text or figures.