2D Gradient Algorithms for Noise Reduction in Radiological Images
Keywords:
2D adaptive filter, Noise cancellation, Signal processing, Radiological images, Gradient algorithm
Abstract
In areas such as biomedical image processing, the techniques or methods used to recover the content in noise-contaminated signals are essential. One of them has been adaptive filtering, which, by adjusting to the desired signal through real-time updating of the coefficients, allows improvement and deconvolution in the recovery of degraded or contaminated images, attracting the attention of researchers in inverse problems. In this paper, the 2D-AR  gradient algorithm is used in noise reduction in dental radiological images, for which simulations are performed to obtain the best configuration of the hyperparameters, and a statistical analysis of the values obtained is performed. Based on the simulation results and the established metrics, it is demonstrated that the algorithm achieves a slightly higher noise reduction than the other 2D gradient algorithms (LMS and NLMS).
Downloads
Download data is not yet available.
References
F. Schopper, J. Ninkovic, R. Richter, G. Schaller, T. Selle, J. Treis, "High resolution X-ray imaging with pnCCDs," Nuclear Instruments and Methods in Physics Research Section A: Accelerators, Spectrometers, Detectors and Associated Equipment., vol. 912, pp. 11–15, 2018. https://doi.org/10.1016/j.bspc.2022.1040 31
S. Lee, M. S. Lee, M. G. Kang, "Poisson--Gaussian noise analysis and estimation for low-dose X-ray images in the NSCT domain," Sensors, vol. 18, no. 4, e1019, 2018. https://doi.org/10.3390/s18041019
T. B. Chandra, K. Verma, "Analysis of quantum noise-reducing filters on chest X-ray images: A review," Measurement, vol. 153, e107426, 2020. https://doi.org/10.1016/j.measurement.2019.107426
T. Kirti, K. Jitendra, S. Ashok, "Poisson noise reduction from X-ray images by region classification and response median filtering," Sādhanā, vol. 42, no. 6, pp. 855–863, 2017. https://doi.org/10.1007/s12046-017-0654-4
S. Kockanat, N. Karaboga, "A novel 2D-ABC adaptive filter algorithm: a comparative study," Digital Signal Processing, vol. 40, pp. 140–153, 2015. https://doi.org/10.1016/j.dsp.2015.02.010
J. Collazos Ramirez, P. E. Jojoa Gomez, J. P. Hoyos Sanchez, "Extension and Analysis of the ARG algorithm to 2D," IEEE Latin America Transactions, vol. 20, no. 12, pp. 2448-2454, 2022. https://doi.org/ 10.1109/TLA.2022.9905613
A. M. S. Esfand, S. Nikbakht, "Image denoising with two-dimensional adaptive filter algorithms", Iranian Journal of Electrical and Electronic Engineering, vol. 7, pp. 84-105, 2011.
M. S. E. Abadi, S. N. Aali, "The novel two-dimensional adaptive filter algorithms with the performance analysis," Signal Processing, vol. 103, pp. 348–366, 2014. https://doi.org/10.1016/j.sigpro.2013.12.016
A. Abdi, S. Kasaei, "Panoramic dental X-rays with segmented mandibles," Mendeley Data, v2, 2020. https://doi:10.17632/hxt48yk462.2
R. C. Gonzalez, R. E. Woods, "Digital image processing, prentice hall," Up. Saddle River, NJ, 2008.
N. Kamolkunasiri, P. Punyabukkana, E. Chuangsuwanich, "A Comparative Study on Out of Scope Detection for Chest X-ray Images," in 20th International Joint Conference on Computer Science and Software Engineering, Phitsanulok, Thailand, 2023, pp. 73-78. https://doi.org/10.1109/JCSSE58229.202 3.10202003
M. Jha, Y. Hasija, "Artificial Intelligence In Field of Medical Imaging Informatics," in 3rd International Conference on Advance Computing and Innovative Technologies in Engineering, Greater Noida, India, 2023, pp. 661-666. https://doi.org/10.1109/ICACITE57410.2023.10182498
O. Rodríguez-Bastidas, H. F. Vargas-Rosero, "Generation of 3D Tumor Models from DICOM Images for Virtual Planning of its Recession," Revista Facultad de Ingeniería, vol. 29, no. 54, e10173. https://doi.org/10.19053/01211129.v29.n54.2020
V. Göreke, "A novel method based on Wiener filter for denoising Poisson noise from medical X-Ray images," Biomedical Signal Processing and Control , vol.79, e104031, 2023. https://doi.org/10.1016/j. bspc.2022.104031
S. Lee, M. G. Kang, "Poisson-Gaussian Noise Reduction for X-Ray Images Based on Local Linear Minimum Mean Square Error Shrinkage in Nonsubsampled Contourlet Transform Domain," IEEE Access, vol. 9, pp. 100637-100651, 2021. https://doi.org/10.1109/ACCESS.2021.3097078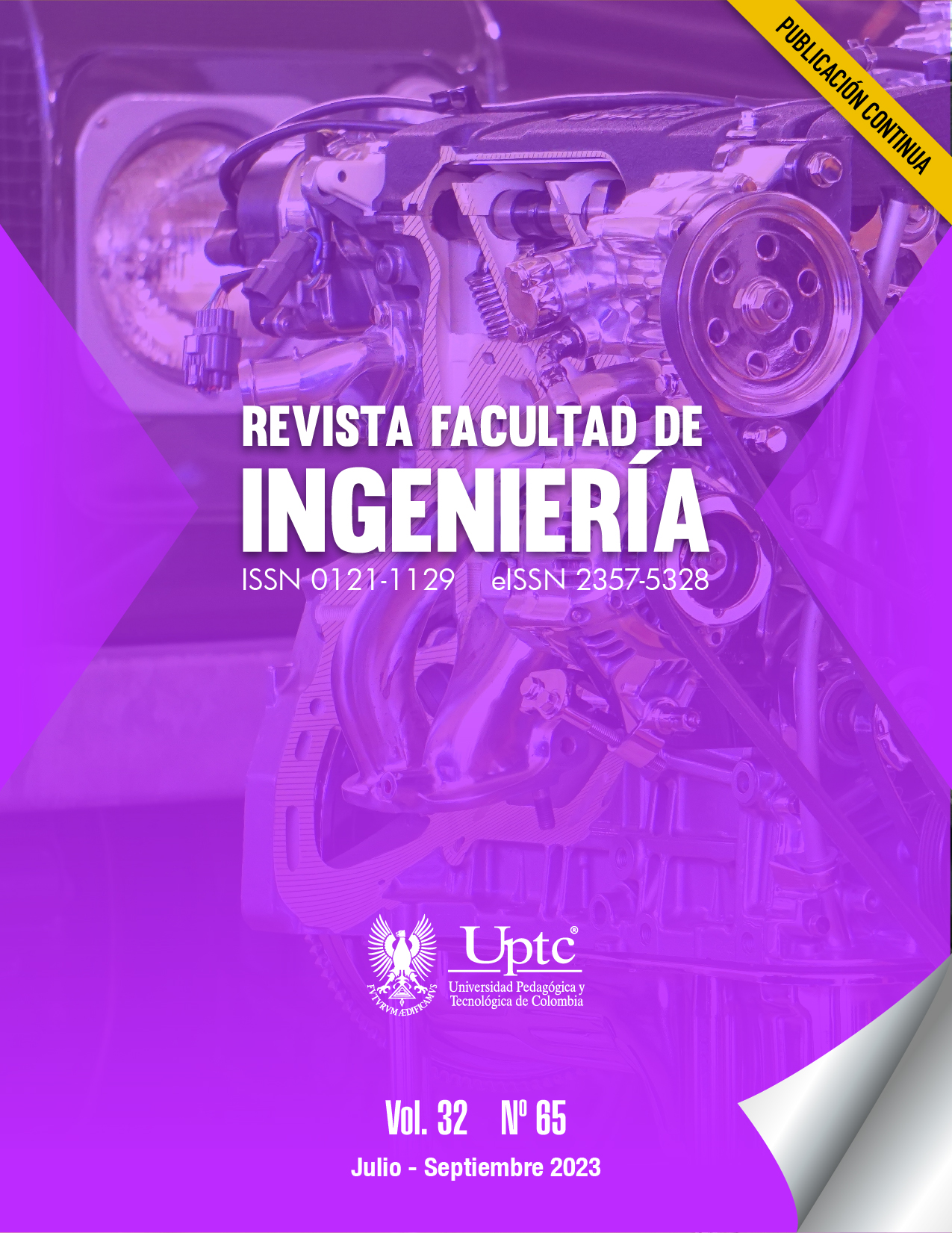 Downloads
How to Cite
Collazos-Ramírez, J, Jojoa, P-E, & Hoyos, J-P. (2023). 2D Gradient Algorithms for Noise Reduction in Radiological Images. Revista Facultad de Ingeniería, 32(65), e16178. https://doi.org/10.19053/01211129.v32.n65.2023.16178
License
Copyright (c) 2023 Jhonatan Collazos-Ramírez, Pablo-Emilio Jojoa, Juan-Pablo Hoyos
This work is licensed under a Creative Commons Attribution 4.0 International License.
All articles included in the Revista Facultad de Ingeniería are published under the Creative Commons (BY) license.
Authors must complete, sign, and submit the Review and Publication Authorization Form of the manuscript provided by the Journal; this form should contain all the originality and copyright information of the manuscript.
The authors who publish in this Journal accept the following conditions:
a. The authors retain the copyright and transfer the right of the first publication to the journal, with the work registered under the Creative Commons attribution license, which allows third parties to use what is published as long as they mention the authorship of the work and the first publication in this Journal.
b. Authors can make other independent and additional contractual agreements for the non-exclusive distribution of the version of the article published in this journal (eg, include it in an institutional repository or publish it in a book) provided they clearly indicate that the work It was first published in this Journal.
c. Authors are allowed and recommended to publish their work on the Internet (for example on institutional or personal pages) before and during the process.
review and publication, as it can lead to productive exchanges and a greater and faster dissemination of published work.
d. The Journal authorizes the total or partial reproduction of the content of the publication, as long as the source is cited, that is, the name of the Journal, name of the author (s), year, volume, publication number and pages of the article.
e. The ideas and statements issued by the authors are their responsibility and in no case bind the Journal.