Síntesis y copolimerización de poliimidas a partir de aminas aromaticas mediante irradiación por microondas / Synthesis and Copolymerization of Polyimides From Aromatic Amines by Microwave Irradiation
Palabras clave:
lactamas, poliimidas, radiacion de microondas
Resumen
Resumen
Se sintetizo la amina aromática (4,40-(4,40-isopropilidendifenil-1-10-diioxi) dianilina), con el anhídrido 4,40 (4,40-(isopropilidendifenoxi) bis (anhídrido ftalico) (IDBPA)), para obtener una poliimida a la cual por medio de irradiación de microondas se le injerto a la cadena principal el monómero e-caprolactama. La poli (caprolactama) obtenida tiene buenas características terminas de acuerdo a los resultados de DSC Y TGA. La poliimida se caracterizó por las técnicas analíticas, espectroscopia infrarroja de transformada de Fourier (FTIR), análisis ermogravimétrico (TGA), calorimetría diferencial de barrido (DSC) y resonancia magnética nuclear 1HRMN.
Abstract
The aromatic amine (4, 40- (4, 40-isopropylidene-diphenyl-1-10-diyldioxy) dianiline), was synthesized
with the anhydride 4, 40(4, 40 (isopropylidene-diphenoxy) bis (phthalic anhydride) (IDBPA)), to obtain a polyimide which by microwave irradiation was grafted to the backbone a Caprolactam monomer. The poly (Caprolactam) obtained has good finish characteristics according to DSC and TGA results. The polyimide was characterized by instrumental techniques such as; Fourier Transform Infrared Spectroscopy (FTIR), Thermo Gravimetric Analysis (TGA), Differential Scanning Calorimetry (DSC) and Nuclear Magnetic Resonance, 1HNMR.
Descargas
Los datos de descargas todavía no están disponibles.
Citas
E. Muñoz Prieto, J. Palacios Alquisira, C. Rius Alonso, "Microwave and Ultrasound Activation Effect on Cationization of Corn and Potato Starches", Ciencia en Desarrollo, vol. 4, no.1, pp. 151-173, 2012.
DJ Liaw, KL Wang, YC Huang, KR Lee, JY Lai, CS Ha, .Advanced polyimide materials: syntheses, physical properties and applications",
Progress in Polymer Science, vol. 37, no.7, pp.907-974, 2012.
C. Gao, S. Zhang, L. Gao and M. Ding, "Microwave-assisted synthesis of highmolecular- weight poly(ether imide)s by phase-transfer catalysis", Journal of Applied Polymer Science, vol. 92, pp. 2415- 2419, 2004.
L. Yi, C. Li, W. Huang, and D. Yan, "Soluble and transparent polyimides with high Tg from a new diamine containing tert-butyl and fluorene units", Journal of Polymer Science Part A: Polymer Chemistry, vol. 54, pp. 976-984, 2016.
A. Kausar, S. Zulfiqar, Z. Ahmad, and M. I. Sarwar, "Novel processable and heat resistant poly(phenylthiourea azomethine imide)s: Synthesis and characterization", Polymer Degradation and Stability, vol.95, pp. 1826-1833, 2010.
S.-H. Hsiao, C.-P. Yang, Y.-C. Chen, H.-M. Wang, and W. Guo, "Synthesis and properties of poly(ether imide)s derived from 2,5 bis(3,4-dicarboxyphenoxy)biphenyl dianhydride and aromatic ether?diamines", Journal of Applied Polymer Science, vol. 113, pp. 3993- 4002, 2009.
J. P. Critchley, P. A. Grattan, M. A. White, and J. S. Pippett, "Perfluoroalkylene-linked aromatic polyimides. I. Synthesis, structure, and some general physical characteristics", Journal of Polymer Science Part A-1: Polymer Chemistry, vol. 10, pp. 1789-1807, 1972.
T. P. Bender and Z. Y. Wang, "Synthesis of polyimides and segmented block copolyimides by transimidization", Journal of Polymer Science Part A: Polymer Chemistry, vol. 38, pp. 3991- 3996, 2000.
Y. Watanabe, Y. Sakai, Y. Shibasaki, S. Ando, M. Ueda, Y. Oishi, et al., "Synthesis of Wholly Alicyclic Polyimides from N-Silylated Alicyclic Diamines and Alicyclic Dianhydrides", Macromolecules, vol. 35, pp. 2277-2281, 2002.
J X.-Q. Liu, M. Jikei, and M.-a. Kakimoto, "Synthesis and Properties of AB-Type Semicrystalline Polyimides Prepared from Polyamic Acid Ethyl Ester Precursors," Macromolecules, vol. 34, pp. 3146-3154, 2001.
M. E. Pérez, D. M. Ruiz, M. Schneider, J. C. Autino, G. Romanelli, "La química verde como fuente de nuevos compuestos para el control de plagas agrícolas", Ciencia en Desarrollo, vol. 4, no.2, pp. 83-91, 2013.
H. R. Kricheldorf, G. Schwarz, and S.-C. Fan, Çyclic Polyimides - A Comparison of Synthetic Methods", High Performance Polymers, vol. 16, pp. 543-555, 2004.
X. L. Meng, L. Jiang, Y. D. Huang, Çharacterization and Thermal Degradation of Polyimide Derived from 5-amino-2(p-aminophenyl) Benzoxazole Monomer with Pyromellitic Dianhydride", Advanced Materials Research, vol. 455- 456, pp. 806-814, 2012.
L. B. Nohara, A. M. Kawamoto, M. F. K. Takahashi, M. Wills, E. L. Nohara, and M. C. Rezende, "Síntese de um poli (ácido âmico) para aplicação como interfase em compósitos termoplásticos de alto desempenho", Polímeros, vol. 14, pp. 122-128, 2004.
J. O. Iroh and W. Yuan, "Surface properties of carbon fibres modified by electrodeposition of polyamic acid", Polymer, vol. 37, pp. 4197- 4203, 1996.
Y. Pae, "Preparation and characterization of polyimide-g-nylon 6 copolymers from nonfunctionalized polyimides", Journal of Applied Polymer Science, vol. 99, pp. 292-299, 2006.
S. Niyogi, S. Maiti, and B. Adhikari, "Modification of a polyimide film by blending with nylon 6. Its characterization and thermal property evaluation", European Polymer Journal, vol. 37, pp. 2079-2089, 2001.
L. M. Moreno, E. Muñoz Prieto, H. Casanova, "Flocculation with Chitosan of Microalgae Native of the Colombian Plateau", Ciencia en Desarrollo, vol. 6, no.1, pp. 25-32, 2015.
E. Muñoz Prieto, Bernabé Rivas, Julio Sánchez, "Natural Polymer Grafted with Synthetic Monomer by Microwave for Water Treatment - A Review", Ciencia en Desarrollo, vol. 4, no.1, pp. 219-240, 2012.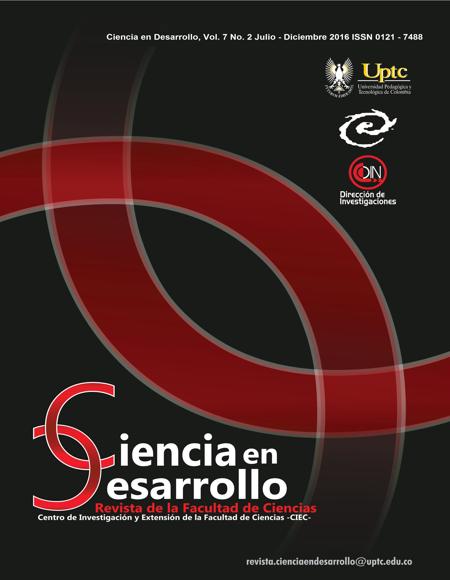 Descargas
Cómo citar
Muñoz Prieto, E. de J. (2016). Síntesis y copolimerización de poliimidas a partir de aminas aromaticas mediante irradiación por microondas / Synthesis and Copolymerization of Polyimides From Aromatic Amines by Microwave Irradiation. Ciencia En Desarrollo, 7(2), 161–168. https://doi.org/10.19053/01217488.v7.n2.2016.4747
Sección
Artículos de investigación / Research papers