Melhoramento genético de cebola para as condições tropicais e subtropicais do Brasil
Abstract
O agronegócio cebola é importante para o Brasil, onde se cultivam cerca de 62.000 há ano-1 nas regiões Sul, Sudeste, Nordeste e Centro-Oeste. Há demanda por cultivares melhor adaptadas às diferentes condições edafoclimáticas, para cultivo em sistemas convencionais e agroecológicos, com bulbos de sabor pungente para mercado interno, suave/doce e do tipo "cascuda bronzeada" para mercados interno e de exportação. O trabalho objetiva desenvolver cultivares de polinização livre e/ou híbridas de cebola adaptadas às diferentes condições edafoclimáticas brasileiras e resistentes às principais doenças que ocorrem na cultura. As atividades de pesquisa vem sendo conduzidas por uma rede de Pesquisa e Desenvolvimento envolvendo três Unidades da Embrapa e instituições parceiras/colaboradoras, públicas e privadas, além de produtores rurais. Estão sendo usados métodos de melhoramento com aplicação de seleção recorrente e com desenvolvimento de linhas A (macho-estéril), B e C (macho-férteis) e produção e testes de híbridos experimentais, na criação de novas cultivares. Técnicas de biologia molecular estão sendo aplicadas na identificação de mantenedoras da macho-esterilidade, na caracterização da variabilidade genética de germoplasma e no mapeamento de caracteres de qualidade e resistência a doenças. Os impactos potenciais decorrentes da incorporação de cultivares mais atrativas e resistentes a doenças e com padrão genético superior são, a médio prazo, maior competitividade da cebola brasileira, estabilização e potencial redução da importação de sementes, possibilidade de exportação de cebola, diminuição no uso de agrotóxicos pela incorporação de cultivares resistentes a doenças com dimi-
nuição do custo de produção e dos impactos ambientais.
Downloads
Download data is not yet available.
References
Batista, P.P; R.S.N. de Lima; C.A.F. Santos; M.A.R. Rodrigues e J.C. Alves da S.F. 2007. Divergência genética entre populações de cebola potenciais e comerciais para o Nordeste, com base em marcador AFLP. In: Anais eletrônicos. Congresso Brasileiro de Olericultura 47. Porto Seguro. Campinas: ABH, 2007, http://www.abh.org.br/anais/anais.htm; consulta: setembro 2007.
Bertolucci, S.K.V.; R.C. Pinheiro; J.E.B.P. Pinto e R.J. de Souza A. 2002. Qualidade e valor nutracêutico da cebola. Informe Agropecuário 23(218), 88-92.
Candeia, J.A. e N.D. Costa. 2000. A cebolicultura Nordestina e a necessidade de pesquisa no contexto atual. pp. 15-17. In: Pereira, W.; J.V. VieraA, J.V. e J.L. de Mendonca (Org.). Relatório do Workshop sobre cebolicultura no Brasil. Embrapa Hortaliças. Série Documentos 25. Brasilia.
Carneiro, L.C. e J.L. Amorim. 1999. Influência da temperatura e do molhamento foliar no monociclo do mal-de-sete-voltas da cebola. Fitopatologia Brasileira 24(3), 422-427.
Costa, C.P., da. 1997. Germoplasma de cebola brasileiro e seu uso no melhoramento. p. 2. In: Anais Seminario Nacional de Cebola 9, 1997. Centro de Pesquisa Agropecuária de Clima Temperado, Pelotas, Brasil.
Costa, N.D.; C.A.F. Santos; M.A. de Queiroz; H.M. de Araújo; V.R. Oliveira; J.L. de Mendonca e J.A. Candeia. 2005. Alfa São Francisco: variedade de cebola para cultivo no verão. p. 420. In: Anais Congresso Brasileiro de Olericultura 45, Horticultura Brasileira 23, Fortaleza, Brasil.
Cruz, C.D. e A.J. Regazzi. 1994. Modelos biométricos aplicados ao melhoramento genético. UFV, Vicosa, Brasil.
Engelke, T.; D. Terefe e T.A. Tatlioglu. 2003. PCR-based marker system monitoring CMS-(S), CMS-(T) and (N)-cytoplasm in the onion (Allium cepa L.). Theor. Appl. Genet. 107, 162-167.
EPAGRI. 2000. Sistema de produção para cebola. Sistemas de Producao 16. Epagri, Florianópolis, Brasil.
França, J.G.E. de e J.A. Candeia. 1997. Development of short-day yellow onion for tropical environments of the Brazilian Northeast. Acta Hort. 433, 285-287.
Galván, G.A.; W.A. Wiestma; S. Putrasemedja; A.H. Permandi e C. Kik. 1997. Screening for resistance to antracnose (C. gloeosporioides Penz.) in Allium cepa and its wild relatives. Euphytica 95(2), 173-178.
Havey, M.J. 1995. Identification of cytoplasms using the polymerase chain reaction to aid in the extraction of maintainer lines from open-pollinated populations of onion. Theor. Appl. Genet. 90, 263-268.
Hertog, M.G.L.; P.C.H. Hollman e D.P. Venema. 1992. Optimalization of a quantitative HPLC determination of potentially anticarcinogenic flavonoids in vegetables and fruits. J. Agr. Food Chem. 40, 1591-1598.
Hollman, P.C. e M.B. Katan. 1997. Absorption, metabolism and health effects on dietary flavonoids in man. Biomed. Pharmacoterapy 51(8), 305-310.
IBGE. 2009. Levantamento sistemático da produção agrícola – cebola: produção e área plantada, Brasil e Unidades da Federação. Rio de Janeiro, In: http://www.sidra.ibge.gov.br/bda/prevsaf; consulta: julho 2009.
Imai, S.; N. Tsuge; M. Tomotake; Y. Nagatome; H. Sawad; T. Nagata e H. Kumaga. 2002. Plant biochemistry: an onion enzyme that makes the eyes water. Nature 419, 685.
Jones, H.A. e L.K. Mann. 1963. Onion and their allies. Leonard Hill, London.
Leite, D.L.; A. Garcia e A.M. Santos. 2002. BRS Cascata a new cultivar released by Temperate Climate Agricultural Research Center, Embrapa, Brazil. Abstracts National Allium Research Conference. Washington State University, Pasco, WA.
Leite, T.L. 2007. Melhoramento genético de cebola. pp. 79-113. In: Barbieri, R.L. (ed.). Cebola: ciência, arte e história. 2. ed. Embrapa Informação Tecnológica, Brasília.
Lombard, K.; E. Geoffriau e E. Peffley. 2002. Flavonoid quantificationin onion by spectrophotometric and high performance liquid chromatography analysis. HortScience, 37(4), 682-685.
Lombard, K.; E. Peffley; E. Geoffriau; L. Thompson e A. Herring. 2005. Quercetin in onion (Allium cepa L.) after heat-treatment simulating home preparation. J. Food Comp. Analysis 18(6), 571-581.
Melo, P.C.T. e L.S. Boiteux. 2001. Análise retrospectiva do melhoramento genético de cebola (Allium cepa L.) no Brasil e potencial aplicação de novas estratégias biotecnológicas. In: Anais Congresso Brasileiro de Melhoramiento de Plantas 1, 2001. Goiania, Brasil (CD).
Melo, P.C.T; A. Ribeiro e M.G.C. Churata-Masca. 1988. Sistemas de produção, cultivares de cebola e o seu desenvolvimento para as condições brasileiras. pp. 27-61. In: Anais Seminario Nacional de Cebola 2, 1988. Piedrade, Brasil.
Pike, L.M. 1986. Onion breeding. pp. 357-394. In: Basset, M.J. (ed.). Breeding vegetable crops. AVI Publishing Company, Connecticut, CT.
Santos, C.A.F.; D.L. Leite; N.D. Costa; V.R. Oliveira; I.C.N. dos Santos e M.A. Rodrigues. 2008. Identificação dos citoplasmas "S", "T" e "N" via PCR em populações de cebola no Vale do São Francisco. Hortic. Bras. 26(3), 306-309.
Santos, M. do D.M. dos; A.G.R. Buzar; M.E.N. Fonseca; V.R. Oliveira; A.C. Torres e L.S. Boiteux. 2007. Relação genética entre acessos de cebola adaptados para cultivo no Brasil estimada via marcadores RAPD. In: Anais Congresso Brasileiro de Olericultura 47, Porto Seguro, http://www.abh.org.br/anais/anais.htm; consulta: setembro 2007.
Sato, Y. 1998. PCR amplification of CMS-specific mitochondrial nucleotide sequences to identify cytoplasmic genotypes of onion (Allium cepa L.). Theor. Appl. Genet. 96, 367-370.
Schwimmer, S. e W.J. Weston. 1961. Enzymatic development of pyruvic acid in onion as a measure of pungency. J. Agr. Food Chem. 9(4), 301-304.
Simonovska, B. 2000. Determination of inulin in foods. J. AOAC Intl. 83(3), 675-678.
Szklarczyk, M.; M. Simlat; B. Jagosz e G. Ba. 2002. The use of cytoplasmic markers in onion hybrid breeding. Cell. Mol. Biol. Lett. 7, 625-634.
UPOV. 1999. Guidelines for conduct of test for distinctness, uniformity and stability of Allium cepa and Allium ascalonicum. UPOV, Genebra.
Valencio, A.G.B.; A.H. Araújo; L.S. Boiteux; M.E.N. Fonseca; V.R. Oliveira e P.P. Silva. 2004. Estabelecimento de uma coleção de clones genômicos e de cDNA de cebola (Allium cepa L.) contendo seqüências similares a genes de resistência a doenças. p. 39. In: Anais Congresso Brasileiro de Genética 50, 2004. Gramado, Brasil.
Vos, P.; S. Hogers; M. Bleeker; M. Reijans; T. van de Lee; M. Hornes; A. Fritjers; J. Pot; J. Peleman; M. Kuiper e M. Zabeau. 1995. AFLP: a new technique for DNA fingerprinting. Nucleic Acids Res. 23, 4407-4414.
Wanderley, L.J. da G.; M.A. de Queiroz; P.C.T. de Melo; J.P. de M. Souto; M.A.C. dos Santos; H.M. Silva e D.T. de Lima. 1973. Melhoramento e produção de semente de cebola no Nordeste. Sudene/Brascan Nordeste/IPA. Recife, Brasil.
Williams, J.G.K.; A.R. Kubelik; K.J. Livak; J.A. Rafalski e S.V. Tigey. 1990. DNA polymorphism amplified by arbitrary primers are useful as genetic markers. Nucleic Acids Res. 18, 6531-6535.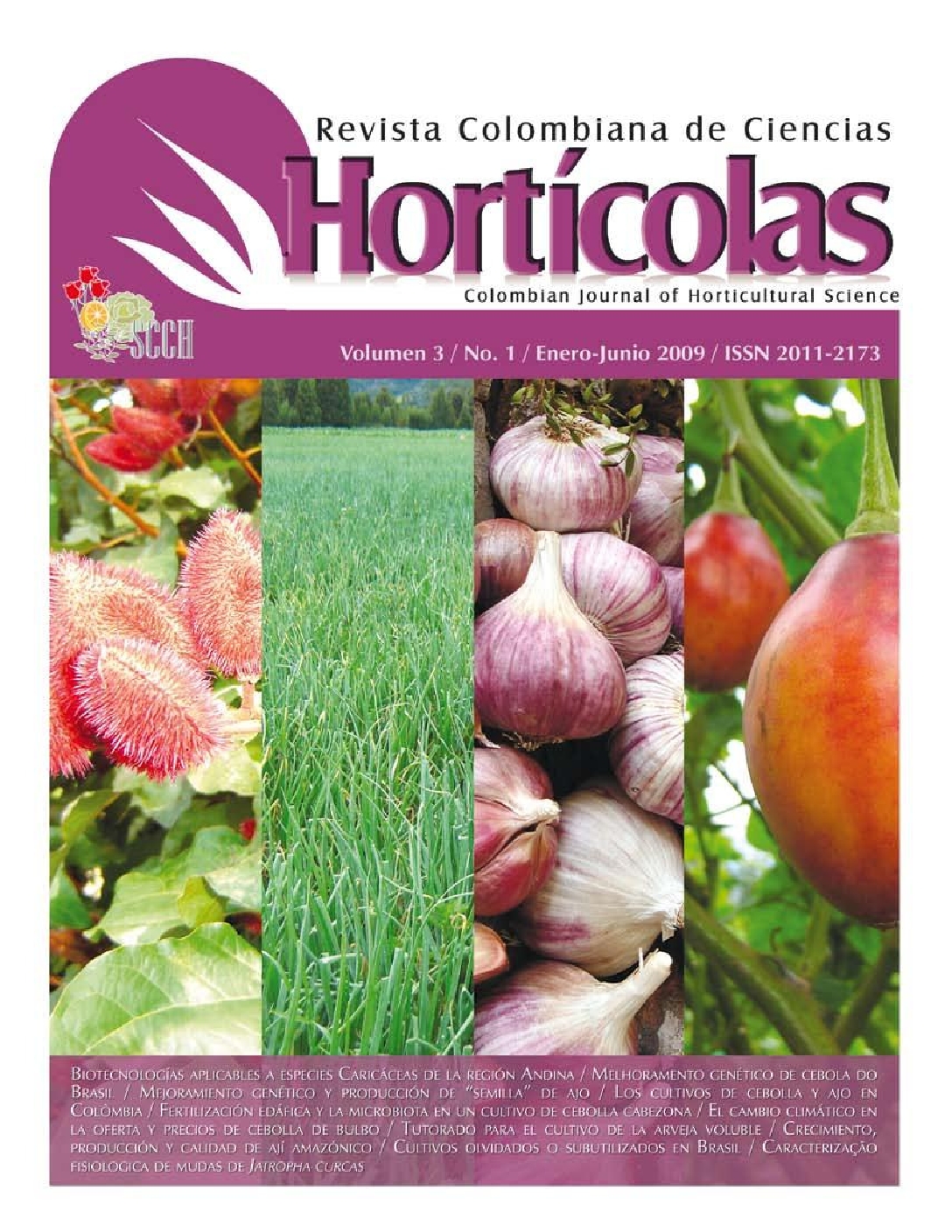 Downloads
How to Cite
Lopes Leite, D., Rodrigues Oliveira, V., Fernandes Santos, C. A., Duarte Costa, N., & de Noronha Fonseca, M. E. (2011). Melhoramento genético de cebola para as condições tropicais e subtropicais do Brasil. Revista Colombiana De Ciencias Hortícolas, 3(1), 18–27. https://doi.org/10.17584/rcch.2009v3i1.1196
Section
Vegetable section
License
The copyright of the articles and illustrations are the property of the Revista Colombiana de Ciencias Hortícolas. The editors authorize the use of the contents under the Creative Commons license Attribution-Noncommercial-ShareAlike 4.0 International (CC BY-NC-SA 4.0). The correct citation of the content must explicitly register the name of the journal, name (s) of the author (s), year, title of the article, volume, number, page of the article and DOI. Written permission is required from publishers to publish more than a short summary of the text or figures.