Caracterização fisiologica de mudas de Jatropha curcas L. produzidas em diferentes níveis de irradiancia
Abstract
O incremento dos níveis dos gases de efeito estufa, notadamente dióxido de carbono (CO2) na atmosfera terrestre, tem intensificado a busca por combustíveis renováveis, tipo biodiesel, visando reduzir o consumo de combustíveis fósseis, responsáveis por 40% das emissões de CO2. Diversas são as vantagens do uso do biodiesel em comparação ao diesel de petróleo, dentre elas destacase a sustentabilidade do ecossistema. Neste contexto, a espécie Jatropha curcas é uma importante alternativa para produção de biodiesel. Neste trabalho, avaliou-se o efeito da irradiância sobre as características fisiológicas de folhas de J. curcas. O experimento foi conduzido em Viçosa (20°45'S, 42°54'W, 650 m de altitude), Minas Gerais, Brasil. Sementes de J. curcas foram semeadas em vasos plásticos de 12 L, contendo uma mistura de 30% de areia e 70% de solo. Metade das mudas
foram cultivadas sob telado com 40% da radiação solar, e a outra metade a pleno sol. A irradiância de satura-ção foi semelhante entre os dois sistemas de cultivo. Entretanto, as plantas cultivadas a pleno sol apresentaram maiores fotossíntese, irradiância de compensação e acúmulo de massa seca. Estes resultados sugerem uma relativa aclimatação da maquinaria fotossintética de J. curcas à variação da irradiância.
Downloads
Download data is not yet available.
References
Arruda, F.P. de; N.E. de M. Beltrão; A.P. de Andrade; W.E. Pereira e L.S. Severino. 2004. Cultivo do Pinhão manso (Jatropha curcas L.) como alternativa para o semi-árido nordestino. Revista Brasileira de Oleaginosas e Fibrosas 8(1), 789-799.
Atroch, E.M.A.C.; A.M. Soares; A.A. Alvarenga e E.M. Castro. 2001. Crescimento, teor de clorofilas, distribuição de biomassa e características anatômicas de plantas jovens de Bauhinia forticata Link submetidas a diferentes condições de sombreamento. Ciência e Agrotecnologia 25, 853-862.
Benincasa, M.M.P. 2003. Análise de crescimento de plantas: noções básicas. Funep, Jaboticabal, Brasil.
Cataldo, D.A.; L.E. Schrader e V.L. Youngs. 1974. Analysis by digestion and colorimetric assay of total nitrogen in plant tissues high in nitrate. Crop Sci. 14, 854-856.
Cataldo, D.A.; M. Haroon; L.E. Schrader e V.I. Youngs. 1975. Rapid colorimetric determination of nitrate in plant tissue by nitration of salicylic acid. Comm. Soil Sci. Plant Anal. 6, 71-80.
Ceulemans, R.; L.V. Praet e X.N. Jiang. 1999. Effects of CO2 enrichment, leaf position and clone on stomatal index and epidermal cell density in poplar (Populus). New Phytologist 131, 99-107.
Corcuera, L.; F. Morales; A. Abadía e E. Gil-Pelegrín. 2005. Seasonal changes in photosynthesis and photoprotection in a Quercus ilex subsp. ballota woodland located in its upper altitudinal extreme in the Iberian Peninsula. Tree Physiol. 25, 599-608.
Demmig-Adams, B. e W.W. Adams. 1996. Photoprotection and other responses of plants to high light stress. Annu. Rev. Plant Physiol. Plant Mol. Biol. 43, 599-626.
Dias, L.A.S. 2000. Calagem e adubação. pp. 18-20. In: Cultivo de pinhão manso Jatropha curcas L. para produção de óleo combustível. Universidade Federal de Viçosa, Viçosa, Brasil.
Ellsworth, D.S. y P.B. Reich. 1993. Canopy structure and vertical patterns of photosynthesis and related leaf traits in a deciduous forest. Oecologia 96, 169-178.
Elvira, R.; S. Alonso; J. Castilho e B.S. Gimeno. 1998. On the response of pigments and antioxidants of Pinus hapelensis to mediterranean climate factors and long-term ozone exposure. New Phytologist 138, 419-432.
Evans, J.R. 1989. Photosynthesis and nitrogen relationship in leaves of C3 plants. Oecologia 78, 9-19.
Fahl, J.I.; M.L.C. Carelli; J. Vega e A.C. Magalhães. 1994. Nitrogen and irradiance levels affecting net photosynthesis and growth of young coffee plants (Coffea arabica L.). J. Hort. Sci. 69, 161-169.
Fahn, A. 1990. Plant anatomy. 2nd ed. Butterworth Heinemann, Oxford, UK.
Fundação Centro Tecnológico de Minas Gerais (CETEC). 1983. Produção de biocombustíveis líquidos a partir de óleos vegetais. Relatório final. Belo Horizonte, Brasil.
Hill, J.; E. Nelson; D. Tilman; S. Polasky e D. Tiffany. 2006. Environmental, economic, and energetic costs and benefits of biodiesel and ethanol biofuels. Proc. Natl. Acad. Sci. USA 103, 11206-11210.
Krause, G.H. 1988. Photoinhibition of photosynthesis - an evaluation of damaging and protective mechanisms. Physiol. Plant. 74, 566-574.
Ma, Y-Z.; N.E. Holt; X.-P. Li; K.K. Niyogi e G.R. Fleming. 2003. Evidence for direct carotenoid involvement in the regulation of photosynthetic light harvesting. Proc. Natl. Acad. Sci. USA 100, 4377-4382.
Ministério da indústria e do comércio. Secretária de tecnologia industrial. 1985. Produção de combustíveis líquidos a partir de óleos vegetais. STI/CIT, Brasília.
Murchie, E.H. e P. Horton. 1997. Acclimation of photosynthesis to irradiance and spectral quality in British plant species: Chlorophyll content, photosynthetic capacity and habitat preference. Plant Cell Environ. 20, 438-448.
Nadeau, J.A. e F.D. Sack. 2003. Control of stomata distribution on the Arabidopsis leaf surface. Sci. 296, 1700.
Ottander, C.; D. Campbell e G. Oquist. 1995. Seasonal changes in photosystem-Ii organization and pigment composition in Pinus-Sylvestris. Planta 197, 176-183.
Peixoto, C.P. 1998. Análise de crescimento e rendimento de três cultivares de soja em três épocas de semeadura de três densidades de plantas. Tese (Doutorado em Fitotecnia). Escola Superior de Agricultura Luiz de Queiroz, Universidade de São Paulo, Piracicaba, Brasil.
Walters, R.G. 2005. Towards an understanding of photosynthetic acclimation. J. Exp. Bot. 56, 435-447.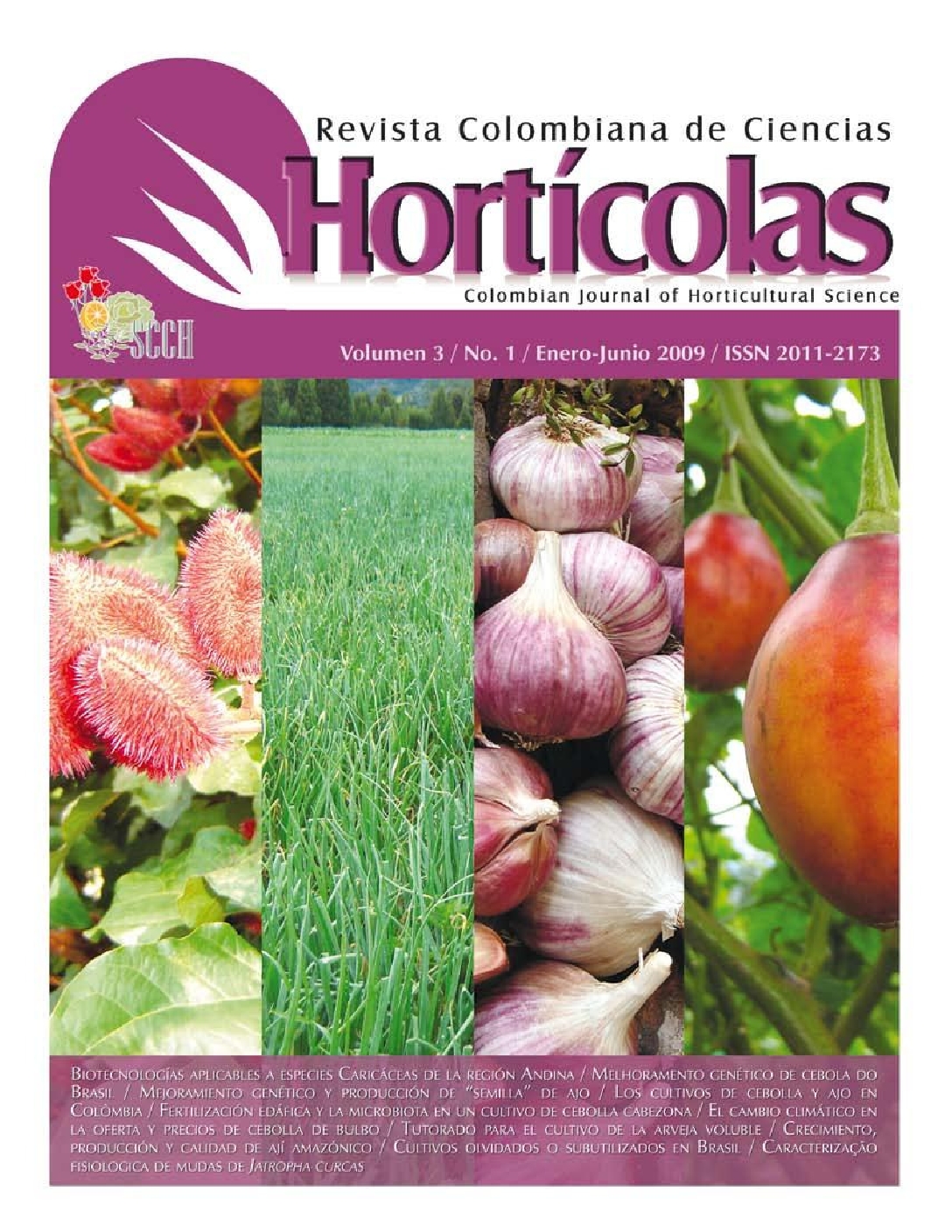 Downloads
Metrics
Views/Downloads
Abstract

346

PDF (Español)

353
How to Cite
Santos Matos, F, Vasconcelos Moreira, C, Missio, R F, & Dias, L A dos S. (2011). Caracterização fisiologica de mudas de Jatropha curcas L. produzidas em diferentes níveis de irradiancia. Revista Colombiana de Ciencias Hortícolas, 3(1), 126–134. https://doi.org/10.17584/rcch.2009v3i1.1204
Section
Other species section
License
The copyright of the articles and illustrations are the property of the Revista Colombiana de Ciencias Hortícolas. The editors authorize the use of the contents under the Creative Commons license Attribution-Noncommercial-ShareAlike 4.0 International (CC BY-NC-SA 4.0). The correct citation of the content must explicitly register the name of the journal, name (s) of the author (s), year, title of the article, volume, number, page of the article and DOI. Written permission is required from publishers to publish more than a short summary of the text or figures.