Efecto de dos campos magnéticos sobre el crecimiento micelial y propiedades sensoriales del hongo Pleurotus ostreatus
Abstract
Se evaluó la acción de los campos magnéticos estáticos sobre el crecimiento micelial del hongo comestible pleuroto Pleurotus ostreatus ([Jacq: Fries] Kummer), cepa WC-923, valorado por sus propiedades medicinales y nutritivas. Los campos magnéticos se produjeron empleando imanes de ferrita con intensidades de 125 mT y 250 mT. Los periodos de exposición fueron 10, 30, 60 minutos, 48 horas y 7 días. Los datos de crecimiento micelial se tomaron el día 7 y se observó que el tratamiento compuesto por el imán de 250 mT y el periodo de exposición 7 días presentó el mayor diámetro con 8,8 cm del micelio, indicando además que dicho tratamiento presentó la variación más baja con relación a los demás. En la prueba de Dunnett, el tratamiento de 125 mT y 7 días de exposición fue el único que arrojó diferencias significativas frente al grupo control. Los tratamientos 125 mT y 250 mT, con 7 días de exposición, mostraron cambios en las características aromáticas al presentarse olores anisados en los primeros 10 días que posteriormente se convirtieron en almendrados. La observación física mostró que algunos micelios formaban anillos centrales en alto relieve los cuales secretaban un metabolito anaranjado que se caracteriza como nematicida. Se concluye que la aplicación de campos magnéticos incide en el crecimiento positivo del hongo.
Palabras clave adicionales: hongo comestible, biomagnetismo, imanes de ferrita, macrohongo.
Downloads
Download data is not yet available.
References
Adey, W.R. 1993. Biological effects of electromagnetic fields. J. Cell. Biochem. 51, 410-416.
Ahmad, M., P. Galland, T. Ritz, R. Wiltschko y W. Wiltschko. 2007. Magnetic intensity a Vects cryptochrome- dependent responses in Arabidopsis thaliana. Planta Médica 225, 615-624.
Badcock, E.C.1939. Preliminary account of the odour of wood-destroying fungi in culture. Trans British Mycol. Soc. 23(2), 188-198.
Beltrán-García, M. J., M. Estarron-Espinosa y T. Ogura. 1997. Volatile compounds secreted by the oyster mushroom (Pleurotus ostreatus) and their antibacterial activities. J. Agr. Food Chem. 45(10), 4049- 4052.
Chang, S.T. y P.G. Miles. 2004. Mushrooms: Cultivation, nutritional value, medicinal effect, and environmental impact. 2nd ed. CRC Press, Boca Raton, FL.
Corrochano, L.M. 2011. Fungal photobiology: a synopsis. IMA Fungus 2(1), 25-28.
Galland, P. y A. Pazur. 2005. Magnetoreception in plants. J. Plant Res. 118(6), 371-389.
Gallois, A., B. Gross, D. Langlois, H.E. Spinnler y P. Brunerie. 1990. Influence of culture conditions on production of flavour compounds by 29 ligninolytic Basidiomycetes. Mycol. Res. 94(4), 494-504.
Goldsworthy, A., H. Whitney y E. Morris. 1999. Biological effects of physically conditioned water. Water Res. 33(7),1618-1626.
Heintzen, C. 2012. Plant and fungal photopigments. Wiley Interdisciplinary Reviews: Membrane Transport and Signaling 1(4), 411-432.
Herrera, J.R. 2008. Viaje al asombroso mundo de los hongos. Consejo Nacional de Ciencia y Tecnología, Fondo de Cultura Economica, México.
Iwalokun, B.A, U.A. Usen, A.A. Otunba y D.K. Olukoya. 2007. Comparative phytochemical evaluation, antimicrobial and antioxidant properties of Pleurotus ostreatus. Afr. J. Biotechnol. 6 (15), 1732-1739.
Javanmardi, J., M. Ranjbar y G. Shams. 2008. Effect of a magnetic field on growth indices of oyster mushroom (Pleurotus florida). Int. Soc. Mushrooms Sci. 17(35), 459-466.
Jong S.C. y J.M. Birmingham. 1993. Medicinal and therapeutic value of the Shiitake mushroom. Adv. Appl. Microbiol. 39,153-184.
Kato, M. y T. Shigemitsu. 2006. Electromagnetics in biology. Springer, Tokyo.
Kwok, O.C.H., R. Plattner, D. Weisleder y D. T. Wicklow. 1992. A nematicidal toxin from Pleurotus ostreatus NRRL 3526. J. Chem. Ecol. 18(2), 127-136.
Liboff, A.R. 1985. Geomagnetic cyclotron resonance in living cells. J. Biol. Physics 13(4), 99-102.
Maga, J.A. 1976. The potential of certain fungi as sources for natural flavor compounds. Chem. Senses Flavor 2(2), 255-262.
Nair, I. 1989. Biological effects of power frequency electric and magnetic fields. Carnegie Mellon University, Pittsburgh, PA.
Nordbring-Hertz, B., H.-B. Jansson y A. Tunlid. 2006. Nematophagous fungi. pp. 1-11. En: Encyclopedia of Life Sciences. John Wiley & Sons, Chichester, UK.
Pazur, A., C. Schimek y P. Galland. 2007. Magnetoreception in microorganisms and fungi. Central Eur. J. Biol. 2(4), 597-659.
Satou, T., K. Kaneko, W. Li y K. Koike. 2008. The toxin produced by pleurotus ostreatus reduces the head size of nematodes. Biol. Pharm. Bull. 31(4), 574-576.
Schindler, J. y R.D. Schmid. 1982. Fragrance or aroma chemicals-microbial synthesis and enzymatic transformation-a review. Process Biochem. 17, 2-8.
Stamets, P. 2000. Growing gourmet and medicinal mushrooms. 3th ed. Ten Speed Press, Berkeley, CA.
Stamets, P. y J.S. Chilton. 1983. The mushroom cultivator: a practical guide to growing mushrooms at home. Agarikon Press, Olympia, WA.
Truong, B.N., K. Okazaki., T. Fukiharu., Y. Takeuchi., K. Futai., X.T. Le y A. Suzuki. 2007. Characterization of the nematocidal toxocyst in Pleurotus subgen. Coremiopleurotus. Mycosci. 48(4), 222-230.
Wainwright, M. y S.M. Liras. 1995. Introducción a la biotecnología de los hongos. Acribia, Zaragoza, España.
Walker, G. y N. White. 2005. Introduction to fungal physiology. pp 1-34. En: Kavanagh, K. (ed.). Fungi: Biology and applications. John Wiley and Sons, Chichester, UK.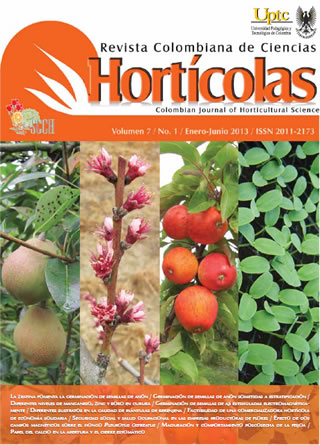 Downloads
How to Cite
Peláez, J. C., Torres, C., & Díaz, J. E. (2013). Efecto de dos campos magnéticos sobre el crecimiento micelial y propiedades sensoriales del hongo Pleurotus ostreatus. Revista Colombiana De Ciencias Hortícolas, 7(1), 89–97. https://doi.org/10.17584/rcch.2013v7i1.2038
Section
Other species section
License
The copyright of the articles and illustrations are the property of the Revista Colombiana de Ciencias Hortícolas. The editors authorize the use of the contents under the Creative Commons license Attribution-Noncommercial-ShareAlike 4.0 International (CC BY-NC-SA 4.0). The correct citation of the content must explicitly register the name of the journal, name (s) of the author (s), year, title of the article, volume, number, page of the article and DOI. Written permission is required from publishers to publish more than a short summary of the text or figures.