Pós colheita do abacate 'Hass' submetido a radiação UV-C
Abstract
Avaliou-se o efeito da radiação UV-C na conservação pós-colheita do abacate 'Hass'. Frutos selecionados foram submetidos à radiação em luz UV-C por 5, 10, 15 e 20 minutos, mantidos sob refrigeração (10±1ºC e 90±5% umidade relativa) e avaliados durante 15 dias. Determinou-se a perda de massa, taxa respiratória, acidez total titulável (ATT), sólidos solúveis totais (SST), ratio (SST/ATT), pH, firmeza, fenólicos totais e atividade antioxidante por DPPH•. A firmeza e o conteúdo de fenólicos totais diminuíram durante o período experimental nos frutos de todos os tratamentos. Houve correlação significativa moderada (P=0,0, r=0,455) entre atividade antioxidante e compostos fenólico dos frutos. Os tratamentos cuja exposição a luz UV-C foi de 15 e 20 minutos apresentaram porcentagens de atividade antioxidante maiores em relação aos outros tratamentos, entre o 6 e 12 dias de armazenamento, perda de massa inferior ao tratamento controle e valores estáveis de sólidos solúveis durante o período experimental. Estes resultados apontam que a utilização da luz UV-C pode ser uma opção na conservação de abacate 'Hass'.
Downloads
Download data is not yet available.
References
Arancibia-Avila, P., F.Toledo, Y.S. Park, S.T. Jung, S.G. Kang, B.G. Heio, S.H. Lee, M. Sajewicz, T. Kowalska e S. Gorintein. 2008. Antioxidant properties of durian fruit as influenced by ripening. Food Sci. Technol. 41, 2118-2125.
Barka, E. A., S. Kalantari, J. Makhlouf e J. Arul. 2000. Impact of UV-C irradiation on the cell wall-degrading enzymes during ripening of tomato (Lycopersicon esculentum L.) fruit. J. Agric. Food Chem. 48, 667-671.
Bleinroth, E.W., A.G. Zuchini e R.M. Pompeo. 1976. Determinação das características físicas e mecânicas de variedade de abacate e sua conservação pelo frio. Coletânea ITAL 7(1), 29-81.
Campos, A.J., R.L. Vieites, L.C. Neves, P.A. Robles e F.A. Calero. 2011. Ultraviolet radiation (UV-C) in characterization postharvest of tomato 'Pitenza'. Rev. Iber. Tecnología Postcosecha 12(2), 192-198.
Castro, J.V. e E.W. Bleinroth. 1982. Conservação do abacate em atmosfera controlada e à temperatura ambiente. Boletim do Instituto de Tecnologia de Alimentos 19(2), 165-182.
Chitarra, M.I.F. e A.B. Chitarra. 2005. Pós-colheita de frutos e hortaliças: fisiologia e manuseio. Ed UFLA, Lavras, Brasil.
Daiuto, E.R, M.A. Tremocoldi e R.L. Vieites. 2010a. Conservação pós colheita de abacate 'Hass' irradiado. Rev. Iber. Tecnología Postcosecha 10(2), 94-100.
Daiuto, E.R, R.L. Vieites, M.A. Tremocoldi e V.C. Russo. 2010b.Taxa respiratória de abacate 'Hass' submetido a diferentes tratamentos físicos. Rev. Iber. Tecnología Postcosecha 10(2), 101-109.
Donadon, J.R. 2009. Distúrbio fisiológico provocado pelo frio e prevenção com tratamentos térmicos em abacates. Doutor em Agronomia. Faculdade de Ciências Agrárias e Veterinárias, Unesp, Jaboticabal, Brasil.
Finger, F.L. e G. Vieira. 2002. Controle da perda pós-colheita de água em produtos hortícolas. UFV, Viçosa, Brasil.
Germano, R. M.A., F.M.V. Arthur e F.M.Wiendl, 1996. Conservação pós-colheita de abacates Persea americana Mill., variedades Fortuna e Quintal, por irradiação. Sci. Agric. 53(2-3), 249-253.
Hardenburg, R.E., A.E. Watada e C.Y. Wang. 1986. The comercial storage of fruits, vegetables, and florist and nursery stocks. USDA, Beltsville, MD.
Instituto Adolfo Lutz. 2008. Métodos físico-químicos para análise de alimentos. Coordenadores Odair Zenebon, Neus Sadocco Pascuet e Paulo Tiglea, Instituto Adolfo Lutz, São Paulo, Brasil.
Jacobo-Velázquez, D.A. e L. Cisneros-Zevallos. 2009. Correlations of antioxidant activity versus phenolic content revisited: A new approach in data analysis for food and medicinal plants. J. Food Sci. 74(9), 107-113.
Khademi, O., Z. Zamani, E. Poor Ahmadi e S. Kalantari. 2013. Effect of UV-C radiation on postharvest physiology of persimmon fruit (Diospyros kaki Thunb.) cv. 'Karaj' during storage at cold temperature. Intl. Food Res. J. 20(1), 247-253. (2013)
Marquenie, D., C. W. Michelis, J.F. Impe, E. Scherevens e B.N. Nicolai. 2003. Pulsed white light in combination with UV-C and heat to reduce storage rot of strawberry. Postharvest Biol. Technol. 28, 455-461.
Mensor, L.L, F.S. Menezes, G.G. Leitão, A.S. Reis, T.C.Santos, C.S. Coube e S.G. Leitão. 2001. Screening of Brazilian plant extracts for antioxidant activity by the use of DPPH free radical method. Phytotherapy Res. 15, 127-130.
Morgado, C.M.A. 2007. Conservação pós-colheita de abacates 'Geada' e 'Quintal', em diferentes pontos de colheita, com o uso de diferentes temperaturas e proteções. Faculdade de Ciências Agrárias e Veterinárias, Universidade Estadual Paulista, Jaboticabal, Brasil.
Oliveira, M.A. de, C.H. Santos, C.M. Henrique y J.R. Domingos. 2000. Ceras para conservação pós colheita de frutos de abacateiro fuerte, armazenados em temperatura ambiente. Sci. Agric. 57(4), 777- 780.
Perkins-Veazie, P., J. K. Collins e L. Howard. 2008. Blueberry fruit response to postharvest application of ultraviolet radiation. Postharvest Biol. Technol. 47, 280-285.
Pombo, M. A., M. Dotto, G.A. Martinez e P.M. Civello. 2009. UV-C irradiation delays strawberry fruit softening and modifies the expression of genes involved in cell wall degradation. Postharvest Biol. Technol. 51, 141-148.
Sanches J. 2006. Efeito de injuries mecânicas na qualidade pós-colheita de abacates. Tese Doutorado em Produção Vegetal. Faculdade de Ciências Agrárias e Veterinárias, Universidade Estadual Paulista, Jaboticabal, Brasil.
Seymor, G.B. e G.A.Tucker. 1993. Avocado. In: Seymour, G.B., J.E. Taylor e G.A. Tucker (eds.). Biochemistry of fruit ripening. Chapman & Hall, London.
Singleton, V.L, R. Orthoper e R.M. Lamuela. 1999. Analysis of totalphenols and other oxidation substrates and antioxidants by means of Folin-Ciocalteau reagent. Methods Enzymol. 299, 152-178.
Sricastava, M.P. e N. Sharna. 2013. UV-C Light as an effective physical method to control postharvest diseases. Biol. Chem. Research. 30(2), 354-366.
Stevens, C., J. Liu, V.A. Khan, J.Y Lu, M.K. Kabwe, C.L. Wilson, E.C.K. Igwegbe, E. Chalutz e S. Droby. 2004. The effects of low-dose ultraviolet light treatment on polygalacturonase activity, delay ripening and Rhizopus soft rot development of tomatoes. Crop Prot. 23, 551-554.
Stevens, C., V.A. Khan, A.Y. Tang e J.Y. Lu.1990. The effect of ultraviolet radiation on mold rots and nutrients of stored sweet potatos. J. Food Prot. 53, 223-226.
Tango, J.S., C.R.L. Carvalho e N.B. Soares. 2004. Caracterização física e química de frutos de abacate visando a seu potencial para extração de óleo. Rev. Bras. Frutic. 6(1), 17-23.
Tressler, D.K. e M.A. Joslyn. 1961. Fruits and vegetables juice processing technogy. Avi Publ. Co., Westport, CT.
USDA (U.S. Department of Agriculture, Agricultural Research Service). 2007. USDA National Nutrient Database for Standard Reference, Release 20. Nutrient Data Laboratory Home Page, http://www.ars.usda.gov/ba/bhnrc/ndl; acesso: junho de 2013.
Vicente, A.R., C. Pineda, P.M. Civello, G.A. Martinez e A.R. Chaves. 2005. UV-C treatments reduce decay, keep quality and alleviate chilling injury in pepper. Postharvest Biol. Technol. 35, 69-78.
Wang, W., R. Terrell e L.G. Bostic. 2010. Antioxidant capacities, procyanidins and pigments in avocados of different strains and cultivars. Food Chem. 122, 1193-1198.
Zauberman, M.S., M. Schiffman-Nadel M. e U. Yanko. 1973. Susceptibility to chilling injury of three avocado cultivars stages of ripening. HortScience 8(4), 511-513.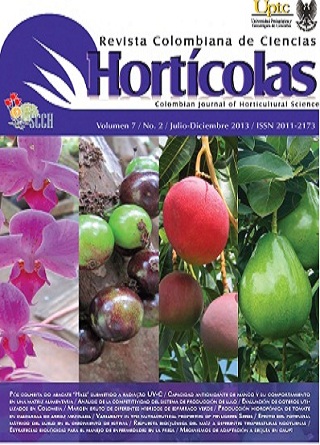 Downloads
How to Cite
Daiuto, Érica R., Vieites, R. L., Tremocoldi, M. A., de Carvalho, L. R., & Fumes, J. G. F. (2014). Pós colheita do abacate 'Hass' submetido a radiação UV-C. Revista Colombiana De Ciencias Hortícolas, 7(2), 149–160. https://doi.org/10.17584/rcch.2013v7i2.2231
License
The copyright of the articles and illustrations are the property of the Revista Colombiana de Ciencias Hortícolas. The editors authorize the use of the contents under the Creative Commons license Attribution-Noncommercial-ShareAlike 4.0 International (CC BY-NC-SA 4.0). The correct citation of the content must explicitly register the name of the journal, name (s) of the author (s), year, title of the article, volume, number, page of the article and DOI. Written permission is required from publishers to publish more than a short summary of the text or figures.