Producción hidropónica de tomate (Solanum lycopersicum L.) en cascarilla de arroz mezclada con materiales minerales y orgánicos
Abstract
La existencia de factores limitantes del suelo, como salinización, agotamiento de la fertilidad natural y deterioro físico, conlleva a una búsqueda del mejoramiento de las tecnologías utilizadas para el desarrollo y la producción del tomate. Se llevó a cabo un ensayo en Chía (Colombia), en las instalaciones del Centro de Bio-Sistemas de la Universidad de Bogotá Jorge Tadeo Lozano donde se determinó el efecto de diferentes sustratos acondicionados a partir de materiales orgánicos e inertes sobre la producción y calidad del fruto en tomate bajo condiciones de invernadero. Se utilizó el híbrido Vitoria del que se seleccionaron frutos de acuerdo a su categoría comercial (primera, segunda, tercera e industrial). Los materiales utilizados para la preparación de los sustratos fueron: cascarilla cruda, cascarilla quemada, cascarilla cielo abierto, escoria de carbón, fibra de coco y zeolita, evaluados física y químicamente. Como parámetros de respuesta se tomaron: sólidos solubles totales, acidez titulable, pH y pérdida de peso. La acidez total titulable y los sólidos solubles totales aumentaron dependiendo del sustrato en el cual fueron sembrados donde la zeolita en mezcla con la cascarilla quemada incrementó los sólidos solubles totales y en mezcla con cascarilla cielo abierto incrementó la acidez titulable. Los valores de pH no presentaron diferencias respecto a los sustratos. La mayor producción de calidad primera se obtuvo con las plantas sembradas en zeolita en mezcla con cascarilla quemada seguida de este mismo material en mezcla con cascarilla cielo abierto.
Downloads
Download data is not yet available.
References
Adams, P. 2002. Nutricional control in hydroponics. En: Savvas, D. y H. Passam (eds.). Hydroponic production of vegetables and ornamentals. Embryo Publ., Atenas. pp. 211-261.
Agronet. 2010. Análisis - Estadísticas. En: http://www.agronet.gov.co; consulta: abril de 2011.
Aguayo, E. y F. Artés, 2004. Elaboración del tomate mínimamente procesado en fresco. Compendios de horticultura 15. Ediciones de Horticultura S.L., Reus, España.
Ansorena, M. y J. 1994. Sustratos: Propiedades y caracterización. Ediciones Mundi-Prensa, Madrid.
Arias, R., T.-C. Lee, D. Specca y H. Janes. 2000. Quality comparison of hydroponic tomatoes (Lycopersicon esculentum) ripened on and off vine. J. Food Sci. 65, 545-548.
Baldwin, E.A., J.W. Scott, T.M.M. Malundo, R.L. Shewfelt y K.S. Tandom. 1998. Relationship between sensory and instrumental analysis for tomato flavor. J. Amer. Soc. Hort. Sci. 123(5), 900-915.
Bastida, T. 2002. Sustratos hidropónicos. Departamento de Preparatoria Agrícola, Universidad Autónoma Chapingo, Chapingo, México.
Cadahía, C. 2005. Fertirrigación: cultivos hortícolas y ornamentales. 3a ed. Ediciones Mundi-Prensa, Madrid.
Calderón, F. y F. Cevallos. 2001. Los sustratos. En: http://www.drcalderonlabs.com/Publicaciones/Los_Sustratos.htm; consulta: 14 de febrero de 2011.
Calderón, F. 2002. Cascarilla de arroz caolinizada. En: http://www.drcalderonlabs.com/Investigaciones/Cascarilla_Caolinizada/La_Cascarilla_Caolinizada.htm; consulta: 22 de mayo de 2011.
Cánovas, F. 1995. Manejo del cultivo sin suelo. pp. 228- 254. En: Nuez, F. (ed.). El cultivo del tomate. Ediciones Mundi-Prensa, Madrid.
Ciruelos, A., R. De la Torre y C. González. 2007. Informe 2007. La agricultura y Ganadería Extremeñas Universidad de Extremadura. Parámetros de calidad en el tomate para industria. Pág. 157. En : http://eia.unex.es/EIIAA/Portals/0/La%20Agricultura%20y%20la%20Ganader%C3%ADa%202007.pdf; consulta : 14 de febrero de 2011.
Djedidi, M., D. Grasopoulos y E. Maloupa. 1997. The effect of different substrates on the quality of Carmello tomatoes (Lycopersicon escullentum Mill.) grown under protection in a hydroponic system. Chaiers Options Mediteraneenes 31, 379-383.
Giordano, I., E. Lahoz, A. D'Amato, A. Pentangelo y A. Sozzi. 1994. Varieties choice of processing tomato in Southern Italy. Acta Hort. 376, 117-122.
Handreck, K. y N. Black. 1991. Particle size analysis and the physical properties of growing media for containers. Comm. Soil Sci. Plant Anal. 14 (3), 209-222
Heeb, A., B. Lundegårdh, T. Ericsson y G.P. Savage. 2005. Nitrogen form affects yield and taste of tomatoes. J. Sci. Food Agr. 85(8), 1405-1414.
Jarén, C., S. Arazuri, M.J. García, P. Arnal y J.I. Arana. 2006. White asparagus harvest date discrimination using NIRS technology. Intl. J. Infrared Millimeter Waves 27(3), 391-401.
Lavado, R. 2000. Aguas y sustratos para la producción ornamental. Origen, propiedades, manejo, influencia sobre los cultivos y determinaciones. New Plant, Buenos Aires, Argentina.
Maloupa E., I. Mitsios, P.F. Martínez y S. Bladenopoulou. 1992. Study of substrates used in gerbera soilless culture grown in plastic greenhouse. Acta Hort. 323, 139-144.
Márquez-Hernández, C., P. Cano-Ríos, Y.I. Chew-Madinaveitia, A. Moreno-Reséndez y N. Rodríguez-Dimas. 2006. Sustratos en la producción orgánica de tomate cherry bajo invernadero. Rev. Chapingo Ser. Hortic. 12(2), 183-189.
Moraru, C., L. Logendra, T.-C. Lee y H. Janes. 2004. Characteristics of 10 processing tomato cultivars grown hydroponically for the NASA Advanced Life Support (ALS) Program. J. Food Comp. Anal. 17, 141-154.
Pagliarini, E. y S. Ratti. 1999. Relationships between objective measurements and sensory attributes of quality of eight tomato cultivars. Acta Hort. 487, 349-532.
Presidencia de la República de Colombia. 2007. Colombia abre exportaciones de tomate a Costa Rica. En: http://www.presidencia.gov.co/prensa_new/ sne/2007/abril/03/01032007.htm; consulta: abril de 2011.
Rodríguez, R., J.M. Tabares y J.A. Medina. 2001. Cultivo moderno del tomate. 2a. ed. Ediciones Mundi-Prensa, Madrid. pp. 15-23.
Savithri, P., V. Murugappan y R. Nagarajan. 1993. Possibility of economizing K fertilization by composted coir peat application. Fert. News. 38, 39-40.
Tzortzakis, N. y C. Economakis. 2008. Impacts of the substrate medium on tomato yield and fruit quality in soilless cultivation. Hort. Sci. (Prague) 35(2), 83-89.
Qian, Y.L., A.J. Koski y R. Welton. 2001. Amending sand with isolite and zeolite under saline conditions: leachate composition and salt deposition. HortScience 36, 717-720.
Valdivia, M.A. 1989. Prueba de diferentes sustratos para la producción de jitomate, (Lycopersicon esculentum Mill.) en hidroponía bajo invernadero rústico. Trabajo de grado. Departamento de Fitotecnia, Universidad Autónoma Chapingo, Chapingo, México.
Verdonck, O.F., D. De Vleeschauwer y M. De Boodt. 1981. The influence of the substrate to plant growth. Acta Hort. 126, 251-258.
Wilson, G.C.S. 1985. New perlite system for tomatoes and cucumbers. Acta Hort. 172, 151-156.
Winsor, G.W. 1976. "Tomatoes" appearance to taste quality components. The Grower 45, 33-35.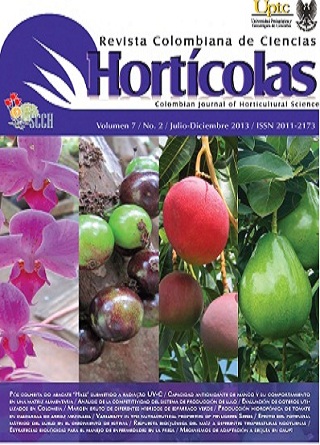 Downloads
How to Cite
Peña, M. Y., Posada, F. C., & Monsalve, O. I. (2014). Producción hidropónica de tomate (Solanum lycopersicum L.) en cascarilla de arroz mezclada con materiales minerales y orgánicos. Revista Colombiana De Ciencias Hortícolas, 7(2), 217–227. https://doi.org/10.17584/rcch.2013v7i2.2236
Section
Vegetable section
License
The copyright of the articles and illustrations are the property of the Revista Colombiana de Ciencias Hortícolas. The editors authorize the use of the contents under the Creative Commons license Attribution-Noncommercial-ShareAlike 4.0 International (CC BY-NC-SA 4.0). The correct citation of the content must explicitly register the name of the journal, name (s) of the author (s), year, title of the article, volume, number, page of the article and DOI. Written permission is required from publishers to publish more than a short summary of the text or figures.