Estudio del comportamiento fisiológico de la semilla de tres especies cultivadas de Passiflora L. (Passifloraceae) como una contribución para la conservación ex situ
Abstract
El maracuyá (P. edulis f. flavicarpa), la granadilla (P. ligularis) y la gulupa (P. edulis f. edulis) son económicamente las principales especies del género Passiflora L. por su fruto comestible y comercialización en mercados locales e internacionales. El objetivo de este estudio fue identificar el comportamiento fisiológico de la semilla de maracuyá, granadilla y gulupa frente al almacenamiento como una contribución a la conservación ex situ. El diseño experimental utilizado fue completamente al azar con cinco tratamientos y tres repeticiones siguiendo el protocolo de Hong y Ellis (1996). Las semillas de maracuyá y gulupa fueron secadas en cuartos con flujo continuo de aire (20°C±2 y 35% humedad relativa [HR]), donde se les disminuyó el contenido de humedad hasta un rango óptimo de 10-12% en 5 horas y obteniendo una germinación de 100 y 77,1%, respectivamente. En la granadilla, la desecación tardó 20 horas y las semillas germinaron en un 79,5%. Posteriormente, la disminución hasta 6% (20°C±2 y10% HR) tardó 60 horas, para maracuyá y gulupa con una germinación de 81,2 y 98,6%, respectivamente y 105 horas para granadilla con un 91,4%de germinación. De acuerdo con el protocolo mencionado, se conservaron durante 6 meses, evaluándose en el primero, tercero y sexto mes con una germinación promedio del 94,1% para maracuyá, 90,9% para granadilla y 87,9% para gulupa. Lo anterior sugiere que las semillas de las tres especies estudiadas presentan tolerancia a la desecación y posiblemente pertenecen a la categoría ortodoxa. Estos resultados contribuyen al manejo y conservación de los recursos genéticos de los frutales neotropicales
Downloads
Download data is not yet available.
References
Arias, J.C., J. Ocampo y R. Urrea. 2014. La polinización natural en el maracuyá (Passiflora edulis f. flavicarpa Degener) como un servicio reproductivo y ecosistémico. Agron. Mesoamer. 25(1), 73-83.
Balaguera, H.E., J.G. Álvarez y J. Cárdenas. 2010. Efecto de la estratificación fría y la cobertura plástica en semillas de gulupa (Passiflora edulis Sims.) para la obtención de plántulas. Rev. UDCA Act. Divulg. Cient. 13(2), 89-97.
Becwar, M.R., P.C. Stanwood y K.W. Leonhardt. 1983. Dehydration effects on freezing characteristics and survival in liquid nitrogen of desiccation-tolerant and desiccation sensitive seeds. J. Amer. Soc. Hort. Sci. 108, 613-618.
Cárdenas, J.F. 2011. Morfología y tratamientos pregerminativos de semillas de granadilla (Passiflora ligularis Juss.). Tesis de maestría. Facultad de Agronomía, Universidad Nacional de Colombia, Bogotá.
Carlesso, V.O., P.A. Berbert, R.F. Silva y E. Detmann. 2008. Secagem e armazenamento de sementes de maracujá amarelo (Passiflora edulis Sims f. flavicarpa Degener). Rev. Bras. Sem. 30(2), 65-74.
Cardozo, H. 1998. Efecto de la escarificación y la dosis del ácido giberélico (AG3) en la germinación de semillas de curuba (Passiflora mollisima). Acta Biol. Colomb. 1(4), 127 -132.
Delanoy, M., P. Van Damme, X. Scheldeman y J. Beltran. 2006. Germination of Passiflora mollissima (Kunth) L.H.Bailey, Passiflora tricuspis Mast. and Passiflora nov sp. seeds. Sci. Hortic. 110(2), 198-203.
Ferreira, G., A. Oliveira, J.D. Rodrigues, G.B. Dias, A.M. Detoni, S.M. Tesser y A.M. Antunes. 2005. Efeito de arilo na germinação de sementes de Passiflora alata Curtis em diferentes substratos e submetidas a tratamentos com giberelina. Rev. Bras. Frutic. 27(2), 277-280.
Fonseca, S. y W. Silva. 2005. Conservação de sementes de maraujá amarelo: interferencias do teor de agua das sementes e da temperatura de armazenamiento. Bragantia 64(2), 273-289.
González-Benito, M.E., N. Aguilar y T. Ávila. 2009. Germination and embryo rescue from Passiflora spp. seeds post-cryopreservation. CryoLetters 30(2), 142-147.
Guevara, C., J. Ospina, L. Caicedo, V. Barney y G. Coppens d'Eeckenbrugge. 2003. Criopreservación de semillas en tres especies de pasiflora. Unidad de Recursos Genéticos, CIAT, Cali; IPGRI, Roma.
Gutiérrez, M.I., D. Miranda y J.F. Cárdenas. 2011. Efecto de tratamientos pregerminativos sobre la germinación de semillas de gulupa (Passiflora edulis Sims.), granadilla (Passiflora ligularis Juss.) y cholupa (Passiflora maliformis L.). Rev. Colomb. Cienc. Hortic. 5(2), 209-219.
Hong, T.D y R.H. Ellis. 1996. A protocol to determine seed storage behavior. IPGRI Technical Bulletin No. 1. International Plant Genetic Resources Institute, Roma.
Hong, T.D., S. Linington y R.H. Ellis. 1998. Compendium of information on seed storage behaviour. Vols. I y II. Royal Botanic Gardens Kew, London.
ISTA, International Seed Testing Association 2009. International rules for seed testing, Chapter 5 Germination test. Bassersdorf, Suiza.
Júnior, M., A. São José, T. Rebouças, O. Morais y F. Dourado. 2009. Superação de dormência de maracujá-do-mato (Passiflora cincinnata Mast.). Rev. Bras. Frutic. 32(2), 584-590.
Lima, C.S.M., D.L. Betemps, Z.F.P. Tomaz, S.P. Galarça y A.R. Rufato. 2009. Germinação de sementes e crescimento de maracujá em diferentes concentrações do ácido giberélico, tempos de imersão e condições experimentais. Rev. Bras. Agroc. 15(1-4), 43-48.
Liu, S., F. Yang, J. Li, C. Zhang, H. Ji y P. Hong. 2008. Physical and chemical analysis of Passiflora seeds and seed oil from China. Int. J. Food Sci., Nutr. 59(7, 8), 706-15.
Lobo, M. 2006. Recursos genéticos y mejoramiento de frutales andinos: una visión conceptual. Rev. Corpoica Cienc. Tecnol. Agropecu. 7(2), 40-54.
Maciel, N., D. Bautista y J. Aular. 1997. Growth and development of grenadilla plants I. Morphology during the first phases of the growth cycle. Fruits 52, 11 - 17.
Macguire, J.D. 1962. Speed of germination. Aid in selection and evaluation of seedling emergence and vigor. Crop Sci. 2, 176-177.
Manjkhola, S., U. Dhar y R.S. Rawal. 2003. Treatments to improve seed germination of Arnebia benthamii: an endangered medicinal herb of high altitude Himalaya. Seed Sci. Technol. 31, 571-577.
Mendiondo, G.M y M.T. Garcia. 2009.Germination of stored and scarified seeds of Passiflora caerulea L. (Passifloraceae). Plant Biosyst. 143(2) 369 - 376.
Nakagawa, J., C. Cavariani y W.E.N. Amaral. 1991. Armazenamento de sementes de maracujá amarelo. Rev. Bras. Sem. 13(1), 77-80.
Ocampo, J. 2007. Study of the genetic diversity of genus Passiflora L. and its distribution in Colombia. Ph.D. thesis. Centre International d'Etudes Supérieures en Sciences Agronomiques - SupAgro Montpellier, Francia.
Osipi, E.A y J. Nakagawa. 2005. Efeito da temperatura na avaliação da qualidade fisiológica de Sementes do maracujá-doce (Passiflora alata Dryander). Rev. Bras. Frutic. 1(27), 179-181.
Ospina, J.A., C.L. Guevara, L.E. Caicedo y V. Barney. 2000. Effects of moisture content on Passiflora seed viability after immersion in liquid nitrogen. JIRCAS International Agriculture Series 8, 378-381.
Passos, I.R., G.V. Mato, L.M. Meletti, M.D. Scott, L.C. Bernacci y M.A. Vieira. 2004. Utilização do ácido giberélico para a quebra de dormência de sementes de Passiflora nitida Kunth germinadas in vitro. Rev. Bras. Frutic. 2(26), 380-381.
Parra, M., P.A. Rivera, R. Rodríguez y O.E. Aguilar. 2013. Acuerdo de competitividad para la cadena productiva de pasifloras en Colombia. Asohofrucol, CEPASS, Consejo Nacional de Pasifloras, Ministerio de Agricultura y Desarrollo Rural (MADR), Bogotá.
Ramírez, C., S. Henk, W.M. Hilhorst y E. Hodson. 2008. Viability and seed germination of Passiflora mollissima (H.B.K) Bailey according to provenance and fruit ripening stage. pp. 145-190. En: Memorias Red-Alfa Lagrotech, Unión Europea, Cartagena, Colombia.
Rao, N.K., J. Hanson, M.E. Dullo, K. Ghoh, D. Novell y M. Larinde. 2007. Manual para el manejo de semillas en bancos de germoplasma. Manuales para el manejo de bancos de germoplasma No.8. Bioversity International, Roma.
Rendón, J.S., J. Ocampo y R. Urrea. 2013. Estudio sobre polinización y biología floral en Passiflora edulis f. edulis Sims, como base para el premejoramiento genético. Acta Agron. 62(3), 232-241.
Rosseto, C.A., R.C. Coneglian, J. Nakagawa, M.K. Shimizu y V.A. Marin. 2000. Germinação de sementes de maracujá-doce (Passiflora alata Dryand) em função de tratamento pré-germinativo. Rev. Bras. Sem. 1(22), 247-252.
Teng, Y.T. 1977. Storage of passion fruit (Passiflora edulis forma flavicarpa) seeds. The Malaysian Agric. J. 51, 118-123.
Torres, A.M. y R. Ellis. 2007. Conservación ex situ de semillas de frutos jugosos. Actual. Biol. 29(1), 88-89.
Veiga-Barbosa, L., S. Mira, M.E. González-Benito, M.M. Souza, L.M.M. Meletti y F. Pérez-García. 2013. Seed germination, desiccation tolerance and cryopreservation of Passiflora species. Seed Sci. Technol. 41, 89-97.
Wagner, J.A., R.S. Alexandre, J.R. da Silva, L. Duarte, J.O. da Costa y C.H. Bruckner. 2006. Influência do substrato na germinação e desenvolvimento inicial de plantas de maracujazeiro amarelo (Passiflora edulis Sims f. flavicarpa Deg.). Ciênc. Agrotec. 30(4), 643-647.
Westengen, O.T., S. Jeppson y L. Guarino. 2013. Global Ex-Situ Crop Diversity Conservation and the Svalbard Global Seed Vault: Assessing the Current Status. Plos One. 8(5), 1-1.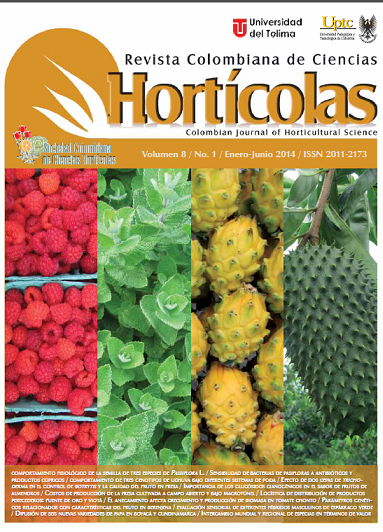 Downloads
Metrics
Views/Downloads
Abstract

760

PDF (Español)

768
How to Cite
Posada, P, Ocampo, J, & Santos, L G. (2014). Estudio del comportamiento fisiológico de la semilla de tres especies cultivadas de Passiflora L. (Passifloraceae) como una contribución para la conservación ex situ. Revista Colombiana de Ciencias Hortícolas, 8(1), 9–19. https://doi.org/10.17584/rcch.2014v8i1.2796
License
The copyright of the articles and illustrations are the property of the Revista Colombiana de Ciencias Hortícolas. The editors authorize the use of the contents under the Creative Commons license Attribution-Noncommercial-ShareAlike 4.0 International (CC BY-NC-SA 4.0). The correct citation of the content must explicitly register the name of the journal, name (s) of the author (s), year, title of the article, volume, number, page of the article and DOI. Written permission is required from publishers to publish more than a short summary of the text or figures.