Determinación de los costos de producción de la fresa cultivada a campo abierto y bajo macrotúnel
Abstract
En Colombia el cultivo de la fresa se realiza principalmente a campo abierto, lo que presenta algunas limitaciones relacionadas con el ataque de plagas y enfermedades como Botrytis cinerea y Sphaerotheca macularis, las cuales pueden generar pérdidas importantes en la producción, sumadas a las causadas por otros factores relacionados con la exposición a condiciones climáticas adversas. Se ha venido implementando la tecnología de los macrotúneles en este cultivo para contrarrestar estos efectos, por lo cual el objetivo de este estudio fue caracterizar los costos de producción variables asociados al cultivo de la fresa, realizando comparaciones entre las dos condiciones ambientales: a campo abierto y bajo macrotúnel, con el fin de determinar la viabilidad
de implementar esta tecnología. El experimento se llevó a cabo en el Campus Nueva Granada de la Universidad Militar ubicado en Cajicá (Cundinamarca, Colombia), en un área de 403 m2 dispuestos en tres macrotúneles (MT) y a campo abierto (CA), con un total de 1.620 plantas. Para la recolección de los costos se empleó un libro de registro de campo el cual se diligenció diariamente y en orden cronológico durante 56 semanas. Los resultados obtenidos permiten concluir que es aconsejable que los productores realicen la inversión de los MT dado que su costo es bajo y tienen una larga vida útil, más si se tiene en cuenta que las pérdidas ocasionadas por B. cinerea son mayores a CA que bajo MT y representa un costo superior en cuanto a su manejo en comparación con otras enfermedades y ataque de plagas.
Downloads
Download data is not yet available.
References
Carroll, B. 2010. Haygrove tunnels. En: Rutgers New Jersey Agricultural Experiment Station, http://njsustainingfarms.rutgers.edu/hightunnels.html; consulta: septiembre de 2013.
Ceredi, G., M. Mari, L. Antoniacci, C. Montuschi, E. De Paoli y S. Gengotti. 2009. Ten years of field trial on grey mold control on strawberries. Acta Hort. 842, 327-300.
Chaves, N. y A. Wang. 2004. Combate del moho gris (Botrytis cinerea) de la fresa mediante Gliocladium roseum. Agron. Costar. 28(2), 73-85.
Escobar, D., F. Castro, B. Cuervo, M. Rodríguez y J.I. Vargas. 2012. Consultoría sobre costos de producción de doce productos agropecuarios. Centro de Investigación Económica y Social. Fedesarrollo - IQuartil, Bogotá.
Ferrucho A.M. y D. Ruíz. 2013. Evaluación y comparación del comportamiento agronómico de dos cultivares de fresa (Albión y Monterrey) sembrados a libre exposición y bajo macrotúnel en la Sabana de Bogotá (Colombia). Trabajo de grado. Facultad de Ciencias Básicas y Aplicadas, Universidad Militar Nueva Granada, Cajicá, Colombia.
Flórez, R. y R. Mora. 2010. Fresa (Fragaria x ananassa Duch.) producción y manejo poscosecha. Corredor Tecnológico Agroindustrial y Cámara de Comercio de Bogotá, Bogotá
Heidenreich, C., M. Pritts y E. Hanson. 2012. High tunnel raspberries and blackberries. Publication No 47. Department of Horticulture, Cornell University, Ithaca, NY.
Giampieri, F., S. Tulipani, J.M. Alvarez-Suarez, J.L. Quiles, B. Mezzetti y D. Battino. 2012. The strawberry: composition, nutritional quality, and impact on human health. Nutrition 28(1), 9-19.
Khoshnevisan, B., S. Rafiee y H. Mousazedh. 2013. Enviromental impact assessment of open field and greenhouse strawberry production. Eur. J. Agron. 50, 29-37.
MAG, Ministerio de Agricultura y Ganadería. 2007. Dirección Regional Central Occidental. Información Agrocadenas. Agrocadena de la fresa. Provincia de Alajuela, Grecia, Costa Rica.
Mossler, M. 2012. Florida crop/pest management profiles: Strawberry. En: IFAS Extension. University of Florida, Gainsville, FL.
Ruiz, R. y W. Piedrahíta. 2012. Fresa (Fragaria x ananassa). pp. 474-495. En: Fischer, G. (ed.). Manual para el cultivo de frutales en el trópico. Produmedios, Bogotá.
Salamé-Donoso, T.P., B.M. Santos, C.K. Chandler y S.A. Sargent. 2010. Effect of high tunnels on the growth, yields, and soluble solids of strawberry cultivars in Florida. Intl. J. Fruit Sci. 10(3), 249-263.
Sipsa. 2010. Sistema de información de precios del sector agropecuario. En: Estructura de costos del cultivo de la fresa, http://www.agronet.gov.co/www/htm3b/public/boletines/Costos2010trim4/Costos2010T4_archivos/frame.htm; consulta: noviembre de 2013.
USDA, United States Department of Agriculture. 2013. Table 19 and 20, Economic Research Services, U.S. Department of Agriculture, U.S. Strawberry industry. En: USDA, http://usda.mannlib.cornell.edu/MannUsda/viewDocumentInfo.do?documentID=1381; consulta: noviembre de 2013.
Universidad de California. 2005. Manejo integrado de plagas. Guía para el manejo de plagas: Fresas. ANR/Comunication Sevices. Publicación 3473. Oakland, CA.
William, J. y J. Lamont. 2009. Overview of the use of high tunnels worldwide. HortTechnol. 19(1), 25-29.
Xiao, C.L., C.K. Chandler, J.E. Price, J.R. Duval, J.C. Mertely y D.E. Legard. 2001. Comparison of epidemics of Botrytis fruit rot and powdery mildew of strawberry in large plastic tunnel and field production systems. Plant Dis. 85, 901-909.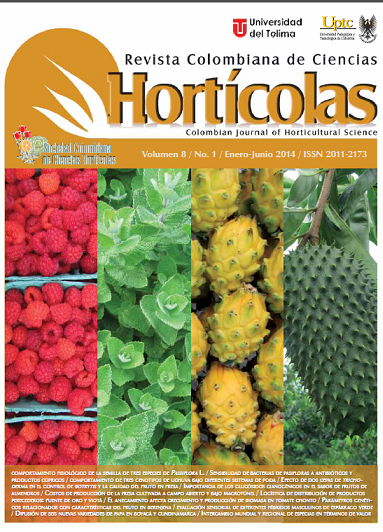 Downloads
Metrics
Views/Downloads
Abstract

6320

PDF (Español)

1837
How to Cite
Rubio, S A, Alfonso, A M, Grijalba, C M, & Pérez, M M. (2014). Determinación de los costos de producción de la fresa cultivada a campo abierto y bajo macrotúnel. Revista Colombiana de Ciencias Hortícolas, 8(1), 67–79. https://doi.org/10.17584/rcch.2014v8i1.2801
License
The copyright of the articles and illustrations are the property of the Revista Colombiana de Ciencias Hortícolas. The editors authorize the use of the contents under the Creative Commons license Attribution-Noncommercial-ShareAlike 4.0 International (CC BY-NC-SA 4.0). The correct citation of the content must explicitly register the name of the journal, name (s) of the author (s), year, title of the article, volume, number, page of the article and DOI. Written permission is required from publishers to publish more than a short summary of the text or figures.