Assessment on the weight of rabbits for meat fed on different ensilage types
Keywords:
dietary fiber, ensilages, new zealand rabbits, rabbit feeding.
Abstract
At the Quindio's University experimental farm "Benga|a", located in the municipality of Filandia, Quindio, the weight increase in rabbits for meat that were fed on different fodder was evaluated. The four treatments corresponded to the following ensilagesz imperial grass (Axonopus scoparius), imperial grass mixed with meadow buttercup (Tithonia diversifolia (Hemsl.), imperial grass mixed with ramie (Boehmeria nivea), and imperial grass mixed with morus/mulberry (/\/Iorus alba). The evaluation was applied on four probing groups consisting of five rabbits each. The group fed on imperial grass and meadow buttercup gained the highest increase of weight (2389 g in average), whereas the group fed on simply fresh fodder gained a lower mean weight 0f 2021 g. The food sources that better met the nutritional parameters of the rabbits were the following ensilages in due order: meadow buttercup, morus/mulberry, and ramie.
Downloads
Download data is not yet available.
References
(1) Nieves D, Terán O, Silva L, González C. Digestibilidad in vivo de nutrientes en dietas en forma de harina con niveles crecientes de Leucaena leucocephala para conejos de engorde. Rev. Científ, 2002; 12(2): 408-411.
(2) Ashbell G, Weinberg ZG, Bolsen KK, Hen Y, Azrieli A. The silage characteristics of two varieties of forage sorghum mixed in different proportions at two stages of maturity. African J. Range Forage Sci., 1999; 15:69-72.
(3) García G. Ensilado de Forrajes. Madrid, España: Publicaciones de Extensión Agraria, 1991.
(4) Filippi R. Conceptos básicos en la elaboración de ensilajes. Chile: Universidad de la Frontera, 2011.
(5) Aguilera A, Pérez F, Grande D, De la Cruz I, Juárez J. Digestibility and fermentative characteristics of mango, lemon and corn stover silages with or without addition of molasses and urea. Small Ruminant Research, 2007; 26: 87-91. DOI: http://dx.doi.org/10.1016/S0921-4488(96)01001-2.
(6) Echeverry J. Explotación y manejo de conejo doméstico. Politécnico Colombiano Escuelas de Ciencias Agrarias. Politécnico Colombiano Jaime Isaza Cadavid, 2004.
(7) Velázquez R. Evaluación genética del comportamiento productivo y reproductivo en núcleos de conejos de las razas Nueva Zelanda y Chinchilla, Revista CORPOICA Ciencia y Tecnología Agropecuaria, 2007; 8(1): 69-74. DOI: http://dx.doi.org/10.21930/rcta.vol8_num1_art:86.
(8) Roca J, Martínez S, Orengo J, Parrilla I, Vázquez JM, Martinez EA. Influence of constant long days on ejaculate parameters rabbits reared under natural environment conditions of Mediterranean area. Livestock Production Science, 2005; 94: 169-177. DOI: http://dx.doi.org/10.1016/j.livprodsci.2004.10.011.
(9) González RP, Caravaca-Rodríguez FP. Producción de conejos de aptitud cárnica. Sistemas ganaderos en el siglo xxi. España, 2007.
(10) Barbado JL. Cría de conejos, su empresa de cunicultura. Argentina: Albatros, 2006.
(10) Betancourt M, González I, Martínez de Acurero M. Evaluación de la calidad de los ensilajes. Revista Digital Centro Nacional de Investigaciones Agropecuarias de Venezuela, 2005; 8: 1-5.
(11) Cañete MV, Sacha JL. Ensilado de forrajes y su empleo en la alimentación de rumiantes. Madrid: Mundi-Prensa, 1998.
(12) Badii MH, Castillo J, Barragán JN, Flores AE. Análisis discriminante. En: M.H. Badii y J. Castillo (eds.): Técnicas Cuantitativas en la Investigación. Monterrey: UANL, 2007.
(13) De la Raza B. El ensilado en zonas húmedas y sus indicadores de calidad. IV Jornadas de Alimentación Animal. Laboratorio de Mouriscade. Lalín, pp. 1-20.
(14) Chaverra G. Bernal E. Ensilaje en la alimentación de ganado vacuno. Bogotá: IICA, Tercer Mundo Editores, 2000.
(15) Guzmán O, Lemus C, Martínez S, Bonilla J, Plasencia A, Ly J. Chemical characteristics of silages of mango (Mangifera indica L.) by products for animal feeding. Cuban J. Agric. Sci., 2012; 46(4): 369-374.
(16) Garcés M, Suárez E, Serna J, Ruíz S. Evaluación de la calidad bromatológica del ensilaje de pasto kikuyo y maní forrajero. Revista Lasallista de Investigación, 2006; 3(2): 34-37.
(17) Garcés AM, Berrío L, Ruíz S, Serna JG, Builes AF. Ensilaje como fuente de alimentación para el ganado. Rev. Lasallista Investigación, 2011; 1(1): 66-71.
(18) Reyes N, Mendieta B, Fariñas T, Mena M, Cardona J, Pezo D. Elaboración y utilización de ensilajes en la alimentación del ganado bovino. Managua, Nicaragua: CATIE, 2009.
(19) Jobim C, Nussio L, Reis R, Schmidt P. Avanços metodológicos naavaliaçao da qualidade da forragem canservada. Revista Brasileña de Zootecnia, 2007; 36 (suplemento especial), 101-119.
(20) Villa AF, Meléndez AP, Carulla JE, Pabón ML, Cárdenas EA. Estudio microbiológico y calidad nutricional del ensilaje de maíz en dos ecoregiones de Colombia. Revista Colombiana Ciencias Pecuarias, 2010; 23(1): 65-77.
(21) Qamar M. Effect of molasses and corn as silage additives on the characteristics of Mott Dwarf Elephant grass silage at different fermentation periods. Pak. Vet. J., 2009; 29: 19-23.
(22) Nisa M, Shahzad MA, Sarwar M, Tauqir NA. Influence of additives and fermentation periods on silage characteristics, chemical composition, and in situ digestion kinetics of Jambo silage and its fodder in Nili buffalo bulls. Turk. J. Vet. Anim. Sci., 2008; 32(2): 67-72.
(23) Bergamaschine AF, Passipiéri M, Veriano WV, Isepon OJ, Almeida-Correa LD. Qualidade e valor nutritivo de silagens de capim-marandu (B. brizantha cv. Marandu) produzidas com aditivos ou forragem emurchecida. R. Bras Zootec., 2006; 35(4): 1454-1462. DOI: http://dx.doi.org/10.1590/S1516-35982006000500027.
(24) Medina M, García D, González E, Cova L, Morantinos P. Variables morfo-estructurales y de calidad de la biomasa de Tithonia diversifolia en la etapa inicial de crecimiento. Zootecnia Trop., 2009; 27: 121-134.
(25) Verdecia D, Ramírez J, Leonard I, Álvarez Y, Bazán Y, Bodas R, Andrés S, Álvarez J, Giráldez F, López S. Calidad de la Tithonia diversifolia en una zona del Valle del Cauto. REDVET. En: http://www.veterinaria.org/revistas/redvet/n050511/051113.pdf.
(26) Roa M, Castillo C, Téllez E. Influencia del tiempo de maduración en la calidad de ensilajes con forrajes arbóreos. Sistemas de Producción Agroecológicos, 2010; 1(1): 63-73.
(27) Betancourt M, González I, Martínez M. Evaluación de la calidad de los forrajes. Maracaibo, 2006.
(28) Triguero RO, Villalta P. Evaluación del uso de follajes deshidratado de morera (Morus alba) en la alimentación de cerdos de la raza landrece en la etapa de engorde. San SV. 1997; 150-155.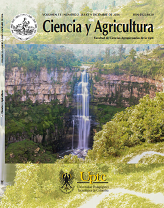 Downloads
How to Cite
Villa-Ramírez, R., & Hurtado-Villegas, J. (2016). Assessment on the weight of rabbits for meat fed on different ensilage types. Ciencia Y Agricultura, 13(2), 73–81. https://doi.org/10.19053/01228420.v13.n2.2016.5555
License
All papers included in the Revista Ciencia y Agricultura are published under Creative Commons Attribution 4.0 International