Chicken Breeding with Natural Food in Peri-urban Areas as a Contribution to Access to Food
Keywords:
alternative poultry, broiler chicken, peri-urban, sensory attribute
Abstract
The population in Arequipa and the large cities eats mainly chicken, beef, pork, and sheep meat. The consumption of chicken in Peru in 2016 was 52 kg per inhabitant. The industrial production of chicken meat is fast because it takes advantage of the genetics that respond to the nutritional and non-nutritional additives that are incorporated to a balanced feed; however, there is a sector of consumers that prefer meat of natural breeding chicken, without the use of those additives. The aim of this work was to assess chicken breeding using natural foods considering the management and quality of the product. The method used was to evaluate the management, the level of preference of the product and assess the perspectives in the generation of employment and income. The results show consumers' preference for chicken meat obtained with natural foods, because it presents good appearance, color, texture and flavor with respect to the industrial chicken that is available in the markets and is consumed normally. If the extensive production of natural breeding chicken in peri-urban areas is achieved, and taking into account that this type of production arouses interest in consumers eager for natural and quality products, it would be possible to create sources of employment and income to small producing and trading units taking part in the breeding chain (raw materials producers, inputs and others), improving their quality of life.
Downloads
Download data is not yet available.
References
Anzaldúa-Morales, A. (1994). La evaluación sensorial de los alimentos en la teoría y la práctica. Zaragoza, España: Acriba.

Asociación Latinoamericana de Avicultura. (2018). Estadísticas. Recuperado de http://www.avicolatina.com/es-ES/estadisticas/pollo/produccion

Attia, Y., Al-Harthi, M., Korish, M., & Shiboob, M. (2016). Evaluación de la calidad de la carne de pollo en el mercado minorista: efectos del tipo y origen de las canales. Revista Mexicana de Ciencias Pecuarias, 7(3), 321-339. https://doi.org/10.22319/rmcp.v7i3.4213.

Camou, J., Gonzales, H., & Valenzuela, M. (2014). Alimentos funcionales cárnicos. En Los alimentos funcionales. Un nuevo reto para la industria de alimentos (p. 687). México: AGT.

Carbajal, A. (2005). Hábitos de consumo de carne de pollo y huevos. Calidad nutricional y relación con la salud. En XLII Simposio Científico de Avicultura, Ciudad de Cáceres, España.

Cárdenas, I., Cevallos, E., Salazar, J., Romero, E., Gallegos, P., & Cáceres, M. (2018). Uso de pruebas afectivas, discriminatorias y descriptivas de evaluación sensorial en el campo gastronómico. Revista Dom. Cien, 4(3), 253-263. https://doi.org/10.23857/dom.cien.pocaip.

Cepero, R. (2013). Nutrición y alimentación animal en sistemas extensivos en avicultura. Recuperado de https://www.engormix.com/avicultura/articulos/nutricion-alimentacion-animal-sistemas-t30250.htm.

Cepero, R. (s.f). Producción de huevos y pollos alternativos en España y en la U.E.: situación actual y perspectivas de futuro. Recuperado de http://www.wpsa-aeca.es/aeca_imgs_docs/02_04_46_Produccion_en_la_UE.pdf

Dirección Provincial de Educación Técnico Profesional, Dirección de Educación Agraria. (s.f.). Manual de avicultura. Manual de ciclo básico de educación agraria. Versión preliminar. Recuperado de http://www.produccion-animal.com.ar/produccion_aves/produccion_avicola/106-MANUAL_DE_AVICULTURA.pdf.

Esquivel, O. (2008). Evaluación sensorial de la carne de pollo de engorde bajo pastoreo utilizando un asocio de Pennisetum clandestinum y Arachis pintoi. (Tesis de grado). Universidad de San Carlos de Guatemala.

FAO. (2013). Revisión del desarrollo avícola. Roma: FAO.

Fernández, M., & Marsó, M. (2003). Estudio de la carne de pollo en tres dimensiones: valor nutricional, representación social y formas de preparación. (Tesis de grado). Instituto Universitario de Ciencias de la salud, Fundación H.A. Barceló, Buenos Aires, Argentina.

Hernández, S. (2016). El periurbano, un espacio estratégico de oportunidad, Biblio3W Revista Bibliográfica de Geografía y Ciencias Sociales, 21(1160), 2-21.

Reglamento (CEE) N.º 1538/91 de la Comisión, de fecha 5 de junio de 1991, que establece las disposiciones de aplicación del Reglamento (CEE) N.º 1906/90, por el que se establecen normas de comercialización aplicables a la carne de aves de corral.

Reglamento (CEE) N.º 1804/1999 del Consejo, de fecha 19 de junio de 1999, por el que se completa, para incluir las producciones animales, el Reglamento (CEE) No 2092/91 sobre la producción agrícola ecológica y su indicación en los productos agrarios y alimenticios.

Sorrentino S. (2013). Evaluación nutricional del pollo de campo e industrial. (Tesis de grado). Universidad de Fasta, Mar de Plata, Argentina.

Vaz da Costa, M., Castro, W., & Botelho, F. (2005). Custo de producao na avicultura alternativa do Distrito Federal. En XLIII Congresso da Sober. Sociedad Brasileira de Economía e Sociología Rural.

Vinces, H. (2013). La Costa concentra el 90 % de producción peruana de pollos. Andina, Agencia Peruana de Noticias. Recuperado de https://andina.pe/agencia/noticia-la-costa-concentra-90-produccion-peruana-pollos-448796.aspx.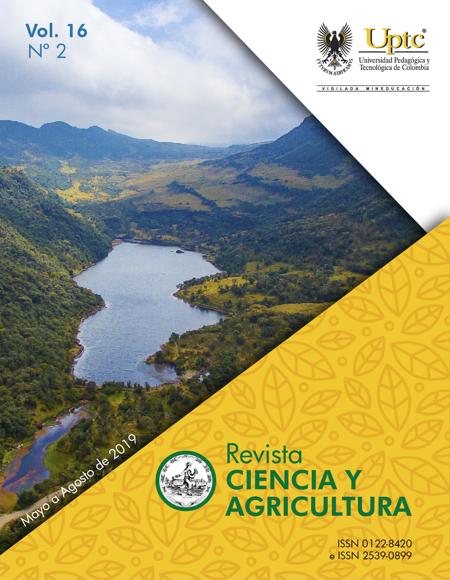 Downloads
How to Cite
Flores-Aguilar, E., & Cárdenas-Gutiérrez, A. (2019). Chicken Breeding with Natural Food in Peri-urban Areas as a Contribution to Access to Food. Ciencia Y Agricultura, 16(2), 93–104. https://doi.org/10.19053/01228420.v16.n2.2019.9172
License
All papers included in the Revista Ciencia y Agricultura are published under Creative Commons Attribution 4.0 International