Conservación del fruto de banano bocadillo (Musa AA Simmonds) con la aplicación de permanganato de potasio (KMnO4)
Abstract
El banano bocadillo es considerado uno de los productos hortofrutícolas promisorios exportables de Colombia, no obstante, es un producto altamente perecedero, por lo anterior es necesaria la evaluación de tecnologías de bajo costo que aumenten la conservación de estos frutos. El permanganato de potasio (KMnO4) ha mostrado ser una herramienta eficaz en la conservación de diferentes frutos debido a que oxida al etileno. El objetivo de este estudio fue evaluar el efecto del KMnO4 en la conservación de frutos de banano bocadillo, para lo cual se utilizó un diseño en bloques completos al azar con arreglo factorial de 3 × 3 + 1, donde los bloques correspondieron a los tipos de arcillas (montmorillonita, caolinita, vermiculita y zeolita), el primer factor consistió en las dosis de KMnO4 (0,5%, 1,0% y 1,5% con base en el peso fresco de los frutos) y el segundo factor fueron las dosis de arcilla (0,5%, 1,0% y 1,5%) usada como carrier del KMnO4, más un testigo absoluto, los frutos fueron almacenados durante 16 días a temperatura ambiente y periódicamente se midió el índice de color (IC), sólidos solubles totales (SST), pérdida de peso, firmeza, acidez total titulable (ATT) y relación de madurez (RM). Los resultados obtenidos muestran que la mezcla de 1% de arcilla + 1,5% de KMnO4 favoreció la conservación de bananito, debido a que presentó menor IC (-0,64), menores SST (12,08 °Brix), mayor firmeza (70,65 N) y menor RM (83,67). Por lo tanto, existe un efecto favorable en la conservación de los frutos de bananito cuando el KMnO4 se encuentra en mayor proporción con respecto a su carrier.
Palabras clave adicionales: arcillas, maduración, poscosecha, oxidación de etileno.
Downloads
Download data is not yet available.
References
Agronet. 2012. Análisis estadísticas del bananito. En: http://www.agronet.gov.co; consulta: septiembre de 2012.
Ayoub, J., M. Driver, H. Kim, A. Barret e I. Taub, 1976. Use of ethylene absorbers in extending produce shelf life. En: http://agraconew.com. 8 p.; consulta: septiembre de 2012.
Brackmann, A., R. Giehl, S. Freitas, A. Eisermann y A. Mello. 2006. Uso de filmes de polietileno e absorção de etileno para o transporte refrigerado de maçã 'Gala'. Ciências Agrárias 27 (3), 423-428.
Bhutia, W., R. Pal, S. Sen y S. Jha. 2011. Response of different maturity stages of sapota (Manilkara achras Mill.) cv. Kallipati to in-package ethylene absorbent. J. Food Sci. Technol. 48(6), 763-768.
Bonilla, M., P. Arias, L. Landínez, J. Moreno, F. Carozo y M. Suárez. 2009. Agenda prospectiva de investigación y desarrollo tecnológico para la cadena productiva de la uchuva en fresco para exportación en Colombia. Ministerio de Agricultura y Desarrollo Rural, Bogotá.
Brody, A., E. Strupinsky y L. Kline. 2002. Active packaging for food applications. CRC Press, London.
Campos, J., P. Hasegawa, E. Purgatto, F. Lajolo y B. Cordenunsi. 2007. Qualidade póscolheita de nêsperas submetidas ao armazenamento sob baixa temperatura e atmosfera modificada. Ciência e Tecnologia de Alimentos 27(2), 401-407.
Castro, M. 2001. Efectos de tratamientos postcosecha en la actividad enzimática de la clorofilasa del banano bocadillo (Musa Accuminata). Tesis de maestría. Facultad de Agronomía, Universidad Nacional de Colombia, Bogotá.
Castro, B. y L. Restrepo. 2004. Efectos de tratamientos postcosecha sobre la prolongación de la maduración del baby banano (Musa accuminata). pp. 273- 274. Memorias XVI Reunión Internacional Acorbat. Oxaca, México.
Castro, B., G. Jerz, P. Winterhalter y R. Restrepo. 2007. Degradación de la clorofila en la corteza del baby banano (Musa acuminata) durante diferentes estados de maduración. Memorias VIII Congreso Nacional del Color. 19-21 Septiembre, 2007. Madrid.
Chang-Yuen, K. y V. Sáenz. 2005. Efecto del 1-Metil-ciclopropeno (1-MCP) en la maduración de banano. Agron. Costarr. 29(3), 211-220.
Chauhan, O., P. Raju, D. Dasgupta y A. Bawa. 2006. Modified atmosphere packaging of banana (cv. Pachbale) with ethylene, carbon dioxide and moisture scrubbers and effect on its ripening behaviour. Amer. J. Food Technol. 1(2), 179-189.
Chaves, M., R. Bonomo, A. Silva, L. Santos, B. Carvalho, T. Souza, G. Gomes y R. Soares. 2007. Use of potassium permanganate in the sugar apple post-harvest preservation. Cienc. Tecnol. Aliment. 5(5), 346-351.
Choudhury, S., S. Roy y D. Sengupta. 2009. A comparative study of cultivar differences in sucrose phosphate synthase gene expression and sucrose formation during banana ripening. Postharvest Biol. Technol. 54, 15-24.
Clendennen, S. y D. May. 1997. Differential gene expression in ripening banana fruit. Plant Physiol. 115, 463-469.
Dadzie, B. y J. Orchard. 1997. Evaluación rutinaria postcosecha de híbridos de bananos y plátanos: criterios y métodos. Guías técnicas Inibap 2. Instituto Internacional de Recursos Fitogenéticos, Roma, Italia; Red Internacional para el Mejoramiento del Banano y el Plátano, Montpellier, Francia.
Dash, S., S. Patel y B. Mishra. 2009. Oxidation by permanganate: synthetic and mechanistic aspects. Tetrahedron. 65, 709-739.
Espinal, C., H. Martínez y Y. Peña. 2005. La cadena de los frutales de exportación en Colombia. Ministerio de Agricultura y Desarrollo Rural. Observatorio Agrocadenas Colombia. En: http://www.fondohortifruticola.com.co. 67 p.; consulta: noviembre de 2011.
Gutiérrez, J. 1997. Efecto del uso del absorbente de etileno en el almacenamiento de banano bocadillo (Musa acuminata). Trabajo de grado. Departamento de Ingeniería Agrícola, Facultad de Ingeniería, Universidad Nacional de Colombia, Bogotá.
Hang, P. y G. Brindley. 1970. Methylene blue absorption by clay minerals. Determination of surface areas and cation exchange capacities (clayorganic studies XVIII). Clays Clay Minerals 18, 203-212.
Illeperuma, C. y P. Jayasuriya. 2002. Prolonged storage of 'Karuthacolomban' mango by modified atmosphere packaging at low temperature. J. Hort. Sci. Biotechnol. 77(2), 153-157.
Illeperuma, C. y C. Nikapitiya. 2002. Extension of the postharvest life of 'Pollock' avocado using modified atmosphere packaging. Fruits 57 (5/6), 287-295.
Imsabai, W., S. Ketsa y W. Van Doorn. 2006. Physiological and biochemical changes during banana ripening and finger drop. Postharvest Biol. Technol. 39, 211-216.
Jiang. Y., D. Joyce y A. Macnish. 1999. Extension of the shelf life of banana fruit by 1-methylcyclopropene in combination with polyethylene bags. Postharvest Biol. Technol. 16, 187-193.
Kesari, R., P. Trivedi y P. Nath. 2007. Ethylene-induced ripening in banana evokes expression of defense and stress related genes in fruit tissue. Postharvest Biol. Technol. 46, 136-143.
Legiscomex. 2008. Exportaciones de bananito. En: http://www.legiscomex.com. 16 p.; consulta: marzo de 2012.
Lohani, S., P. Trivedi y P. Nath. 2004. Changes in activities of cell wall hydrolases during ethylene-induced ripening in banana: effect of 1-MCP, ABA and IAA. Postharvest Biol. Technol. 31, 119-126.
Morales, N. 2002. Comportamiento fisiológico, químico y sensorial de banana bocadillo (Musa acuminata L.) producido en algunas zonas del departamento del Tolima. Trabajo de grado. Departamento de Química, Facultad de Ciencias, Universidad Nacional de Colombia, Bogotá.
Miranda-Treviño, J. y C. Coles. 2003. Kaolinite properties, structure and influence of metal retention on pH. Appl. Clay Sci. 23, 133-139.
Palomer, X., I. Roing-Villanova, D. Grima-Calvo y M. Venderll. 2005. Effects of nitrous oxide (N2O) treatment on the postharvest ripening of banana fruit. Postharvest Biol. Technol. 36, 167-175.
Payasi, A. y G. Sanwal. 2003. Pectate lyase activity during ripening of banana fruit. Phytochem. 63, 243-248.
Pereira, D., L. Chamhum, D. Lopes, P. Cecon y A. Rocha. 2009. Potassium permanganate effects in postharvest conservation of the papaya cultivar Sunrise Golden. Pesq. Agropec. Bras. 44 (7), 669-675.
Saltveit, M. 1999. Effect of ethylene on quality of fresh fruits and vegetables. Postharvest Biol. Technol. 15, 279-292.
Sammi, S. y T. Masud. 2007. Effect of different packaging systems on storage life and quality of tomato (Lycopersicon esculentum var. Rio Grande) during different ripening stages. Internet J. Food Safety 9, 37-44.
Santosa, E., W. Widodo y C. Kholidi. 2010. The use of clay as potassium permanganate carrier to delay the ripening of Raja Bulu Banana. J. Hort. Indonesia 1(2), 89-96.
Sinha, N., J. Sidhu, J. Barta., J. Wu y M. Cano. 2012. Handbook of fruits and fruit processing. 2nd ed. Wiley-Blackwell, New York, NY.
Torres, T., S. Beserra, B. Cordenunsi, F. Gozzo, E. Pilau, F. Lajolo y J. Oliveira. 2012. Proteomic analysis of banana fruit reveals proteins that are differentially accumulated during ripening. Postharvest Biol. Technol. 70, 51-58.
Wade, N. 1995. Membrane lipid composition and tissue leakage of pre- and early-climacteric banana fruit. Postharvest Biol. Technol. 5, 139-147.
Wen, L., S. Yuanzhi., C. Weixin y J. Wenjun. 2011. The effects of harvest maturity on storage quality and sucrose-metabolizing enzymes during Banana ripening. Food Bioprocess Technol. 4, 1273-1280.
Wills, R. y M. Warton. 2004. Efficacy of potassium permanganate impregnated into alumina beads to reduce atmospheric ethylene. J. Amer. Soc. Hort. Sci. 129(3), 433-438.
Yang, X., J. Song, S. Fillmore, X. Pang y Z. Zhang. 2011. Effect of high temperature on color, chlorophyll fluorescence and volatile biosynthesis in green-ripe banana fruit. Postharvest Biol. Technol. 62, 246-257.
Zhang, M., S. Tian, Z. Zhu, Y. Xu y G. Qin. 2002. Effects of 1-methylcyclopropene (1-MCP) on ripening and resistance of jujube (Zizyphus jujuba cv. Huping) fruit against postharvest disease. LWT - Food Sci. Technol. 45, 13-19.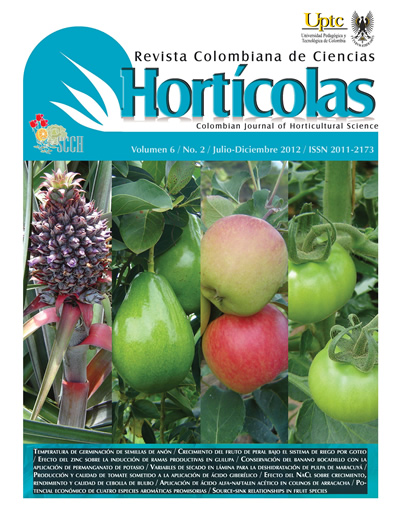 Downloads
How to Cite
García, J. C., Balaguera-López, H. E., & Herrera A., A. O. (2013). Conservación del fruto de banano bocadillo (Musa AA Simmonds) con la aplicación de permanganato de potasio (KMnO4). Revista Colombiana De Ciencias Hortícolas, 6(2), 161–171. https://doi.org/10.17584/rcch.2012v6i2.1974
License
The copyright of the articles and illustrations are the property of the Revista Colombiana de Ciencias Hortícolas. The editors authorize the use of the contents under the Creative Commons license Attribution-Noncommercial-ShareAlike 4.0 International (CC BY-NC-SA 4.0). The correct citation of the content must explicitly register the name of the journal, name (s) of the author (s), year, title of the article, volume, number, page of the article and DOI. Written permission is required from publishers to publish more than a short summary of the text or figures.