Germinación de semillas de ají (Capsicum sinense) estimuladas electromagnéticamente
Abstract
Los campos magnéticos tienen efecto sobre los sistemas vivientes y materiales biológicos, especialmente en el incremento de la germinación de semillas y el aumento de biomasa en plantas. Con el objetivo de determinar el efecto de los campos electromagnéticos sobre el tiempo y el porcentaje de germinación de semillas de ají, var. Limo Rojo, se utilizaron bobinas para generar campos electromagnéticos continuos (DC) y alternos (AC) a intensidades de 30 y 60 militeslas (mT) y tiempos de exposición de las semillas de 30, 60 y 120 min, con un diseño factorial de múltiples niveles completamente al azar. Se encontraron diferencias significativas entre los tratamientos en la cantidad de semillas germinadas por día, siendo más marcado a partir del séptimo día después de la siembra hasta el doceavo día, mostrando que al incrementar la intensidad y el tiempo de exposición al campo electromagnético, se redujo el tiempo de germinación. En lo que respecta al porcentaje de germinación final, no se encontraron diferencias significativas entre tratamientos. Los campos electromagnéticos tuvieron efecto en el tiempo de germinación mas no en el porcentaje de germinación de semillas de ají.
Palabras clave adicionales: biomagnetismo, solenoide, campos magnéticos.
Downloads
Download data is not yet available.
References
Biomagnetics USA. 2013. The revolutionary discoveries of Davis and Rawls. En: We have the science, http://www.magnetage.com; consulta: marzo de 2013.
Cuero, R. y R. Tulande. 2004. Evaluación de la estimulación magnética con campo magnético variable en la cachaza seca y en el periodo de compostaje de la cachaza verde de caña de azúcar (Saccharum officinarum L.) tratadas con microorganismos benéficos. Trabajo de grado. Facultad de Ingeniería, Universidad Nacional de Colombia, Palmira.
De Souza Torres, A., E. Porras y R. Casate. 1999. Efecto del tratamiento magnético de semillas de tomate (Lycopersicon esculentum Mill.) sobre la germinación y el crecimiento de las plántulas. Invest. Agr Prod. Prot. Veg. 14(3), 437-444.
Domínguez, P.A., A.C. Hernández, O.A. Cruz, A. Carballo, B.R. Zepeda y O.E. Martínez. 2010. Semilla de maíz bajo la influencia de irradiación de campos electromagnéticos. Rev. Fitotec. Mex. 33(2), 183- 188.
Flórez, M., M.V. Carbonell y E. Martínez. 2007. Exposure of maize seeds to stationary magnetic fields: Effects on germination and early growth. Environ. Exp. Bot. 59(1), 68-75.
Flórez, M., E. Martínez y M.V. Carbonell. 2012. Effect of magnetic field treatment on germination of medicinal plants Salvia officinalis L. and Calendula officinalis L. Pol. J. Environ. Stud. 21, 57-63.
Galland, P. y A. Pazur. 2005. Magnetoreception in plants. J. Plant Res. 118, 371-89.
Marks, N. y P.S. Szecówka. 2010. Impact of variable magnetic field stimulation on growth of aboveground parts of potato plants. Inter. Agrophy. 24, 165-170.
Méndez, R. 2005. La evolución biológica como sistema autoorganizado, dinámicas no lineales y sistemas biológicos. Ciencias 79, 26-34.
Ministerio de Agricultura y Desarrollo Rural. 2012. Anuario estadístico de frutas y hortalizas 2007 - 2011 y sus calendarios de siembras y cosechas. JL Impresores Ltda., Bogotá. pp. 189-191.
Osipova, L.D. 1990. Influencia de los campos magnéticos sobre los tejidos de callos de frutales (en ruso). Bull. Cent. Ord. Trud. Krasn. Zn. Genet. Lab. Im. Michurina 49, 22-25.
Pietruszewski, S. 2011. Electromagnetic fields, impact on seed. Germination and plant growth. pp. 267- 269. En: Glinski J., J. Horabik y J. Lipiec (eds.). Encyclopedia of agrophysics. Earth and Environmental Science. Editorial Board, Lublin, Polonia.
Racuciu, M., D. Creanga e I. Horga. 2008. Plant growth under static magnetic field influence. Rom. J. Phys. 53(1-2), 353-359.
Revista Cambio. 2008. Entrevista al gerente de la empresa Hugo Restrepo y Cia., 13 de febrero de 2008. En: http://www.eltiempo.com/archivo/documento/CMS-3957397; consulta: abril de 2011.
Rochalska, M. y K. Grabowska. 2007. Influence of magnetic fields on activity of enzyme: a - and b -amylase and glutathione S-transferase (GST) in wheat plants. Inter. Agrophy. 21, 185-188.
Rochalska, M. y A. Orzeszko-Rywka. 2008. Influence of alternating magnetic field on respiration of sugar beet seeds. Inter. Agrophy. 22, 255-259. [
Torres, C., J. Díaz y P. Cabal. 2008. Efecto de campos magnéticos en la germinación de semillas de arroz (Oryza sativa L.) y tomate (Solanum lycopersicum L.). Agron. Colomb. 26(2), 177-185.
Vashisth A. y S. Nagarajan. 2010. Effect on germination and early growth characteristics in sunflower (Helianthus annuus) seeds exposed to static magnetic field. J. Plant Physiol. 167, 149-156.
Vásquez V., M. Gómez, B. Segura y Rosales-Rivera. 2006. Efectos de campos magnéticos en material orgánico. Rev. Col. Fís. 38(3), 1307-1310.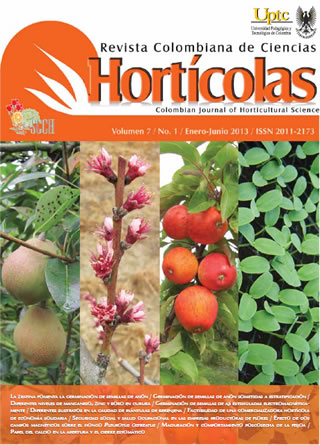 Downloads
Metrics
Views/Downloads
Abstract

854

PDF (Español)

1715
How to Cite
Jiménez, C, Méndez, M, Daza, M C, & Zúñiga, O. (2013). Germinación de semillas de ají (Capsicum sinense) estimuladas electromagnéticamente. Revista Colombiana de Ciencias Hortícolas, 7(1), 46–54. https://doi.org/10.17584/rcch.2013v7i1.2034
Section
Vegetable section
License
The copyright of the articles and illustrations are the property of the Revista Colombiana de Ciencias Hortícolas. The editors authorize the use of the contents under the Creative Commons license Attribution-Noncommercial-ShareAlike 4.0 International (CC BY-NC-SA 4.0). The correct citation of the content must explicitly register the name of the journal, name (s) of the author (s), year, title of the article, volume, number, page of the article and DOI. Written permission is required from publishers to publish more than a short summary of the text or figures.