Análisis de la resistencia a <i>Fusarium oxysporum</i> en plantas de <i>Passiflora maliformis</i> L.
Keywords:
Rebrotes, histopatología, geles, colonización, tejidos, tolerancia
Abstract
Fusarium oxysporum es un hongo devastador en plantaciones de especies comerciales del género Passiflora, por consiguiente el propósito de esta investigación es la evaluación de Passiflora maliformis como una posible fuente de resistencia a este patógeno. Para este fin se emplearon plantas provenientes de semilla sexual de P. maliformis y se evaluó su respuesta ante aislamientos patogénicos de F. oxysporum, previamente identificados y demostrados como agentes causales de marchitez por Fusarium en Passiflora edulis Sims. Las pruebas se realizaron bajo invernadero en plantas de 2,5 y 19 meses de edad con un seguimiento de 70 y 231 días respectivamente. Todos los aislamientos fueron patogénicos, sin embargo, para ambos ensayos F. oxysporum A54 fue particularmente agresivo, los síntomas observados incluyeron retraso en el crecimiento, clorosis, decaimiento y decoloración del tejido vascular. En plantas de 2,5 meses se alcanzó una incidencia de 80 a 90% a los 42 días post inoculación y en plantas de 19 meses del 40% a los 91 días post inoculación. Independientemente de la edad, las plantas inoculadas manifestaron emisión de rebrotes a nivel basal y producción de geles vasculares. Los resultados sugieren que P. maliformis, desde estados fenológicos tempranos tiende a adquirir niveles de resistencia/tolerancia al ataque del patógeno, lo cual se ve reflejado en su recuperación a través de la emisión de  rebrotes basales y a la formación de geles en vasos xilemáticos.
Downloads
Download data is not yet available.
References
Amata, R.L., M.J. Otipa, M. Waiganjo, M. Wabule, E.G. Thuranira, M. Erbaugh y S. Miller. 2009. Incidence, prevalence and severity of passion fruit fungal diseases in major production regions of Kenya. J. Appl. Biosci. 20, 1146-1152.
Baayen, R.P. y D.M. Elgersma. 1985. Colonization and histopathology of susceptible and resistant carnation cultivars infected with Fusarium oxysporm f. sp. dianthi. Neth. J. Path. 91, 119-135. Doi: 10.1007/BF01976386
Bacon, C.W., A.E. Glenn e I.E. Yates. 2008. Fusarium verticillioides: managing the endophytic association with maize for reduced fumonisins accumulation. Toxin Rev. 27(3-4), 411-446. Doi: 10.1080/15569540802497889
Brammall, R.A. y V.J. Higgins. 1988. A histological comparison of fungal colonization in tomato seedlings susceptible or resistant to Fusarium crown and root rot disease. Can. J. Bot. 66(5), 915-925. Doi: 10.1139/b88-133
Chang, T.H., Y.H. Lin, K. S. Chen, J.W. Huang, S. C. Hsiao y P.F. Chang. 2015. Cell wall reinforcement in watermelon shoot base related to its resistance to Fusarium wilt caused by Fusarium oxysporum f. sp. niveum. J. Agric. Sci. 153(02), 296-305. Doi: 10.1017/S0021859614000057
Delanoy, M., P. Van Damme, X. Scheldeman y J. Beltran. 2006. Germination of Passiflora mollissima (Kunth) L.H.Bailey, Passiflora tricuspis Mast. and Passiflora nov sp. seeds. Sci. Hortic. 110, 198-203. Doi: 10.1016/j.scienta.2006.07.007
Fischer, I. H. y J. A. Rezende. 2008. Diseases of passion flower (Passiflora spp.). Pest Technol. 2(1), 1-19. Doi: 10.1590/S0100-29452010005000090
Fischer, I.H., M. De Souza y M. De Arruda. 2010. Avaliação de passifloraceas, fungicidas e Trichoderma para o manejo da podridão-do-colo do maracujazeiro, causada por Nectria haematococca. Rev. Bras. Frutic. 32(3), 709-717. Doi: 10.1590/S0100-29452010005000090
Flores, P. S., W. C. Otoni, O. D. Dhingra, S. P. S. de Souza Diniz, T. M. dos Santos y C. H. Bruckner. 2012. In vitro selection of yellow passion fruit genotypes for resistance to Fusarium vascular wilt. PCTOC 108(1), 37-45. Doi: 10.1007/s11240-011-0009-5
Gardner, D. E. 1989. Pathogenicity of Fusarium oxysporum f. sp. passiflorae to banana poka and other Passiflora spp. in Hawaii. Plant Dis. 73(6), 476-478. Doi: 10.1094/PD-73-0476
Grech, N. M. y F. H. J. Rijkenberg. 1991. Laboratory and field evaluation of the performance of Passiflora caerulea as a rootstock tolerant to certain fungal root pathogens. J. Hortic. Sci. 66(6), 725-729.
Holliday, P. 1980. Fungus diseases of tropical crops. Cambridge University Press, Cambridge, UK.
Kraus, J.E., H. C. Souza, M. H. Rezende, N. M. Castro, C. Vecchi y R. Luque. 1998. AstraBlue and Basic Fuchsin double staining of plants materials. Biotech. Histochem. 73(5), 235-243. Doi: 10.3109/10520299809141117
Leslie, J.F y B.A. Summerell. 2006. The Fusarium laboratory manual. Blackwell Publishing Professional, Nueva York, NY. Doi: 10.1002/9780470278376
Londoño, J. 2012. Evaluación de la resistencia genética de especies de Passiflora spp. a Fusarium spp., agente causal de la "secadera". Tesis de maestría. Facultad de Ciencias Agropecuarias, Universidad Nacional de Colombia, Palmira, Colombia.
Marquis, R. J. 1992. Selective impact of herbivores. pp. 301-325. En: Fritz, R. S. y E. L. Simms. (eds.). Plant resistance to herbivores and pathogens. University of Chicago Press, Chicago, IL.
Mendiburu, F. 2012. Agricolae: Statistical procedures for agricultural research (Version R package version 1.1-2).
Menezes, J. 1990. Seleção de porta-enxertos tolerantes à morte prematura de plantas para P. edulis Sims f. fíavicarpa Deg. e comportamento de P. nitida H.B.K, na região de Jaboticabal. Dissertação Mestrado em Melhoramento Genético Vegetal. Faculdade de Ciências Agrárias e Veterinárias, Universidade Estadual Paulista, Jaboticabal, Brasil.
Molina, L., M. Soares, L. Bernacci y L. da Silva. 2005. Capítulo 3: Melhoramento genético do maracujá: passado e futuro. pp. 55-78. En: Faleiro, F.G., N.T. Junqueira y M.F. Braga (eds.). Maracujá: germoplasma e melhoramento genético. Embrapa Cerrados, Planaltina, DF, Brasil.
Nogueira G. 2003. Competição de sete Passifloraceas como porta-enxertos para o maracujazeiro amarelo a través de enxertia hipocotiledonar. Faculdade de Ciências Agrárias e Veterinárias, Universidade Estadual Paulista, Jaboticabal, Brasil.
Ortiz, E. 2012. Etiología de enfermedades asociadas a fusariosis en el cultivo de gulupa (Passiflora edulis Sims.) en la región del Sumapaz. Tesis de maestría. Facultad de Agronomía, Universidad Nacional de Colombia, Bogotá.
Ortiz, E., M. Cruz, L. M. Melgarejo, X. Marquínez y L. Hoyos-Carvajal. 2014. Histopathological features of infections caused by Fusarium oxysporum and F. solani in purple passionfruit plants (Passiflora edulis Sims). Summa Phytopathol. 40(2), 134-140. Doi: 10.1590/0100-5405/1910
Ortiz, E. y L. Hoyos-Carvajal. 2011. Caracterización patogénica de aislamientos de Fusarium oxysporum provenientes de cultivos de gulupa en la región del Sumapaz. Fitopatol. Colomb. 35(1), 35.
Ortiz, E. y L. Hoyos-Carvajal. 2013. Descripción de la sintomatología asociada a fusariosis y comparación con otras enfermedades en gulupa (Passiflora edulis Sims.) en la región del Sumapaz (Colombia). Rev. Colomb. Cienc. Hortic. 6(1), 110-116. Doi: 10.17584/rcch.2012v6i1.1277
Paige, K.N. y T. Whitham. 1987. Overcompensation in response to mammalian herbivory: the advantage of being eaten. Amer. Nat. 129, 407–416. Doi: 10.1086/284645
Ploetz, R.C. 2003. Diseases of tropical fruit crops. CABI Publishing, Wallingford, UK. Doi: 10.1079/9780851993904.0000
Ploetz, R.C. 2006. Fusarium-induced diseases of tropical perennial crops. Phytopathol. 96, 648-652. Doi: 10.1094/PHYTO-96-0648
Purss, G.S. 1958. Studies of the resistance of species of Passiflora to Fusarium wilt (F. oxysporum f. passiflorae). Queensl. J. Agric. Sci. 15, 95-99.
Rosenthal, J.P. y S.C. Welter. 1995. Tolerance to herbivory by a stemboring caterpillar in architecturally distinct maizes and wild relative. Oecol. 102, 146–155. Doi: 10.1007/BF00333245
Saniewska, A., B. Dyki y A. Jarecka. 2004. Morphological and histological changes in tulip bulbs during infection by Fusarium oxysporum f.sp. tulipae. Phytopathol. Pol. 34, 21-39.
Silva, A.D. S., E.J.D. Oliveira, F. Haddad, F.F. Laranjeira, O.N.D. Jesus, S.A S.D. Oliveira y J.P.X.D. Freitas. 2013. Identification of passion fruit genotypes resistant to Fusarium oxysporum f. sp. passiflorae. Tropical Plant Pathol. 38(3), 236-242. Doi: 10.1590/S1982-56762013005000008
Ssekyewa, C., A. Fina, R. Swinburne, P. Van Damme y Z. Abubakar.
Sustainable management of collar rot disease of passion fruits in Uganda. Int. J. Pest Manage. 45, 173-177. Doi: 10.1080/096708799227761
Strauss, S.Y. y A.A. Agrawal. 1999. The ecology and evolution of plant tolerance to herbivory. Trends Ecol. Evol. 14, 179–185. Doi: 10.1016/S0169-5347(98)01576-6
Taiz, L. y E. Zeiger. 2006. Plant physiology. 4th ed. Sinauer Associates, Sunderland, MA.
Tamayo, P. 1999. Estudios para el control de la secadera (Nectria haematococca Berk y Br.) de la granadilla (Passiflora ligularis Juss.): Evaluación de patrones existentes y prácticas de manejo integrado. Corpoica, Colombia.
Vakalounakis, D. J. 1996. Root and stem rot of cucumber caused by Fusarium oxysporum f. sp. radicis-cucumerinum f. sp. nov. Plant Dis. 80, 313–316. Doi: 10.1094/PD-80-0313
Vakalounakis, D.J., Doulis, A.G. y Klironomou, E. 2005. Characterization of Fusarium oxysporum f. sp. radicis-cucumerinum attacking melon under natural conditions in Greece. Plant Pathol. 54, 339-346. Doi: 10.1111/j.1365-3059.2005.01182.x
Valarezo, A., E. Cañarte, O. Valarezo y O. Zambrano. 2009. Manejo del cultivo de maracuyá (Passiflora edulis f. flavicarpa Deg) en el Litoral ecuatoriano. Instituto Nacional Autónomo de Investigaciones Agropecuarias, Portoviejo, Ecuador.
Van den Berg, N., D.K. Berger, I. Hein, P.R. Birch, M.J. Wingfield y A. Viljoen. 2007. Tolerance in banana to Fusarium wilt is associated with early up‐regulation of cell wall‐strengthening genes in the roots. Mol. Plant Pathol. 8(3), 333-341. Doi: 10.1111/j.1364-3703.2007.00389.x
Yockteng, R., G.C. d'Eeckenbrugge y T.T. Souza-Chies. 2011. Passiflora. pp. 129-171. En: Kole, C. (ed.). Wild crop relatives: Genomic and breeding resources. Springer, Berlin.
Young, B. R. 1970. Root rot of passionfruit vine (Passiflora edulis Sims.) in the Auckland area. N.Z.J. Agric. Res. 13(1), 119-125. Doi: 10.1080/00288233.1970.10421202
Zhang, M., J.H. Xu, G. Liu, X.F. Yao, P.F. Li y X.P. Yang. 2015. Characterization of the watermelon seedling infection process by Fusarium oxysporum f. sp. niveum. Plant Pathol. 64, 1076-1084. Doi: 10.1111/ppa.12355
Zhang, Y., X. Zhang, F. Wen y X. Wang. 2006. Enzymatic and histopathological changes during resistance of cowpea to Fusarium oxysporum f. sp. tracheiphilum. Can. J. Plant Pathol. 28(4), 501-508. Doi: 10.1080/07060660609507327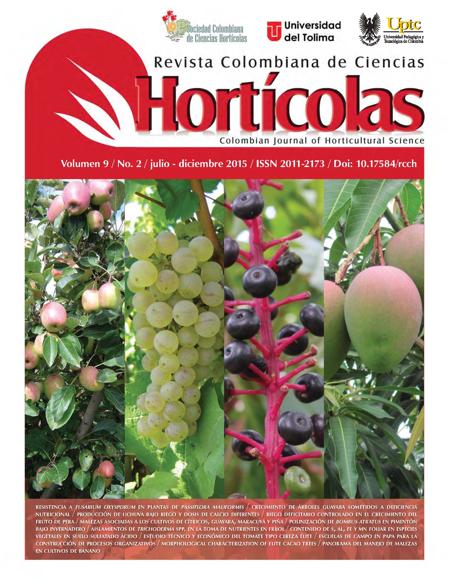 Downloads
Metrics
Views/Downloads
Abstract

2037

PDF (Español)

691
How to Cite
Forero, R, Ortiz, E, de León, W, Gómez, J C, & Hoyos-Carvajal, L. (2016). Análisis de la resistencia a <i>Fusarium oxysporum</i> en plantas de <i>Passiflora maliformis</i> L. Revista Colombiana de Ciencias Hortícolas, 9(2), 197–208. https://doi.org/10.17584/rcch.2015v9i2.4174
License
The copyright of the articles and illustrations are the property of the Revista Colombiana de Ciencias Hortícolas. The editors authorize the use of the contents under the Creative Commons license Attribution-Noncommercial-ShareAlike 4.0 International (CC BY-NC-SA 4.0). The correct citation of the content must explicitly register the name of the journal, name (s) of the author (s), year, title of the article, volume, number, page of the article and DOI. Written permission is required from publishers to publish more than a short summary of the text or figures.