Apuntes del Cenes now indexed in Scopus
2022-10-11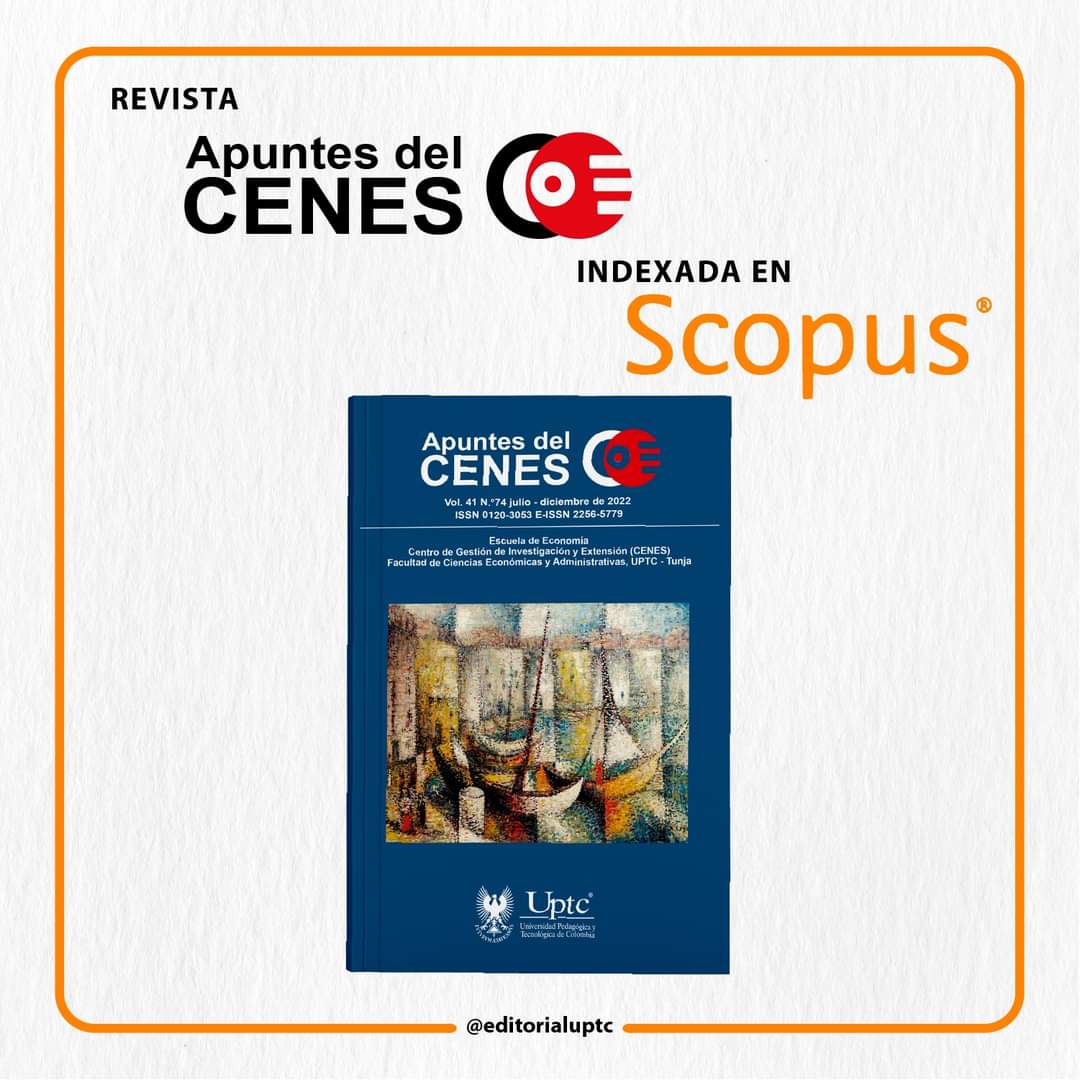 For the editorial team it is a source of pride to share the positive result of the Scopus selection committee, who have accepted the journal to be included in the bibliographic database after a second application and having met all the requirements and criteria quality.
Apuntes del Cenes, which since its foundation in 1981 by the professors of the UPTC School of Economics, thanks to the different editors and editorial teams, has established itself as one of the best journals dedicated to disseminating theoretical and empirical research on related topics with all fields of the economy at the national level.
The journal has been publishing various articles that address local cases as well as international investigations and the validation by the Scopus selection committee has confirmed this characteristic. For this reason, we hope to continue fullfilling the quality criteria of this database as well as the journal's mission, as it is, to continue contributing to economic and academic development, as well as to the progress of the sociopolitical environment of the Ibero-American countries and the rest of the world, based on the quality of published research.
At the moment we have only received the acceptance letter and we hope to be visible on the Scopus and SJR platforms soon.
https://suggestor.step.scopus.com/progressTracker/?trackingID=38A77177B9738F5C
We thank the authors, reviewers, associate editors, Dr. Ma. Beatriz Corchuelo Martínez-Azúa and Dr. Luciana Peixoto Santa Rita, Editorial assistant Ricardo Tejedor and, of course, our readers. We also thank the directors of the University, Mr. Rector, Dr. Oscar Ramírez, Vice-Rector for Research, Dr. Enrique Vera, Editors-in-Chief of the University, Dr. Ruth Vargas, Lyda Riscanevo, Dr. Witton Becerra, Metabiblioteca and other advisors, Mr. Dean of the Faculty Prof. Tirso Porras, Director of the School of Economics, Prof. Rosalba Gil, Director of Cenes, Prof. José Luis Cruz Vázquez and Professors of the School of Economics. Finally, we thank the institutions with which we exchange and receive our copies and the associated journals that share our announcements.
As with each of its indexing throughout its history, this recognition of being among the best economics journals in the country and the world is a reflection of teamwork. We are really pleased to have your support since with your participation this achievement has been possible.
Atte
Luis E. Vallejo Zamudio
Journal Editor
Editorial/Scientific Committee
Apuntes del Cenes Journal.
Julieta Zelicovich, National Council for Scientific and Technical Research, CONICET, Argentina.
Samira Milli, Moulay Ismail University, Morocco
Raúl Vázquez López, National Autonomous University of Mexico, UNAM, Mexico.
Fernando Borraz Escames, University of Montevideo, Uruguay.
Francisco Bolsi, Higher Institute of Social Studies, Tucumán, Argentina.
Christian Kerschner, Masaryc University, Austria.
Antonio Rafael Peña Sánchez, University of Cadiz, Spain,
Armando Di Filippo, University of Chile
César Attilio Ferrari Quine, Pontificia Universidad Javeriana, Colombia.
Solomon Kalmanovitz, Jorge Tadeo Lozano University, Colombia.
Alejandro Gaviria Uribe, University of the Andes, Colombia.
Editorial committee:
Yochanan Shachmurove, University of Pennsylvania, USA.
Daniel Velázquez Orihuela, Autonomous University of the State of Hidalgo, Mexico.
Luis Chías Becerril, National Autonomous University of Mexico, UNAM, Mexico.
Salama Pierre, University of Paris 13, France.
Jorge Iván González, Jorge Tadeo Lozano University.
Francisco Javier Braña Pino, University of Salamanca, Spain.
Roberto Iván Escalante Semerena, Union of Latin American Universities, Mexico.
INTERNAL ADVISORY COMMITTEE - School of Economics, UPTC
Oliver Mora Toscano, Pedagogical and Technological University of Colombia
Edilberto Rodríguez Araujo, Pedagogical and Technological University of Colombia
Guillermo Alexander Arevalo Luna, Pedagogical and Technological University of Colombia
Editorial assistant:
Ricardo Alonso Tejedor Estupiñan, Pedagogical and Technological University of Colombia.
Style correction:
Claudia Amarillo Forero, Colombia