Analysis of the Sustainability of Coffee Producing Farms in the Province of Guanentá, Santander
Keywords:
farmer, productivity, sustainability, territory, coffe
Abstract
The objective of the work was to analyze the sustainability of the coffee producing farms in the province of Guanentá, Santander. The framework methodology was used for the evaluation of the natural resource management system by means of sustainability indicators (MESMIS), and it was evaluated –in addition to the three conventionally accepted elements for sustainability: social, economic, environment– the institutional component, in concordance with new trends in rural development. The results indicate that the dissimilar behavior of sustainability in the six producing farms of the three evaluated municipalities transcends the environment dimension to focus on social, economic and institutional indicators, which with a greater variability given by a higher typical deviation explain the difference among coffee farms.  Based on the results, it is concluded that the farms have a high performance in the environmental dimension related to the coffee culture of special coffees certification as opposed to a high variability in the social indicators. In this regard, the social dimension has the least sustainability and the greatest variability with respect to the other dimensions of sustainability. The multidimensional analysis of sustainability allows us to know the gaps of the coffee producting farms to move towards sustainability and omits the fragmentation contained in the study of a particular dimension.
Downloads
Download data is not yet available.
References
Aguilar, Y. & Arabela, P. (2011). El criterio de sostenibilidad relación a la turistificación del territorio bajo la propuesta de una teoría del desarrollo endógeno. Revista Científica del Laboratorio de Arqueología y Etnohistoria de la Facultad de Ciencias Humanas, 151-160.

Astier, M., López, S., Pérez, E. & Masera, O. R. (2002). El Marco de Evaluación de Sistemas de Manejo incorporando Indicadores de Sustentabilidad (MESMIS) y su aplicación en un sistema agrícola campesino en la región Purhepecha, México. En S.J. Sarandón (ed.), Agroecología: el camino hacia una agricultura sustentable (pp. 415-430). Ediciones Científicas Americanas.

Brush, S. B. (2018). Agriculture: Modern Farming Systems. The International Encyclopedia of Anthropology, 1-4.

Camacho, R. S., Sobreiro, J., Sobreiro, V. A. & Mariano, E. B. (2016). Evaluation of the Relationship between Education and Sustainability in Peasant Movements: The Experience of the National Education Program in Agrarian Reform. Evaluation and Program Planning, 54, 152-161.

Chaparro, A., & Calle, A. (2017). Peasant Economy Sustainability in Peasant Markets, Colombia. Agroecology and Sustainable Food Systems, 41(2), 204-225.

Cuéllar, N. A. & Aristizábal, P. (2019). Variables determinantes del precio del café arábica en Colombia 2003-2018. (Tesis de Maestría). Universidad Autónoma de Manizales, Caldas. http://repositorio.autonoma.edu.co/jspui/bitstream/11182/986/1/Variables%20Determinantes%20Del%20Precio%20Del%20Caf%c3%a9%20Ar%c3%a1bica%20En%20Colombia%202003-2018.pdf

Da Silva, S. A., Balestrin, N. L. & Brandenburg, A. (2018). A agroecologia como um projeto em construção no movimento dos trabalhadores rurais sem terra-MST. Revista GeoPantanal, 13(24), 85-98.

Feola, G. (2017). Adaptive Institutions? Peasant Institutions and Natural Models Facing Climatic and Economic Changes in the Colombian Andes. Journal of Rural Studies, 49, 117-127

Fresneda, E. J. (2018). The Socio-Territorial Capacities ́ Approach in Management of Sustainable Tourism. El Periplo Sustentable, 230-259.

Geilfus, F. (2008). 80 Tools for Participatory Development: Appraisal, Planning, Follow-up and Evaluation (No. 303.4 G312e). IICA.

Guardamagna, M. & Reyes, M. (2019). The Challenge of Implementing Participation. Economía, Sociedad y Territorio, 1003-1033.

Ibáñez, R. M. (2012). Sustainability Indicators: Their Uses and Limitations. Teoría y Praxis, 102-126.

Jaramillo, P. S. (2006). Pobreza rural en Colombia. Revista Colombiana de Sociología, 47-62.

Lade, S. J., Haider, L. J., Engström, G. & Schlüter, M. (2017). Resilience Offers Escape from Trapped Thinking on Poverty Alleviation. Science Advances, 3(5), e1603043.

Laura, A. B. (2016). Evaluación de la sustentabilidad de la producción orgánica el café a través de la medición de eficiencia económica con variables ambientales. Natura@ economía, 1(2), 91-110.

Márquez, F., Julca, A., Canto, M., Soplín, H., Vargas, S. & Huerta, P. (2016). Sustentabilidad ambiental en fincas cafetaleras después de un proceso de certificación orgánica en la convención (Cusco, Perú). Ecología Aplicada, 15(2), 125-132.

Organización de las Naciones Unidas –ONU-. (2012). Cumbre Mundial sobre Desarrollo Sustentable, Informe El Futuro Que Queremos. Declaración de Río 2012 o Río+20. ONU.

Parada Hernádez, M. M. (2018). Between Gains and the Barriers. Approaches to Gender Equality. Estudios Sociojuridicos, 103-128.

Romagnoli, F., Molina, J. & Parrado, A. (2018). How to improve smallholder market access:Evaluation of Mercados Campesinos in Colombia. Agronomía Colombiana, 79-87.

Somoza, A., Vazquez, P., & Zulaica, L. (2018). Implementation of Good Agricultural Practices for Rural Environmental Management. Revista de Investigaciones Agropecuarias, 398-423.

Tian, Q., Jiang, L., Lemos, M. & Qi, S. (2018). Interactions of Social, Natural, and Technological Subsystems and Synergy between Development and Adaptation to Floods around Poyang Lake. Annals of GIS, 24(3), 209-220.

Vélez, R. (2019). Informe del gerente al Congreso Nacional de Cafeteros. www.federaciondecafeteros.org .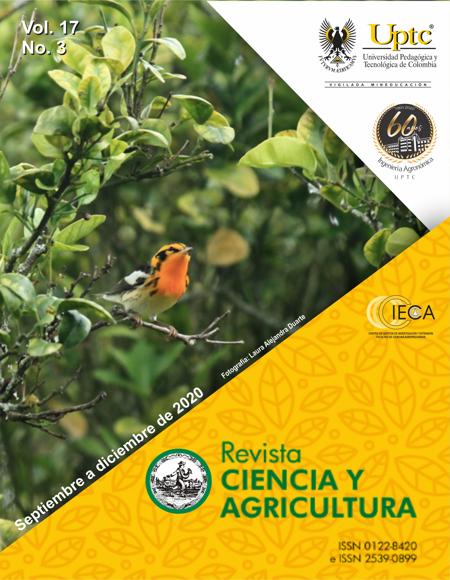 Downloads
How to Cite
Lemus Riveros, C. F., & González Santos, W. (2020). Analysis of the Sustainability of Coffee Producing Farms in the Province of Guanentá, Santander. Ciencia Y Agricultura, 17(3), 25–36. https://doi.org/10.19053/01228420.v17.n3.2020.11615
License
Copyright (c) 2020 Revista Ciencia y agricultura
This work is licensed under a Creative Commons Attribution 4.0 International License.
All papers included in the Revista Ciencia y Agricultura are published under Creative Commons Attribution 4.0 International