Rabbit Acceptability of Defatted Coconut Flour Among Different Food Sources
Keywords:
agro insdustrial by products, feed, rabbits, palatability test
Abstract
To determine the acceptability of defatted coconut flour supplied as the sole feed and incorporated at different levels in the rabbit diet, two experiments were performed in which random block designs were used. In the first experiment the treatments were: T1 corn flour, T2 alfalfa flour, and T3 defatted coconut flour. In the second, the treatments consisted of supplying the diets with the inclusion of defatted coconut flour in growing percentage (0, 10, 20, 30 and 40 %). In both studies Chinchilla breed male rabbits of 80 days old were used, weighting an average of 2,150 ± 103 g, 21 and 35 rabbits respectively. Variables attempt to consume and food consume showed similar results, both in defatted coconut flour supplied as the sole feed and when mixed with other ingredients. Animals made consumption attempts for nearly 24 hours and the highest consumption attempts were observed at night. Animals showed the highest acceptance for diets of 10% defatted coconut flour inclusion. The results suggest defatted coconut flour is an agro-industrial by-product with potentiality to be included in rabbit diets and to substitute traditional feed used for this specie.
Downloads
Download data is not yet available.
References
De Blas, C., & Mateos, G.G. (2010). Feed Formulation. In C. De Blas & J. Wiseman (eds.) Nutrition of the Rabbit (pp. 222-232). CAB International.

Duban J., Gutiérrez N. & Oviedo O.M. (2012, jul.-dic.). O uso de subprodutos agrícolas na alimentação de coelhos em fase de engorde e reprodução. Biotecnología en el Sector Agropecuario y Agroindustrial, 10(2), 236-242.

Duncan, D. B. (1955). Multiple Range Test. Biometrics, 11, 1-42. http://doi.org/10.2307/3001478.

Ferreira, W. M., Saad, F. M. O. B. & Pereira, R. A. N. (2008). Fundamentos da nutrição de coelhos. http://www.coelhoecia.com.br/Zootecnia/ Trabalhos.htm

Haponik, V. C. A., Gastão, B. E., Freitas, E. R., Débora, L. R., Ramos, L. de O. & De Souza, C. C. (2009). Avaliação nutricional de dietas contendo farelo de coco fornecido a coelhos destinados ao abate. Acta Scientiarum. Animal Sciences Maringá, 31(4), 357-364.

La O, A.L. (2007). Alimentación de conejos (Oryctolaguscuniculus) con follajes, caña, girasol. (Tesis en para optar al grado científico de doctor en Ciencias Veterinarias). ICA. La Habana. Cuba.

Launchbaugh, L. & Provenza, F. (1991). Learning and Memory Grazing Livestock Application to Diet Selection. Rangelands, 13(5), 242-244.


Megías M., Molist, P., Pombal, M. A. (2019). Atlas de histología vegetal y animal. Órganos animales. Recuperado (mayo 2020) de: http://mmegias.webs.uvigo.es/2-organos-a/guiada_o_a_inicio.php

Nieves, D. (2005). Forrajes promisorios para la alimentación de conejos en Venezuela. Valor nutricional. En VIII Encuentro de Nutrición y Producción de Animales Monogástricos. Universidad Nacional Experimental Ezequiel Zamora UNELLEZ. Guanare. Venezuela, 17 y 18 de noviembre. http://www.sian.info.ve/porcinos/publicaciones/encuentros/viiiencuentro duilio.htm.

Nieves, D., Cordero, J., Terán O. & González, C. (2004a).Aceptabilidad de dietas con niveles crecientes de morera (Morus alba) en conejos destetados. Zootecnia Tropical, 22, 183-190.

Nieves, D., Silva, B., Terán, O., González, C. & Ly, J. (2004b). A Note on the Chemical Composition and Feeding Characteristics of Diets Containing Leucaena leucocephala and Arachis pintoi for Growing Rabbits. Livestock Research for Rural Development 16 (12).

Nieves, D. & Terán, O. (2006). Uso de recursos arbóreos y arbustivos tropicales para alimentar conejos en Venezuela. Revista Computadorizada de Producción Porcina, 13, suplemento 1.

Nieves, D., Terán, O., Cruz L., Mena, M., Gutiérrez, F. & Ly, J. (2011). Digestibilidad de nutrientes en follaje de árnica Tithonia diversifolia en conejos de engorde. Tropical and Subtropical Agroecosystems, 14(1), 309-314.

Panigrahi, S. (1989). Effects on Egg Production of Including High Residual Lipid Copra Meal in Laying Hen Diets. British Poultry Science, 30, 305-312.

Stein, H. H., Casas Gloria, A., Abelilla, J.J., Liu, Y. & Casilda, R.S. (2015). Nutritional Value of High Fiber Co-Products from the Copra, Palm Kernel, and Rice Industries in Diets Fed to Pigs. Journal of Animal Science and Biotechnology, 6(56).

Tamilnadu, J., Moorthy, M., & Viswanathan, K. (2010). Digestibility and Feeding Value of Coconut Meal for White Leghorn Layers. Veterinary & Animal Sciences, 6(5), 196-203.

Valverde, D.M. (2010). Usos de la morera (Morus alba) en la alimentación del conejo: el rol de la fibra y la proteína en el tracto digestivo. Agronomía Mesoamericana, 21(2), 357-366.

Vasconcelos, R. Q. & Brandão, J. S. (1995). Efeito de níveis de farelo de coco na dieta inicial sobre o desempenho de frangos de corte. Revista da Sociedade Brasileira de Zootecnia, Viçosa, 24, 391-400.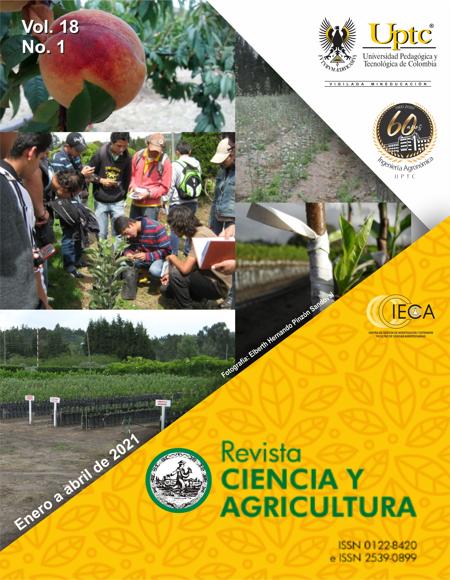 Downloads
How to Cite
Acosta Acosta, Y., La O Michel, Ángel L., Valdivié Navarro, M., Betancourt Santos, N. N., & Villalón Moracen, Y. (2021). Rabbit Acceptability of Defatted Coconut Flour Among Different Food Sources. Ciencia Y Agricultura, 18(1), 63–75. https://doi.org/10.19053/01228420.v18.n1.2021.12521
License
All papers included in the Revista Ciencia y Agricultura are published under Creative Commons Attribution 4.0 International