Alternativas para optimizar la productividad y asegurar una mejor calidad del espárrago (Asparagus officinalis var. altilis L.)
Abstract
El espárrago constituye una alternativa productiva innovadora, con potencial para el mercado global, si bien cuenta  con una demanda creciente, presenta altas  exigencias en calidad y en calibres específicos,  según el mercado de destino, actualmente se está expandiendo  la demanda de turiones cortos, que pueden ser consumidos íntegramente. Con el objetivo de evaluar el  impacto  sobre  la productividad de  alternativas  tradicionales e innovadoras de producción, en el primer bienio de la etapa adulta, se realizaron dos ensayos: el primero tuvo lugar en  la Chacra Experimental de  la Facultad de Agronomía (UNCPBA) en Buenos Aires, con diferentes
densidades (D1: 25.000 y D2: 17.857 plantas/ha) y tamaños de la corona, arañas o plantines (grandes, &gt,200 g,medianas, 100-200 g, y chicas, Al evaluar el rendimiento durante dos años, se encontró que la producción fue significativamente mayor en el segundo año, con 9,2 t ha-1 . Durante la poscosecha, para  los distintos  largos y calibres, se encontraron diferencias estadísticas significativas en la pérdida del peso, obteniendo los mayores porcentajes de conservación de las características organolépticas en turiones cortos con calibres gruesos y  medianos, y envasados.

Palabras clave adicionales: tamaño de corona, densidad de plantación, largo de turiones, poscosecha, calibres.
Downloads
Download data is not yet available.
References
Asprelli, P.D.; F.S. López-anido y E.L. Cointry. 2005. Caracteres agronómicos en cultivares de espárrago de diferentes edades y manejos. Pesqui. Agropecu. Bras. 40(1), 47-52.
Benajes-Sanahuja, S. 1990. El espárrago. Ediciones Mundi-Prensa, Madrid.
Castagnino, A. 2006. Comportamiento del cultivo de espárrago verde a diferentes densidades iniciado mediante el sistema tradicional de arañas. Agronomía Trop. 56(1), 121-127.
Cointry, E.; F.S. López Anido; I. Gatti; V.P. Cravero; I.T. Firpo y S.M. García. 2000. Early selection of elite plants in asparagus. Bragantia 59(1), 21-26.
Ellison, J.H. 1986. Asparagus breeding. pp. 521-569. En: Basset, M.J. (ed.). Breeding vegetables crops. Westport, CT.
Falavigna, A. 2006. I Punti critici dee'asparago in campo en el post-raccolta. La stessa tecnica per venti secoli: la fossa per le «zampe». L'Informatore Agrario 52-56.
Falavigna, A. 2004. Strategia per la ottimizazione e valorizzazione de la produzione di asparago in Sicilia. Editorial Grillo e Famá, Spadafora, Italia. pp. 39–40.
Falavigna, A. 2003. Le conoscenze tecnico-scientifiche e l'attività di ricerca condotta nel PROM al servizio del produttore agricolo. Progetto di Ricerca per potenziare la competitività di Orticole in aree Meridionali. Delibere CIPE 17/2003 e 83/2003. pp. 1-77.
Falavigna, A. y A.D. Palumbo. 2001. La coltura dell'asparago.Editorial Calderini Edagricole, Bologna, Italia.
Instituto Interamericano de Cooperación para la Agricultura (IICA) 2007. Guía práctica para la exportación a EE.UU. Nicaragua. En: http://www.iica.int.ni; consulta: noviembre de 2009.
Laemers, H.M.A. 2008. Asparagus developments in The Netherlands, Europe and Wordwide. 5ª Forum Europeo dell´Asparago. Acta Euroasper 2008.
López-Gálvez, G. y M. Cantwell. 1996. Los productos de cuarta gama en Estados Unidos. Horticultura 117, 33-38.
Manrique, K.K. 1998. Nociones del manejo de postcosecha. Depto. de Mejoramiento y Recursos Genéticos. En: http://www.cipotato.org/newindex.asp; consulta: noviembre de 2009.
Montanari, V. 1996. I mezzi tecnici per la coltura in vivaio. Informatore Agrario 52(29 Suppl.), 25-35.
Nichols, M.A. y D. Woolley. 1985. Growth studies with asparagus. pp. 287-297. En: Proc. Int. Asparagus Symp. University of Guelph, Ontario, Canada.
Rivera, I. y J. Rodríguez. 1999. Perfil de mercado: espárrago. Documento de trabajo No. 5. En: www.inta.gov.ar/ies; consulta: noviembre de 2009.
Robb A.R. 1984. Physiology of asparagus (Asparagus officinalis) as related to production of the crop. New Zeal. J. Exp. Agr. 12, 251-260.
Romojaro, F.; F. Riquelme; T. Pretel; G. Martínez; M. Serrano; C. Martínez; P. Lozano; P. Segura y P. Luna. 1996. Nuevas tecnologías de conservación de frutas y hortalizas. Ediciones Mundi-Prensa, Madrid. pp. 41-58.
Secretaría de Agricultura, Ganadería Pesca y Alimentos (SAGPyA). 2007. Protocolo de calidad de espárrago fresco. Buenos Aires.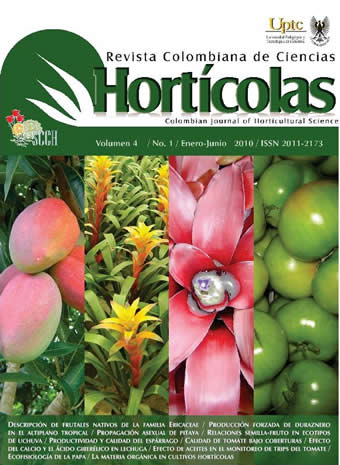 Downloads
Metrics
Views/Downloads
Abstract

454

PDF (Español)

379
How to Cite
Marina, J A, Castagnino, A M, Sastre V., P, Díaz, K, & Guisolis, A P. (2011). Alternativas para optimizar la productividad y asegurar una mejor calidad del espárrago (Asparagus officinalis var. altilis L.). Revista Colombiana de Ciencias Hortícolas, 4(1), 55–66. https://doi.org/10.17584/rcch.2010v4i1.1225
Section
Vegetable section
License
The copyright of the articles and illustrations are the property of the Revista Colombiana de Ciencias Hortícolas. The editors authorize the use of the contents under the Creative Commons license Attribution-Noncommercial-ShareAlike 4.0 International (CC BY-NC-SA 4.0). The correct citation of the content must explicitly register the name of the journal, name (s) of the author (s), year, title of the article, volume, number, page of the article and DOI. Written permission is required from publishers to publish more than a short summary of the text or figures.