Láminas de riego y calidad de agua en la solución de problemas de salinidad en tomate (Solanum lycopersicum L.)
Downloads
Download data is not yet available.
References
Adams, P. 1991. Effect of increasing the salinity of nutrient solution with major nutrients or sodium chloride on yield, quality and composition of tomatoes grown in rockwool. J. Hort. Sci. 66(6), 201-207.
Alba-Ordóñez, A. y M. Llanos-Company. 1990. El cultivo del girasol. Ediciones Mundi-Prensa, Madrid.
Álvarez-Herrera, J.G., H.E. Balaguera y E. Chacón. 2010. Efecto de la aplicación de diversas láminas y frecuencias de riego en la propagación del romero (Rosmarinus officinalis L.). Ingeniería e Investigación 30(1), 86-90.
Anzorena, M. 1994. Sustratos, propiedades y caracterización. Mundi-Prensa, Madrid.
Balaguera, H.E., J.G. Álvarez-Herrera y J.D. Rodríguez.2008. Efecto del déficit de agua en el trasplante de plántulas de tomate (Solanum lycopersicum L.). Agron. Colomb. 26(2), 246-255.
Bonadeo, E., E. Hampp, M. Bongiovanni, I. Moreno y A. Odorizzi. 2006. Relaciones entre propiedades físicas y químicas del suelo y raíces de alfalfa (Me-dicago sativa L.) afectada por "manchoneo". Cienc. Suelo 24 (2), 101-107.
Carrasco, G. y J. Izquierdo. 1996. La empresa hidropóni-ca de mediana escala: la técnica de la solución nu-tritiva recirculante ("NFT"). Universidad de Talca, Talca, Chile. pp. 56-90.
Chinnusamy, V., M. Ohta, S. Kanrar, B.H. Lee, X. Hong, M. Agarwal y J.K. Zhu. 2003. ICE1: a regulator of cold-induced transcriptome and freezing tolerance in Arabidopsis. Genes Dev. 17, 1043-1054.
Cucci, G., V. Cantore, F. Boari y A. De Caro. 2000. Water salinity and influence of SAR on yield and quality parameters in tomato. Acta Hort. 537, 663-670.
Del Rosario, D.A., A.C. Sumague, V.P. Roxas y T.S. Bautista. 1990. Response of tomato (Lycopersicon esculentum Mill.) to salt stress. Philippine Agriculturist 73(2), 193-198.
Escobar, H. 2001. Generalidades del cultivo. pp. 13–19. En: Escobar, H. y R. Lee (eds.). Producción de to-mate bajo invernadero. Fundación Universidad de Bogotá, Jorge Tadeo Lozano, Bogotá.
FAO. 2006. Evapotranspiración del cultivo. Guías para la determinación de los requerimientos de agua de los cultivos. Bol. No. 56.
FAO, Roma. Fernández-García, N., V. Martínez, A. Cerda y M. Carvajal. 2004. Fruit quality of grafted tomato plants grown under saline conditions. J. Hort. Sci. Biotechnol. 79(6), 995-1001.
Guichard, S., N. Bertin, C. Leonardi y C. Gary. 2001. To-mato fruit quality in relation to water and carbon fluxes. Agronomie 21, 385-392.
Henriquez, C. y F. Bertsch. 1997. Comportamiento de Ca, Mg y K en respuesta a la aplicación de fertilizante potásico y de cal dolomítica en un andisol de la zona sur de Costa Rica. Agron. Costarr. 21(2), 239-248.
Heuvelink, E.P., M. Bakker y C. Stanghellini. 2003 Sali-nity effects on fruit yield in vegetable crops: a simulation study. Acta Hort. 609, 133-140.
Kepenek, K. y F. Koyuncu. 2002. Studies on the salt tolerance of some strawberry cultivars under glasshouse. Acta Hort. 573, 297-304.
Maggio, A., V. Fogliano, P. Ambrosino, A. Ritieni y S. DePascale. 2001. Irrigation with saline water improves carotenoids content and antioxidant activity of tomato. J. Hort. Sci. Biotechnol. 76(4), 447-453.
Mizrahi, Y., E. Taleisnik, V. Kagan-Zur, Y. Zohar, R. Offenbach, E. Matan y R. Golan. 1988. A saline irrigation regime for improving tomato fruit quality without reducing yield. J. Amer. Soc. Hort. Sci. 113(2), 202-205.
Pérez-Alfocea, F., M. Balibrea, A. Santa-Cruz y M. Estan. 1996. Agronomical and physiological characterization of salinity tolerance in a commercial tomato hybrid. Plant Soil 180(2), 251-257.
Pizarro, F. 1996. Riegos localizados de alta frecuencia. 3ª edición. Mundi-Prensa, Madrid.
Rezende, R.V., L.O. Marteleto, A.C. Gomes, V.W. Dias y A.R. Conde. 1984. Productividade e qualidade dos frutos de dez variedades de goiaba, em visconde do Rio Blanco, Minas Gerais, visando ao consumo ao natural e a industrialização. Revista Ceres 31(177), 360-387.
Romero-Aranda, R., T. Soria y J. Cuartero. 2001. Tomato plant-water uptake and plant-water relationships under saline growth conditions. Plant Sci. 160, 265-272.
Schreiner, M. y P. Lüdders. 1992. Einfluss von Na-Salzen auf die Na+, K+, Cl− und SO42− Gehalte in Blättern von Golden Delicious' Apfelbäumen bei unterschiedlicher K-Ernährung. Angew. Bot. 66(1-2), 1-6.
Singh, K.N. y R. Chatrath. 1992. Genetic variability in grain yield and its component characters and their associations under salt stress conditions in tissue culture lines of bread wheat (Triticum aestivum L. em Thell). Wheat Information Service 75, 46-53.
Skogerboe, G.V. 1986. Estudio para el aprovechamiento integral del Río Negro. Riego, drenaje y salinidad. Ed. Agua y Energía Eléctrica, Cipolleti, Río Negro, Argentina.
Sultana, N., T. Ikeda y R. Itoh. 1999. Effect of NaCl salinity on photosynthesis and dry matter accumulation in developing rice grains. Environ. Experim. Bot. 42(3), 211-220.
Taiz, L. y E. Zeiger. 2002. Plant physiology 3rd ed. Sinauer Associates, Sunderland, MA.
Walker, R.R., P.E. Kriedemann y D.H. Maggs. 1979. Growth, leaf physiology and fruit development in salt-stressed guavas. Aust. J. Agric. Res. 30(3), 477-488.
Yaron, D., H. Bielorai, J. Shalhevet y Y. Gavish. 1972.Estimation procedures for response functions of crops to soil water content and salinity. Water Resources Res. 8, 291-300.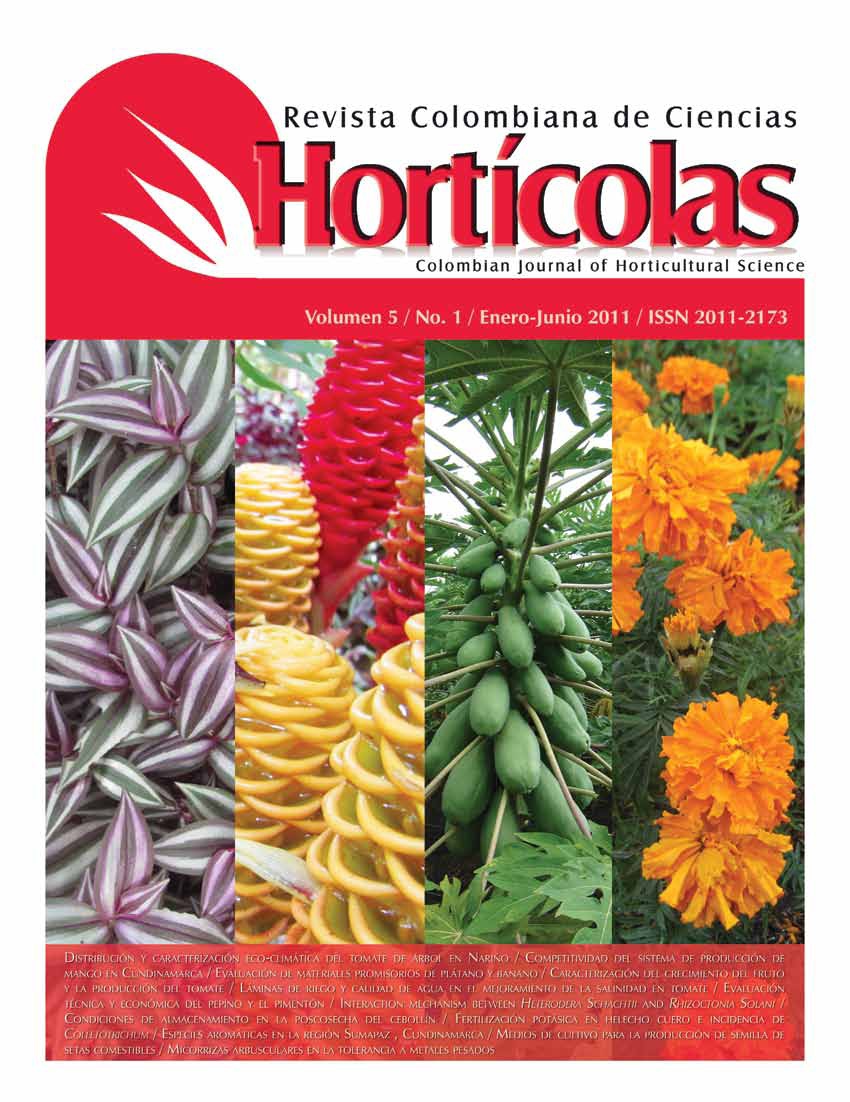 Downloads
Metrics
Views/Downloads
Abstract

454

PDF (Español)

2280
How to Cite
Álvarez Herrera, J G, López, J L, Balaguera, W A, Merchán, J B, & Veloza, J A. (2012). Láminas de riego y calidad de agua en la solución de problemas de salinidad en tomate (Solanum lycopersicum L.). Revista Colombiana de Ciencias Hortícolas, 5(1), 57–68. https://doi.org/10.17584/rcch.2011v5i1.1253
Section
Vegetable section
License
The copyright of the articles and illustrations are the property of the Revista Colombiana de Ciencias Hortícolas. The editors authorize the use of the contents under the Creative Commons license Attribution-Noncommercial-ShareAlike 4.0 International (CC BY-NC-SA 4.0). The correct citation of the content must explicitly register the name of the journal, name (s) of the author (s), year, title of the article, volume, number, page of the article and DOI. Written permission is required from publishers to publish more than a short summary of the text or figures.