Efecto del número de racimos por planta sobre el rendimiento de tomate (Solanum lycopersicum L.)
Downloads
Download data is not yet available.
References
Agronet, 2010. Área cosechada, producción y rendimiento de tomate. En: ht tp: //www.agronet.gov.co/; consulta enero de 2010.
Andriolo, J.L. y L.L. Falcão. 2000. Efeito da poda de folhas sobre a acumulação de materia seca e sua repartição para os frutos do tomateiro cultivado em ambiente protegido. Rev. Bras. Agrometeor. 8, 75-83.
Balaguera-López, H.E.; J G. Álvarez-Herrera; G.E. Martínez-Arévalo y W.A. Balaguera. 2009. El contenido de arcilla del suelo influye en el rendimiento de un cultivo de tomate (Solanum lycopersicum L.). Rev. Colomb. Cienc. Hortic. 3(2),
-209.
Bangerth, F. y L.C. Ho. 1984. Fruit position and fruit set sequence in a truss as factors determining final fruit size of tomato fruits. Ann. Bot. 53(3), 315-320.
Benincasa, P.; C. Beccafichi; M. Guiducci y F. Tei. 2006. Source-sink relationship in processing tomato as affected by fruit load and nitrogen availability. Acta Hort. 700, 63-66.
Bertin, N. 1995. Competition for assimilates and fruit position affect fruit set in indeterminate greenhouse tomato. Ann. Bot. 75, 55-65.
Bojacá, C. R.; N.Y. Luque y O.I. Monsalve. 2009. Análisis de la productividad del tomate en invernadero bajo diferentes manejos mediante modelos mixtos. Rev. Colomb. Cienc. Hortic. 3(2), 188-198.
Caliman, F.R.B. 2003. Produção e qualidade de frutos de genótipos de tomateiro em ambiente protegido e no campo. Tesis de maestria. Universidade Federal de Viçosa. Viçosa, Brasil.
Chamarro, J. 1995. Anatomía y fisiología de la planta. pp. 43-91. En: Nuez, F. (ed.). El cultivo del tomate.
Ediciones Mundi-Prensa, Madrid.
Dogliotti, S. 2007. Bases fisiológicas del crecimiento y desarrollo del cultivo de tomate (Lycopersicon esculentum Mill.). Material de apoyo al Módulo Horticultura. Universidad de la República, Facultad de Agronomía, Ciclo de Formación Central Agronómica, Curso de Fisiología de los Cultivos. En: www.fagro.edu.uy/~cultivos/hortalizas/
Repartido_ Fisiologia_tomate.pdf; consulta: enero de 2010.
Escobar, H. y R. Lee. 2001. Producción de tomate bajo invernadero. Cuadernos del Centro de Investigaciones y Asesorías Agroindustriales CIIA. Fundación Universidad de Bogotá Jorge Tadeo Lozano, Bogotá. pp. 113-117.
FAO. 2010. Faostat. Área cosechada, producción y rendimiento de tomate. En: http://faostat.f a o . o r g / s i t e / 5 6 7 / D e s k t o p D e f a u l t . aspx?PageID=567#ancor; consulta: enero de 2010.
Gifford, R.M. y L.T. Evans. 1981. Photosynthesis, carbon partitioning and yield. Annu. Rev. Plant Physiol. 32, 485-509.
Guimarães, M.; D.J.H. Da Silva; P.C.R. Fontes; F.R.B. Caliman; R.A. Loos y P.C. Stringheta. 2007. Produção e sabor dos frutos de tomateiro submetidos a poda apical e de cachos florais. Hortic. Bras. 25(2), 265-269.
Gusmão, S. 1988. Efeito da poda e da densidade de plantio sobre a produção do tomateiro(Lycopersicon esculentum Mill.). Tesis de maestría. Universidad Federal de Viçosa, Viçosa, Brasil.
Ho, L.C. 1996. The mechanism of assimilate partitioning and carbohydrate compartmentation in fruit in relation to the quality and yield of tomato. J. Exp. Bot. 47, 1239-1243.
Hocking, P.J. y B.T. Steer. 1994. The distribution and identity of assimilates in tomato with special reference to stem reserves. Ann. Bot. 73, 315-325.
Jaramillo, J.; V.P. Rodríguez; M.A. Guzmán; M.A. Zapata y T. Rengifo. 2007. El cultivo de tomate bajo invernadero. Boletín Técnico No. 21. Corpoica C.I. La Selva, Rionegro, Colombia.
Machado, A.Q.; M.A.R. Alvarenga y C.E.T. Florentino. 2007. Produção de tomate italiano (saladete) sob diferentes densidades de plantio e sistemas de poda visando ao consumo in natura. Hortic. Bras. 25, 149-153.
Marcelis, L.F.M. 1996. Sink strength as a determinant of dry matter partitioning in the whole plant. J. Exp. Bot. 47, 1281-1291.
Mueller, S. y A.F. Wamser. 2009. Combinação da altura de desponte e do espaçamento entre plantas de tomate. Hortic. Bras. 27, 64-69.
Peluzio, J.M.; V.W. D. Casali y N.F.LOPES. 1995. Partição de assimilados em tomateiro após a poda apical. Hortic. Bras. 13, 41-43.
Radin, B. 2002. Eficiência de interceptação da radiação fotossinteticamente ativa pela cultura do tomateiro em diferentes ambientes. Anales Reunión Argentina de Agrometeorología. Universidad Nacional de Córdoba, Vaquerias, Argentina.
Russell, C.R. y D.A. Morris. 1983. Patterns of assimilates distribution and source-sink relationships in the young reproductive tomato plants. Ann. Bot. 52, 357-363.
Silva-Júnior, A.; J.J.V. Müller y H.F. Prando. 1992. Poda de alta densidade de plantio de tomate. Agropecuária Catarinense 5, 57-61.
Streck, N.A.; G.A. Buriol; J.L. Andriolo y M.A. 1998. Sandri, Influência da densidade de plantas e da poda apical drástica na produtividade do tomateiro em estufa de plástico. Pesqui. Agropecu. Bras. 33(7), 1105-1112.
Tanaka, A. y K. Fujita. 1974. Nutrition-physiological studies on the tomato plant. IV. Source-sink relationship and structure of the source-sink unit. Soil Sci. Plant Nutr. 20, 305-315.
Valantin, M.; C. Gary; B.E. Vaissiere; M. Tchamitchian y B. Bruneli. 1998. Changing sink demand affects the area but not the specific activity of assimilates sources in cantaloupe. Ann. Bot. 82, 711-719.
Valantin, M.; B.E. Vaissiere; C. Gary y P. Robin. 2006. Source-sink balance affects reproductive development and fruit quality in cantaloupe melon. J. Hortic. Sci. Biotech. 81, 105-117.
Wardlaw, I.F. 1990. The control of carbón partitioning in plants. New Phytol. 116 341-348.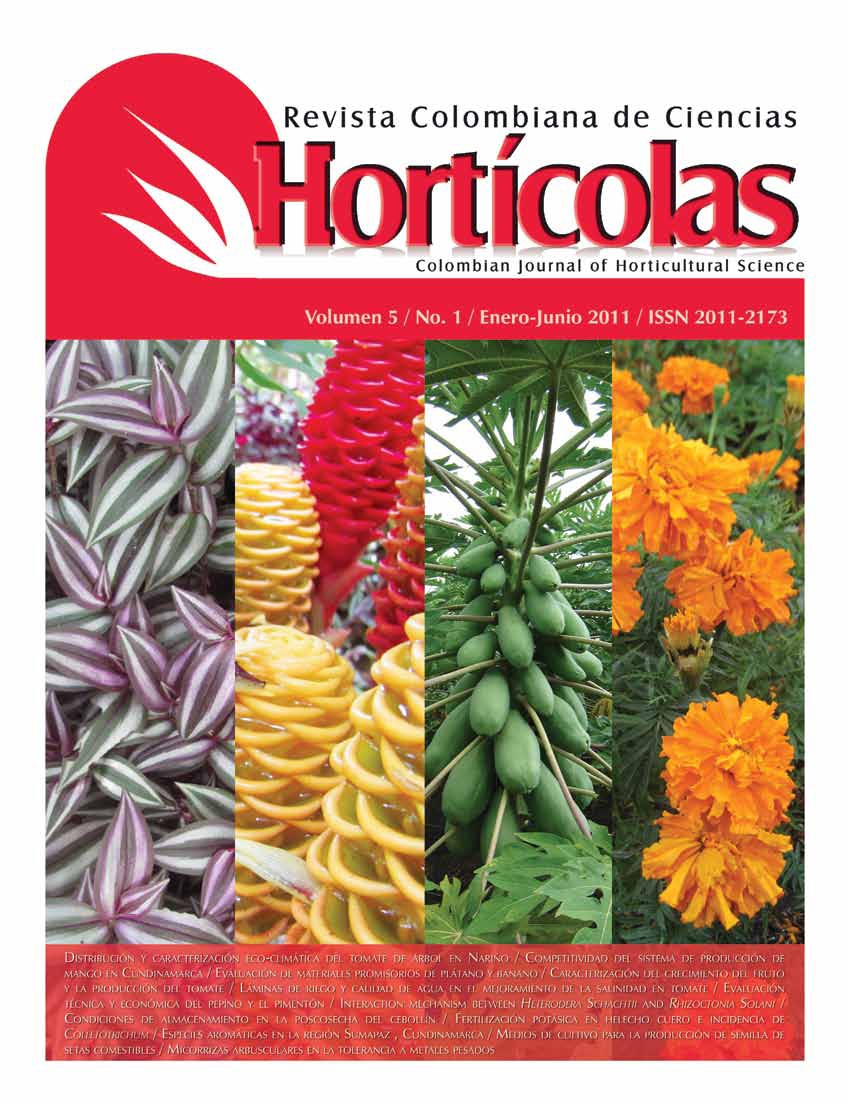 Downloads
How to Cite
Quintana Baquero, R. A., Balaguera López, H. E., Álvarez Herrera, J. G., Cárdenas Hernández, J. F., & Pinzón, H. H. (2012). Efecto del número de racimos por planta sobre el rendimiento de tomate (Solanum lycopersicum L.). Revista Colombiana De Ciencias Hortícolas, 4(2), 185–198. https://doi.org/10.17584/rcch.2010v4i2.1240
Section
Vegetable section
License
The copyright of the articles and illustrations are the property of the Revista Colombiana de Ciencias Hortícolas. The editors authorize the use of the contents under the Creative Commons license Attribution-Noncommercial-ShareAlike 4.0 International (CC BY-NC-SA 4.0). The correct citation of the content must explicitly register the name of the journal, name (s) of the author (s), year, title of the article, volume, number, page of the article and DOI. Written permission is required from publishers to publish more than a short summary of the text or figures.