Efecto de dos cepas de Trichoderma en el control de Botrytis cinerea y la calidad del fruto en fresa (Fragaria sp.)
Abstract
El moho gris en fresa causado por Botrytis cinerea es una enfermedad limitante ya que disminuye la calidad y el valor comercial de los frutos. El manejo de esta enfermedad se basa en el empleo de fungicidas químicos aplicados al fruto. Por esta razón, el uso de organismos biocontroladores es una alternativa para el control de esta patología ya que permite disminuir los residuos de pesticidas en el ambiente. Se evaluaron dos cultivares comerciales de fresa (Camino Real y Ventana), en un diseño completamente al azar con 4 tratamientos, Trichoderma harzianum y T. lignorum, iprodione en dosis comercial y un tratamiento testigo, cada uno con tres repeticiones, para un total de doce unidades experimentales (UE), cada UE compuesta por cinco plantas. La incidencia de la enfermedad en el tratamiento testigo fue del 60%, mientras que para los tratamientos con T. harzianum y T. lignorum solo alcanzó un 33%, lo que indica un control mayor de los antagonistas en comparación con el químico sobre la enfermedad. En cuanto a la severidad, los tratamientos con T. harzianum y T. lignorum redujeron significativamente en un 32% el desarrollo del patógeno en la planta. La masa fresca de frutos mostró diferencias significativas cuando se aplicó T. lignorum, ya que este tratamiento obtuvo los frutos más grandes y con mayor tonalidad roja. La aplicación de Trichoderma sp. presentó frutos con mayor firmeza en las dos variedades, con valores promedio de 9,1 N, lo que indica que estos frutos soportan mejor la manipulación poscosecha y el almacenamiento.
Downloads
Download data is not yet available.
References
Abbott Laboratories de Chile Ltda. 1997. La alternativa biológica. Área de desarrollo en Botrytis, nuevas estrategias de control cultural, biológico y químico en uva de mesa. Facultad de Ciencias Agrarias, Universidad de Chile, Santiago. pp. 82-88.
Aday, M.S. C. Caner y F. Rahval. 2011. Effect of oxygen and carbon dioxide absorbers on strawberry quality. Postharv. Biol. Technol. 62, 179-187.
Agravante, J.U., T. Matsui y H. Kitagawa. 1990. Starch breakdown and changes in amylase activity during ripening of ethyle and ethano-treated bananas. Acta Hort. 269, 133-140.
Agrios, G. 2005. Plant pathology. 5a ed. Academic Press, New York, NY.
Ahmad, J.S. y R. Baker. 1987. Rhizosphere competence of Trichoderma harzianum. Phytopathol. 77, 182-189.
Averre, Ch., R. Jones y R. Milholland. 2003. Strawberry diseases and their control. Fruit disease information. Note 5. Plant pathology extension. North Carolina State University, Raleigh, NC.
Aziz, N.H., M.Z. El-Fouly, A.A. EL-Essawy y A.A. Khalaf. 1997. Influence of bean seedling root exudates on the rhizosphere colonization by Trichoderma lignorum for the control of Rhizoctonia solani. Bot. Bull. Acad. Sin. 38, 33-39.
Baraona, M. y E. Sancho. 1998. Manzana, melocotón, fresa y mora. pp. 97-108. En: Fruticultura Especial II. Universidad Estatal a Distancia. San José, Costa Rica.
Bodelon, O.G., M. Blanch, M.T. Sánchez-Ballesta, M.I Escribano y C. Merodio. 2010. The effects of high CO2 levels on anthocyanin composition, antioxidant activity and soluble sugar content of strawberries stored at low non-freezing temperature. Food Chem. 122, 673-678.
Carreño, J., A. Martínez, L. Almela y J.A. Fernández-López. 1997. Chemotaxonomical classification of red table grapes based on anthocyanin profile and external colour. Lebens. Wissen. Technol. 30, 259-265.
Castaño, Z.J. 2002. Principios básicos de fitoepidemiología. Universidad de Caldas, Manizales, Colombia.
Chaves, N. y A. Wang. 2004. Combate del moho gris (Botrytis cinerea) de la fresa mediante Gliocladium roseum. Agron. Costar. 28(2), 73-85.
Cubillos-Hinojosa, J.N. Valero y L. Mejía. 2009. Trichoderma harzianum como promotor del crecimiento vegetal del maracuyá (Passiflora edulis var. flavicarpa Degener). Agron. Colomb. 27(1), 81-86.
Del Valle, V.P., M.A. Hernández y M.J. Guarda. 2005. Development of cactus mucilage edible coating (Opuntia ficus-indica) and its application to extend strawberry (Fragaria ananassa) shelf life. Food Chem. 91(4), 751-756.
Esmel, C. E., J.R. Duval y A.A Steven. 2004. The influence of calcium thiosulfate on yieldand postharvest quality of 'Sweet Charlie' strawberry. Proc. Fla. State Hort. Soc. 117, 48-51.
Gordon, L., A. Stensvand y A. Tronsmo. 2000. Efecto de la temperatura y el estrés de nutrientes sobre la capacidad de productos comerciales de Trichoderma para el control de Botrytis cinerea y Mucor piramidal de fresa bajo invernadero. Biol. Control 19, 149-160.
Guédez, C., I. Cañizález, C. Castillo y R. Olivar. 2009. Efecto antagónico de Trichoderma harzianum sobre algunos hongos patógenos postcosecha de la fresa (Fragaria spp.). Rev. Soc. Ven. Microbiol. 29, 34-38.
Harman, G.E., B. Latorre, E. Agosin, R. San Martin, D.G. Riegel, P.A. Nielsen, A. Tronsmo y R.C. Pearson. 1996.
Biological and integrated control of Botrytis bunch rot of grape using Trichoderma spp. Biol. Control 7, 259-266.
Harman, G. E., C.R. Howell, A. Viterbo, I. Chet y M. Lorito. 2004. Trichoderma species-opportunistic, avirulent plant symbionts. Nat. Rev. Microbiol. 2, 43-56.
Hohmann, P., E. Jones, R. Hill y A. Stewart. 2011. Understanding Trichoderma in the root system of Pinus radiata: associations between rhizosphere colonisation and growth promotion for comercially grown seedlings. Fungal Biol. 115, 759-767.
Infante, D., B. Martínez, N. González y Y. Reyes. 2009. Mecanismos de acción de Trichoderma frente a hongos fitopatógenos. Rev. Protección Veg. 24(1), 14-21.
Jiménez, C., N. Sanabria de Albarracin, G. Altuna y M, Alcano. 2011. Efecto de Trichoderma harzianum (Rifai) sobre el crecimiento de plantas de tomate (Lycopersicon esculentum L.). Rev. Fac. Agron. (LUZ) 28, 1-10.
Kader, A.A. 1991. Quality and its maintenance in relation to the postharvest physiology of strawberry. pp. 145-152. En: Dale, A. y J.J. Luby (eds.). The strawberry into the 21st. Timber Press, Portland, OR.
Kim, T.G. y G.R. Knudsen. 2013. Relationship betwen the biocontrol fungus Trichoderma harzianum and the phytopahogenic fungis Fusarium solani f. sp. pisi. Appl. Soil Ecol. 68, 57-60.
López, C.E. 2007. Fitopatología molecular. Universidad Nacional de Colombia, Bogotá.
Lynch J., K. Wilson, M. Ousley y J. Whipps. 1991. Response of lettuce to Trichoderma treatment. Lett. Appl. Microbiol. 12, 56-61.
Martínez-Bolaños, M., D. Nieto-Ángel, D. Teliz-Ortiz, J. Rodríguez-Alcázar, M.T. Martínez-Damián, H. Vaquera-Huerta y O. Carrilli-Mendoza. 2008. Comparación cualitativa de fresas (Fragaria x ananassa Duch) de cultivares Mexicanos y Estadounidenses. Rev. Chapingo Serie Hort. 14(2), 113-119.
Mishra, A., M. Kumari, S. Pandey, V. Chaudhry, K.C. Gupta y C.S. Nautiyal. 2014. Biocatalytic and antimicrobial activities of gold nanoparticles synthesized by Trichoderma sp. Bioresource Technol. 166, 235-242.
Orjeda, G. 1998. Evaluación de la resistencia de los bananos a las enfermedades de Sigatoka negra y marchitamiento por Fusarium. Guías técnicas INIBAP 3. IPGRI, Roma, Italia; Red Internacional para el mejoramiento del banano y el plátano, Montpellier, Francia.
PLM. 2009. Diccionario de especialidades agroquímicas. 19ª ed. Ediciones PLM, México.
Proplantas. 2011. Camino Real. En: http://www.proplantas.com/files/camino-real.pdf; consulta: marzo de 2014.
Ruiz, R. y W. Piedrahita. 2012. Fresa. pp. 474-495. En: Fischer, G. (ed.). Manual para el cultivo de frutales en el trópico. Produmedios, Bogotá.
Russel, P. 2004 Sensitivity baselines in fungicide resistance research and management. Crop Life International, Bruselas.
Schreiner, P., K. Ivors y J. Pinkerton. 2001. Soil solarization reduces arbuscular mycorrhizal fungi as a consequence of weed suppression. Mycorrhiza 11, 273-277.
Sequi, P. 2004. Los microelementos en la nutrición vegetal. Valagro SpA, Lanciano (Ch), Italia.
Thompson, A. 2003. Almacenamiento en atmósferas controladas de frutas y Hortalizas. Acribia, Zaragoza, España.
Zapata, J.L., A. Saldarriaga, M. Londoño y C. Díaz. 2002. Manejo del cultivo de la uchuva en Colombia. Boletín Técnico 14. Centro de Investigación La Selva, Corpoica, Rionegro, Colombia.
Zhu, P., L. Xu, C. Zhang, H. Toyoda y S. Gan. 2012. Ethylene produced by Botrytis cinerea can affect early fungal development and can be used as a marker for infection during storage of grapes. Postharv. Biol. Technol. 66, 23-29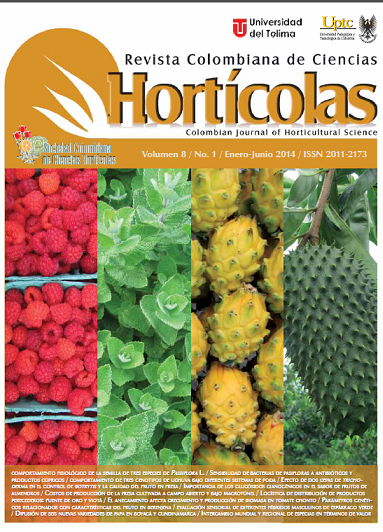 Downloads
How to Cite
Gaitán, J. B. M., Ferrucho, R. L., & Herrera, J. G. Álvarez. (2014). Efecto de dos cepas de Trichoderma en el control de Botrytis cinerea y la calidad del fruto en fresa (Fragaria sp.). Revista Colombiana De Ciencias Hortícolas, 8(1), 44–56. https://doi.org/10.17584/rcch.2014v8i1.2799
License
The copyright of the articles and illustrations are the property of the Revista Colombiana de Ciencias Hortícolas. The editors authorize the use of the contents under the Creative Commons license Attribution-Noncommercial-ShareAlike 4.0 International (CC BY-NC-SA 4.0). The correct citation of the content must explicitly register the name of the journal, name (s) of the author (s), year, title of the article, volume, number, page of the article and DOI. Written permission is required from publishers to publish more than a short summary of the text or figures.