Evaluación de goteros utilizados en microirrigación en Colombia
Abstract
Desde el año 2010 y hasta el 2012 se realizó la evaluación de 23 tipos de emisores o goteros que se encuentran en el mercado colombiano y se les determinó: el coeficiente de variación (CV), la variación del caudal medio comparado con el caudal nominal, las dimensiones de los pasajes y de sus partes constitutivas, la sensibilidad a la presión, el tipo de material y la resistencia a la presión hidrostática. Las mediciones se realizaron en el laboratorio de riego a presión del Departamento de Ingeniería Civil e Ingeniería Agrícola de la Facultad de Ingeniería de la Universidad Nacional de Colombia, Bogotá, en condiciones de operación controladas de acuerdo con las normas de calidad ISO 9260, 1991 y UNE 68-075, 1986. De los emisores evaluados el 43,48% son categoría A, con CV menor a 5%, el 26,09% categoría B con CV entre 5% y 10% y el 30,43% categoría C, con CV mayor a 10%. El porcentaje de variación del caudal medio respecto al caudal nominal de los emisores analizados muestran que solo el 17,32% (4) corresponden a la categoría A, mientras que el 82,61% (19) restante a la categoría B. Cinco emisores tienen una altura de laberinto menor a 0,7 mm, diecisiete entre 0,7 y 1,5 mm y uno superior a 1,5 mm (que los hace: muy sensible, ligeramente sensible y muy resistente a taponamiento, respectivamente). Este trabajo muestra la importancia de las características del emisor en las instalaciones de riego y la incidencia sobre el ahorro de agua, consumo de energía y combustible y el incremento de la rentabilidad al reducir los costos de operación y aumentar la eficiencia de distribución del agua.
Downloads
Download data is not yet available.
References
Boswell, M.J. 1990. Micro irrigation - design manual. 4th ed. Hardie Irrigation Inc. El Cajon, CA.
Bucks, D.A., F.S. Nakayama y R.G. Gilbert. 1979. Trickle irrigation water quality and preventive maintenance. Agric. Water Manage. 2(2), 149-162.
FAO. 2011. The state of food insecurity in the world. Food and Agriculture Organization of the United Nations, Roma.
Haijun, L. y H. Guanhua. 2009. Laboratory experiment on drip emitter clogging with fresh water and treated sewage effluent. Agric. Water Manage. 96(5), 745-756.
Hall, A.W. 1999. Priorities for irrigated agriculture. Agric. Water Manage. 40(1), 25-29.
Instituto Español de Normalización. 1986. Irrigation equipment emitters. Specifications and test methods. UNE 68-075. Iranor. Madrid.
International Organization for Standardization. ISO 9260. 1991. Agricultural irrigation equipment- emitting- specification and test methods. Geneva, Suiza.
Medina San Juan, J. 1997. Riego por goteo. Teoría y prácticas. Ediciones Mundi-Prensa, Madrid.
Nakayama, F.S. y D.A. Bucks. 1991. Water quality in drip/trickle irrigation: a review. Irrig. Sci. 12(4), 187-192.
Penadille, Y., G. Deffontaines, Ch. Rosa y A. Farget. 2006. Prestazioni dei gocciolatori a bassa portata e delle manichette a goccia. Risultati di prove del Cemagref. Irrígazette Latino 30, 5-20.
Pizarro, F. 1996. Riegos localizados de alta frecuencia (RLAF). Ediciones Mundi-Prensa, Madrid.
SAS Institute. 1994. SAS/STAT user's guide. SAS Inst. Inc. Cary, NC.
Trooien, T.P., F.R. Lamm, L.R. Stone, M. Alam, D.H. Rogers, G.A. Clark y A.J. Schlegel. 2000. Subsurface drip irrigation using livestock wastewater: dripline flow rates. Appl. Eng. Agric. 16(5), 505-508.
Vélez, J.E. 2002. Diseño de laboratorio de riego a presión. Tesis de maestría. Facultad de Agronomía, Universidad Nacional de Colombia, Bogotá.
Vélez, J.E. 2012. Riego en hortalizas. pp. 107-121. En: Pinzón R., H. (ed.). Manual para el cultivo de hortalizas. Produmedios, Bogotá.
Vélez, J.E. y J.G. Álvarez. 2012. Riego en frutales. pp. 186-204. En: Fischer, G. (ed.). Manual para el cultivo de frutales en el trópico. Produmedios, Bogotá.
Vélez, J.E., D.S. Intrigliolo y J.R. Castel. 2007. Scheduling deficit irrigation of citrus trees with maximum daily trunk shrinkage. Agric. Water Manage. 90(3), 197- 204.
Zhang, J., W. Zhao., Z. Wei., Y. Tang y B. Lu. 2007. Numerical and experimental study on hydraulic performance of emitters with arc labyrinth channels. Comput. Electron. Agric. 56(2), 120-129.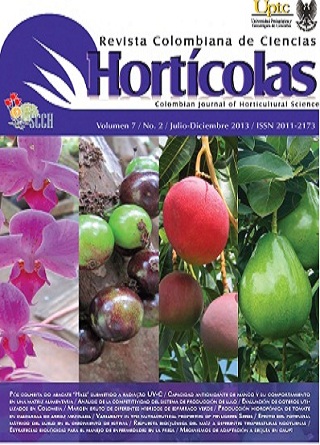 Downloads
How to Cite
Sánchez, J. E. V., Tamayo, J. H. C., & Herrera, J. G. Álvarez. (2014). Evaluación de goteros utilizados en microirrigación en Colombia. Revista Colombiana De Ciencias Hortícolas, 7(2), 186–200. https://doi.org/10.17584/rcch.2013v7i2.2234
License
The copyright of the articles and illustrations are the property of the Revista Colombiana de Ciencias Hortícolas. The editors authorize the use of the contents under the Creative Commons license Attribution-Noncommercial-ShareAlike 4.0 International (CC BY-NC-SA 4.0). The correct citation of the content must explicitly register the name of the journal, name (s) of the author (s), year, title of the article, volume, number, page of the article and DOI. Written permission is required from publishers to publish more than a short summary of the text or figures.