Escuelas de Campo en papa y su aporte en la construcción de procesos organizativos en dos municipios colombianos
Keywords:
Desarrollo rural, capital social, organizaciones campesinas, análisis agroecológico
Abstract
Las Escuelas de Campo (ECA) son una de las metodologías más practicadas para transmitir conocimiento y solucionar problemas en diferentes escenarios. En agricultura, las ECA sido adoptadas en muchos países en desarrollo como una estrategia sólida y barata para abarcar muchos actores en los procesos de capacitación. Este artículo muestra los resultados de dos Escuelas de Campo en papa adelantadas en Ubaque y Chipaque, dos municipios de la Región Central de Colombia. Después de una evaluación a través de una encuesta estructurada a todos los participantes en estas ECA, se evidencia un mejoramiento en aspectos técnicos. Sin embargo, los hallazgos indican que los procesos organizacionales son menos relevantes que los técnicos. Adicionalmente, es importante que los productores siempre tengan acceso a las metodologías descritas en las ECA, con el fin de usar estas herramientas exitosamente. 
Downloads
Download data is not yet available.
References
Bartlett, A. 2004. Entry points for empowerment. CARE Bangladesh as Part of CARE's Rural Livelihoods Programme (RLP), Daca, Bangladés.
Braun, A., J. Jiggins, N. Roling, H. van den Berg y P. Snijders. 2006. Global survey and review of farmer field school experiences. International Livestock Research Institute (ILRI). Amsterdam, The Netherlands.
Byerlee, D. y J. Anderson. 1994. Technology transfer systems for improved crop management: lessons for the future. pp. 208-230. En: Agricultural technology: policy issues for the international community. CAB International, Wallingford, UK.
Davis, K., E. Nkonya, E. Kato, D.A. Mekonnen, M. Odendo, R. Miiro y J. Nkuba. 2012. Impact of farmer field schools on agricultural productivity and poverty in East Africa. World Dev. 40(2), 402-413. Doi: 10.1016/j.worlddev.2011.05.019
Dzeco, C., C. Amilai y A. Cristóvão. 2010. Farm field schools and farmers' empowerment in Mozambique: A pilot study. J. Ext. Syst. 26(2), 1-13.
Fierro, G. 2003. Organización de productores en Colombia a través de Escuelas de Campo de Agricultores. LEISA Revista de Agroecología 19(1), 12-13.
Groeneweg, K., G. Buyu, D. Romney y B. Minjauw. 2005. Escuelas de campo para productores pecuarios: normas para la facilitación y manual técnico. International Livestock Research Institute (ILRI), Nairobi.
Orrego, R., O. Ortiz, W. Pradel, A. Arévalo, C. Barrantes y O. Macedo. 2009. Sistematización de la implementación de las Escuelas de Campo de Agricultores (ECAs) en Andahuaylas. Centro Internacional de la Papa (CIP), Lima.
Pezo, D.A., J. Cruz y M. Piniero. 2007. Livestock Farmers Field Schools: A strategy for promoting the rehabilitation and diversification of farms with degraded pastures. Arch. Latinoam. Prod. Anim. 15(S1), 42-48.
Tripp, R., M. Wijeratne y V.H. Piyadasa. 2005. What should we expect from farmer field schools? A Sri Lanka case study. World Dev. 33(10), 1705-1720. Doi: 10.1016/j.worlddev.2005.04.012
Van den Berg, H. y J. Jiggins. 2007. Investing in farmers - the impacts of farmer field schools in relation to integrated pest management. World Dev. 35(4), 663-686. Doi: 10.1016/j.worlddev.2006.05.004
Vasconcelos, E.M. 2001. A proposta de empowerment e sua complexidade: uma revisão histórica na perspectiva do Serviço Social e da saúde mental. Revista Serviço Social & Sociedade: Seguridade Social E Cidadania 65, 5-53.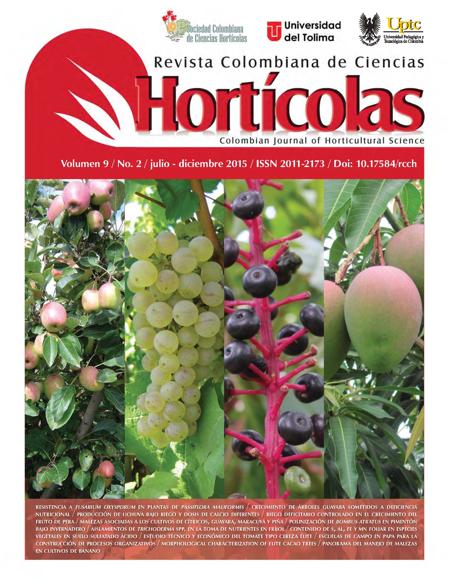 Downloads
How to Cite
Pérez P., J. O., Pachón-Ariza, F. A., & Parrado B., Álvaro. (2016). Escuelas de Campo en papa y su aporte en la construcción de procesos organizativos en dos municipios colombianos. Revista Colombiana De Ciencias Hortícolas, 9(2), 301–312. https://doi.org/10.17584/rcch.2015v9i2.4186
Section
Vegetable section
License
The copyright of the articles and illustrations are the property of the Revista Colombiana de Ciencias Hortícolas. The editors authorize the use of the contents under the Creative Commons license Attribution-Noncommercial-ShareAlike 4.0 International (CC BY-NC-SA 4.0). The correct citation of the content must explicitly register the name of the journal, name (s) of the author (s), year, title of the article, volume, number, page of the article and DOI. Written permission is required from publishers to publish more than a short summary of the text or figures.