El Tratado de Libre Comercio TLC y el crecimiento regional
Abstract
La experiencia en el comercio internacional y la integración económica demuestra que el aumento de éste, puede traer grandes beneficios, medidos en términos de empleo, inversión y crecimiento económico, reducción de la pobreza, fomentando en las naciones la capacidad para alcanzar a los países industrializados.
Con base en esta experiencia el Gobierno colombiano intenta promover una integración más dinámica con la economía de los Estados Unidos para estimular las exportaciones y el crecimiento del Producto Nacional Bruto, PNB.
Downloads
Download data is not yet available.
References
ANALDEX: Citado en Plan de Desarrollo Cambio para Construir la Paz. pp. 49-51.
ARAUJO y Asociados. "Estados Unidos como principal socio comercial de Colombia". INCOMEX, 1998. Bogotá, Colombia.
BOYACÁ EN CIFRAS, 2002.
BULMER, Thomas. "El Área de Libre Comercio de las Américas". Revista de la CEPAL, Número extraordinario, octubre de 1998.
CONFEDERACIÓN COLOMBIANA DE CÁMARAS DE COMERCIO. Estudio de Competitividad (2000).
DOLLAR D. y KRAAY A. 2001ª. "Growth is Good for the Poor". Banco Mundial, Documento de Trabajo N° 2587, Washington D. C.
__________ 2001b. "Trade, Growth and Poverty". Banco Mundial. Documento de Trabajo. N° 2615. Washington D. C.
FUKUDA S. "Human Development and Corporate Responsibility". – Human Development Office, Programa de Desarrollo de las Naciones Unidas, lectura IV, FTAA, Cartagena Colombia, 1996.
GALLUP, J. "Agricultural Productivity and Geography. January, 1998. Citado en Banco de la República, junio 2001. p.p. 35.
ILPES. "Nuevos Enfoques Teóricos, evolución de las políticas regionales e impacto territorial. Santiago de Chile,
JAN JOOST T. "Regionalism and the Global Economy: The Case of Latin America and the Caribbean" FONDAD, Holanda,
En PERSPECTIVA, Revista N° 2 del Instituto de Ciencia Política, Bogotá, 2003.
RAMÍREZ J. "Perfil estructural de la competitividad, Colombia- Chile- México".En Revista Planeación y Desarrollo N° 2, abril de 1998. DNP. Bogotá - Colombia.
RODRIK D. y otros. "Institutions Rule: Primary of Institutions Over Geography and Integration in Economic Development". En NBER. Documento de Trabajo. 9305, Cambridge. Massachussets.
KRUGMAN, P. Desarrollo, Geografía y Teoría Económica. Antoni Bosch. Barcelona, 2002.
RODRÍGUEZ F. y RODRIK D. 2000. "Trade Policy and Economic Growth: A Skeptic's Guide to the Cross-National
Evidence". En NBER Anual 2000, NBER, Cambridge, Massachusetts.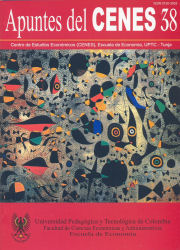 Downloads
How to Cite
Arévalo Luna, G. A. (2004). El Tratado de Libre Comercio TLC y el crecimiento regional. Apuntes Del Cenes, 24(38), 169–198. Retrieved from https://revistas.uptc.edu.co/index.php/cenes/article/view/166
License
Copyright (c) 2004 Guillermo Alexander Arévalo Luna
This work is licensed under a Creative Commons Attribution-NonCommercial-ShareAlike 4.0 International License.
By submitting articles for evaluation, the author agrees to transfer the publishing rights to Revista Apuntes del CENES for publishing in any format or mean and that the attached partial use license will be signed.
The journal is under licence Attribution-NonCommercial-ShareAlike 4.0 International (CC BY-NC-SA 4.0)