Ecuador: economics and politics of citizen revolution, preliminary assessment
Keywords:
Dollarization, stabilization, inflation, growth, social spending, fiscal policy.
Abstract

This article analyses some facts linked to dollarization program carried out in 2000 and its positive effects in macroeconomic stabilization of Ecuador, the reduction in inflation, interest rate and its impact on investment, as well as the economic growth and poverty reduction. We also review fiscal expenditure on social and economic infrastructure as additional variable of economic policy to promote economic growth, employment and general welfare of the population. This paper concludes that dollarization was the key factor to help fiscal policy to obtain economic and social development.
Downloads
Download data is not yet available.
References
Arévalo, A. (2008). Economía y neopopulismo en la región andina. Via Iuris, Revista de la Facultad de Derecho, Ciencias Políticas y Relaciones Internacionales, Universidad los Libertadores, Bogotá, (4).
Berg, A. & Berenstein, E. (2000). Debate on dollarization. Recuperado de www.omf.org/fannd
Blair, T. & Santos, J. (1998). La tercera vía. Madrid: El País, Aguilar.
Blanchard, O. (2006). Macroeconomía. Madrid: Pearson Education.
Calvo, G. & Reinhert, C. (2008). Reflection on dollarization. Nber, mpra, w.p., Cambridge, Mass., (8206).
Cámara de Comercio de Guayaquil. (2013, dic.). Boletín Económico CCG. Perspectivas económicas. Guayaquil: CCG.
Carbaugh, R. (2009). Economía internacional. Cengage Learning (12 ed). Madrid.
Cepal (2010). Macroeconomía del desarrollo, política fiscal y crecimiento económico. Santiago de Chile: Cepal.
Cepal (2012). Perspectivas económicas 2013. Estadísticas financieras internacionales 1990-2010. Cepal.
Correa, R. (2009). De banana republic a la no república. Quito: Random House.
Cottarelli C. & Jaramillo, L. (2012). Walking hand in hand: fiscal policy and growth in advanced economies. Working paper v/137. Washington: IMF.
De la Torre, C. (2010). Correa´s government: postneoliberalism, confrontation with social movements and global and plebiscite democracy. Temas y Debates (20). Flacso Ecuador. Recuperado de http://rephip.unr.edu.ar/bitstream/handle/2133/2068/de_La_Torre.pdf?sequence=1
Easterly, W. & Rebelo, S. (1993). Fiscal policy and economic growth; an empirical investigation. Nber, w.p., Cambridge, Mass., (4499).
Engen, E. & Skinner, J. (1992). Fiscal policy and economic growth. Nber w.p., Cambridge, Mass., (4223).
Escribano, G. (2012). Ecuador´s energy policy. Madrid: Instituto Real Elcano.
Fan, Si Hazell, P. & Thorat, S. (2006). Government spending, growth and poverty in rural India. American Journal of Agriculture and Economic, 20(1). Recuperado de: www.nber.org.
Fernández, A., Parejo, J. y Rodríguez, L. (1995). Política económica. McGraw-Hill. México
Froyen, R. (1997). Macroeconomía: teorías y políticas (4 ed) Mc Graw-Hill. Bogotá.
Giddens, A (1999). La tercera vía: la renovación de la socialdemocracia. Editorial Taurus, grupo Santillana Ediciones. Madrid.
FMI. (2014). World economic outlook. Recuperado de http://www.imf.org/external/pubs/ft/weo/2014/01/
Harberger, A. (2008). Lesson from monetary and real exchange rate. Economics Cato Journal, Washington, 28.
Held, D. (2006). Global Covenant. The social democratic alternative to the Washington consensus, polity, United Kingdom. Southern Económic Journal (49). United Kingdom.
Hoy (2009, 15 de enero). Ecuador construye socialismo con base en la Revolución Ciudadana. Recuperado de www. hoy. com.ec
Hurtado, O. (2006). Problemas de gobernabilidad de la democracia ecuatoriana. La Ilustración Liberal, (26).
Jaramillo, M. & Tibocha, A. (2008). La revolución democrática de Rafael Correa. Bogotá: Universidad del Rosario.
Keynes, J. (2006). General theory of employment, interest and money. New Delhi: Atlantic Publisher.
Krauze, E. (2012). Redentores. Ideas y poder en América Latina. Random house mondadori S.A. México DF.
Laclau, E. (2013). La razón populista. México DF.: Fondo de Cultura Económica.
León, A. J. (2014, 12 de junio). El milagro ecuatoriano. La República. Recuperado de www.larepublica.com.co
Mauffe, C. (2005). On the political. London: Routledge, Taylor and Frances Group.
Mcrae, D. (1974). El populismo como ideología. Buenos Aires: Amorrortu.
Mishkin, F. (2008). Moneda, banca y mercados finacieros (8) Pearson education. México.
OCDE. (2012). Estadísticas tributarias América Latina, Quito 1990-2010. Recuperado de http://www.oecd.org/ctp/tax-global/estadisticastributariasenamericalatina.htm
Revista Dinero (2014.01.23). El milagro ecuatoriano. Recuperado de http://www.dinero.com/edicion-impresa/caratula/articulo/los-logros-rafael-correa-ecuador/190900
Senplades (2013). Plan nacional del buen vivir 2013–2017, Quito. Recuperado de: www.buenvivir.gov.ec.
Steffan, H. (s.f). Chaves y la revolución del siglo XXI. (2 ed.). Recuperado de: http://www.ciberpatriotas.net/images/dieterich_socialismo_del_siglo_xxi_.pdf
Transparencia Internacional. (s.f.). Informe índice de la percepción de la corrupción 2007. Recuperado de www.transparencia.org.es.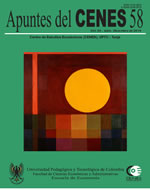 Downloads
How to Cite
Arevalo Luna, G. A. (2014). Ecuador: economics and politics of citizen revolution, preliminary assessment. Apuntes Del Cenes, 33(58), 109–134. https://doi.org/10.19053/22565779.3104
License
Copyright (c) 2014 Guillermo Alexander Arevalo Luna
This work is licensed under a Creative Commons Attribution-NonCommercial-ShareAlike 4.0 International License.
By submitting articles for evaluation, the author agrees to transfer the publishing rights to Revista Apuntes del CENES for publishing in any format or mean and that the attached partial use license will be signed.
The journal is under licence Attribution-NonCommercial-ShareAlike 4.0 International (CC BY-NC-SA 4.0)