Prevalence of Mastitis Causing - Bacteria in the Milking Farms of Toca (Boyacá, Colombia)
Keywords:
prevalence, subclinical mastitis, milk, cattle
Abstract
This paper had as objective the isolation of different bacteria, which causes mastitis, and simultaneously, to make an emphasis on the differentiation of Mycoplasma species, taken from stored milk samples and from every cow individually. These cows and the milk were provided by farms from the Toca in Boyacá. This process was carried out through a convenience probabilistic sampling and also a descriptive, longitudinal and retrospective research during 2013. The research took into account 130 technicalizated milking farms, where every one has approximately 20 milking cows. These farms are located between 2300 and 2800 meters above sea level and have temperatures among 55 °F and a rain range of 800 and 1200 mm Hg per year. During the study it was found a 3.14% positive to CMT in udder quarters with grades greater than 2 +. For this purpose the Streptococcus agalactiae was isolated at 9.73% and it turned to be the most isoleted pathogen. (Staphylococcus aureus was isolated about 6% average Corynebacterium bovis was isolated in the 0,30 % of the cases. E. coli was not isolated. Also the sampling didn't find any Mycoplasma bovis in three years. M californicum was recovered in the 0.50%. Leavens in the 20% and Acholeplasma spp. was isoleted in the 0.40%.
Downloads
Download data is not yet available.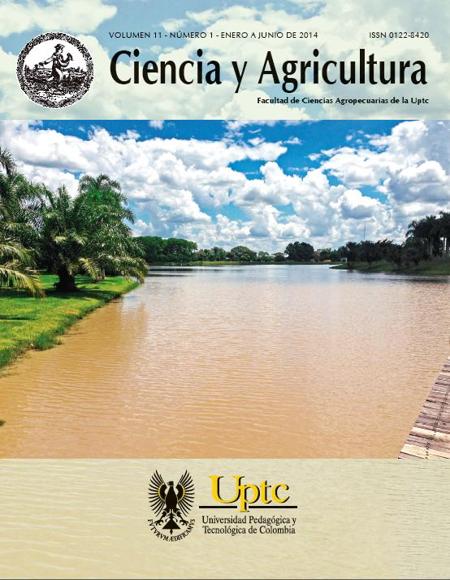 Downloads
How to Cite
Andrade-Becerra, R. J., Caro-Carvajal, Z. E., Pulido-Medellín, M. O., Porras-Vargas, J. L., & Vargas-Abella, J. C. (2014). Prevalence of Mastitis Causing - Bacteria in the Milking Farms of Toca (Boyacá, Colombia). Ciencia Y Agricultura, 11(1), 47–53. https://doi.org/10.19053/01228420.3487
License
All papers included in the Revista Ciencia y Agricultura are published under Creative Commons Attribution 4.0 International