Toxocara canis: A worldwide frequent zoonosrs
Keywords:
contamination (DeCS), larva migrans, Toxocara canis, zoonoses.
Abstract
The toxocariasis is one of the most common zoonoses worldwide mainly caused by Toxocara canis, occurs most often in children associated with unfavorable conditions of hygiene, overcrowding, living with dogs parasitized, low socioeconomic status, bad geographic location and within environment in which animals deposit their feces, becoming a major source of contamination for humans. These parasites enter in the human beings accidentally, by direct contact or food contamination with dog feces.
The parasite load is of vital importance as it is directly related to the severity of the disease, with different syndromes that occur and with the immune response discharged by the body, given the life cycle wich takes place within the human organism. This disease cannot be diagnosed by coproparasitological techniques, by which is required other methods such as the leukocyte with eosinophilia increase detection, also the ELISA proof and in some cases by biopsys.
Downloads
Download data is not yet available.
References
(1) Gallardo J., Camacho S. Infección por Toxocara canis y factores de riesgo en niños de la comunidad agua azul, Estado Yaracuy. Revista de Enfermería y otras Ciencias de la Salud, 2012; 5(1): 21-27.
(2) Reyna J., Limón A., Nova R. Invasión intestinal por Toxocara canis como diagnóstico diferencial de linfoma: informe de un caso. Revista de Enfermedades Infecciosas y Microbiología, 2007; 27(3): 100-102.
(3) Lozano D., Suarez E., Ortu-o E., Cruz M., Córdova M., Jiménez G., Getaz L. Relación entre asma y toxocariasis en pacientes pediátricos en Cochabamba, Bolivia. Gaceta Medica Boliviana, 2011; 34(2): 76-79.
(4) Nieves A, Ortega B, Martínez M, Castejón O, Lares M, Ferret E. Estandarización de la técnica de ELISA para el diagnóstico inmunológico de toxocariasis humana. Boletín de Malariología y Salud Ambiental, 2012; 52(1): 21-32.
(5) Archelli S., Kozubsky L. Toxocara y Toxocariosis. Acta Bioquímica Clínica Latinoamericana, 2008; 42(3): 379-384.
(6) Martin U., Machuca P., Demonte M., Contini L. Estudio en ni-os con diagnostico presuntivo de toxocariasis en Santa Fe, Argentina. Revista Médica de Buenos Aires, 2008; 68(5): 353-357.
(7) Roldan W, Espinoza Y, Huapaya P, Jiménez S. Diagnóstico de la toxocariasis humana. Revista Peruana de Medicina Experimental y Salud Pública 2010; 27(4): 613-620. DOI: http://dx.doi.org/10.1590/S1726-46342010000400019.
(8) Pivetti P. Ocular toxocariasis. International Journal of Medical Sciences, 2009; 6(3): 129-130. DOI: http://dx.doi.org/10.7150/ijms.6.129.
(9) Cortez R, Ramírez G, Collet L, Giuliari G. Ocular parasitic diseases: a review on toxocariasis and diffuse unilateral subacute neuroretinitis. Journal of Pediatric Ophthalmology and Strabismus, 2010; 20(10): 1-10.
(10) Quattrocchi G, Nicoletti A, Marin B, Bruno E, Druet M, Preux P. Toxocariasis and epilepsy: systematic review and Meta-analysis. Public Library of Science, 2012; 6(8): 1- 10. DOI: http://dx.doi.org/10.1371/journal.pntd.0001775.
(11) Getaz L, Samalvides F, Bre-a J, Torrejon D, Magui-a C. Relación entre toxocariosis y asma: estudio prospectivo en ni-os del hospital nacional Cayetano Heredia, Lima, Perú. Revista Acta Médica Peruana, 2007; 24(2): 81-90.
(12) López M, Bojanich M, Jacobacci J, Sercic C, Michelini A, Alonso J. Toxocara canis y asma bronquial. Revista Médica de Buenos Aires, 2010; 70(1): 75-78.
(13) Rivarola M, Vuyk I, Riveros M, Canese A, Mico G. Toxocara canis en población pediátrica rural. Revista Pediátrica de la Asunción, 2009; 36(2): 122-126.
(14) Castillo J, Morales A, Molina E, Cepero O, Gutiérrez D, Fernández J. Prevalencia y factores que favorecen la presentación de Toxocara canis y ancylostoma caninum en canes de compañía. Revista Electrónica de Veterinaria, 2012; 13(6): 1-15.
(15) Ramírez C, Hernández A, Bre-a J, Yoshiyama C, Lu L, Alzamora B, Maguiña C. Pacientes con toxocariosis ocular atendidos en el Hospital Nacional Cayetano Heredia, el Hospital Nacional Arzobispo Loayza y el Instituto Nacional de Salud del Niño entre los años 1997 y 2010. Revista Acta Médica Peruana, 2010; 27(4): 250-256.
(16) Khazan H, Khazaei M, Seyyed S, Mehrabi A. Prevalence of Toxocara spp. eggs in public parks in Teheran City, Iran. Iranian Journal of Parasitology, 2012; 7(3): 38-42.
(17) Sariego I, Kanobana K, Rojas L, Speybroeck N, Polman K, Nuñez F. Toxocariasis in Cuba: a literature review. Public Library of Science, 2012; 6(2): 1-7. DOI: http://dx.doi.org/10.1371/journal.pntd.0001382.
(18) Romero C, García A, Mendoza G, Torres N, Ramírez N. Contaminación por Toxocara spp. en parques de Tulyehualco, México. Revista Científica FCV, 2009; 19(3): 253-256.
(19) Tanveer S, Yattoo G, Sofi B, Wani S, Dar P, Fomda B. Seroprevalence of Toxocariasis in children in Kashmir, India. Irianian Journal of Parasitology, 2008; 3(4): 45-50.
(20) Rateb A. Prevalence of Toxocara canis in dogs, North West bank of Palestine. Korean Journal of Parasitology, 2011; 49(2): 181 – 182. DOI: http://dx.doi.org/10.3347/kjp.2011.49.2.181.
(21) Choi D, Lim J, Choi D, Soo K, Woon S, Kim S, Choi Y, Huh S. Transmission of Toxocara canis via ingestion of raw cow liver: a cross – sectional study in healthy adults. Korean Journal of Parasitology, 2012; 50(1): 23-27. DOI: http://dx.doi.org/10.3347/kjp.2012.50.1.23.
(22) Cihangir A. Visceral larva migrans among children in Kütahya (Turkey) an evaluation of playgrounds for t. canis eggs. The Turkish Journal of Pediatrics, 2010; 52(3): 158-162.
(23) De la Fe P., Dumenigo B., Brito A., Aguirar J. Toxocara canis y syndrome de larva migrans visceralis. Revista Electronica de Veterinaria REDVET, 2006; 7(4): 1-42.
(24) The center for food security and public health. Toxocariasis, larva migrans visceral, larva migrans ocular, granulomatosis parasitaria, retinitis ocular. College of Veterinary Medicine Journal, 2005; 5(3): 1-7.
(25) Despommier D. Toxocariasis: clinical aspects, espidemiology, medical ecology and molecular aspects. Clinical Microbiology Journal,
; 16(2): 265-272. DOI: http://dx.doi.org/10.1128/CMR.16.2.265-272.2003.
(26) Luzna A. Toxocariosis in children living in highly contaminated área. An epidemiological and clinical study. Acta Parasitology, 2005; 45(5): 40-42.
(27) Wisniewska L, Wozniakowska T, Sobolewska D, Markiewicz J, Wieczorek M. Analysis of the course and treatment of toxocariasis in chikdren-a long-term observation. Parasitology Research, 2012; 110(6): 2363-2371. DOI:http://dx.doi.org/10.1007/s00436-011-2772-y.
(28) Elanie A, Carvalho A, Regina L, Rocha. Toxocariasis: visceral larva migrans in children. Jornal de Pediatria, 2011; 87(2): 100-110.
(29) González A, Gude F, Campos J, Garea M, Romero P, Rey J, et al. Toxocara infection seroprevalence and its relationship with atopic features in a general adult population. Int Arch Allergy Inmunology, 2006; 139(6): 317-324. DOI: http://dx.doi.org/10.1159/000091603.
(30) Coelho L, Silva M, Dini C, Giacon N, Novo N, Silveria E. Human toxocariasis: a seroepidemiological survey in schoolchildren of Sorocaba, Brazil. Mem Inst Oswaldo Cruz, 2004; 99(8): 533-537. DOI: http://dx.doi.org/10.1590/S0074-02762004000600002.
(31) López M, Martín G, Chamorro M, Alonso M. Toxocariasis in children form a subtropical región. Revista Médica de Buenos Aires, 2005; 65(4): 226-230.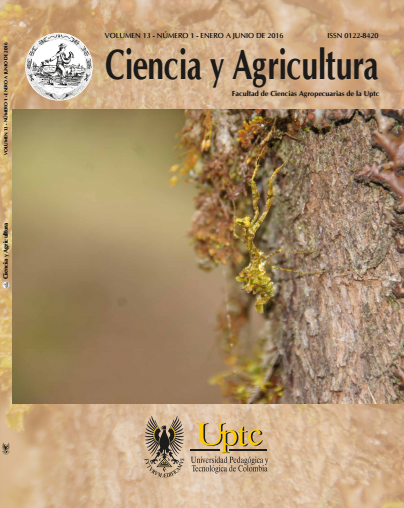 Downloads
How to Cite
Rojas-Salamanca, A. C., León-Bustamante, M. C., & Bustamante-Saavedra, O. R. (2016). Toxocara canis: A worldwide frequent zoonosrs. Ciencia Y Agricultura, 13(1), 19–27. https://doi.org/10.19053/01228420.4803
License
All papers included in the Revista Ciencia y Agricultura are published under Creative Commons Attribution 4.0 International