Evaluación de epicatequina, teobromina y cafeína en cáscaras de cacao (<i>Theobroma cacao</i> L.), determinación de su capacidad antioxidante
Keywords:
agroindustria, desechos cáscara, polifenoles.
Abstract
Con la escasez de recursos naturales y los problemas ambientales en la industria alimentaria, crece el interés en recuperar subproductos para la obtención de ingredientes, las cáscaras de la mazorca de cacao representa el principal desecho de esta agroindustria y una fuente de contaminación para los mismos cultivos. El objetivo del presente trabajo fue evaluar el contenido de polifenoles, epicatequina, teobromina y cafeína en las cáscaras de mazorca de cacao y la determinación de su capacidad antioxidante. En la extracción se empleó etanol y agua en relación 1:1, sin acidificar y acidificado con HCL al 1%, se adecuaron las cáscaras de cacao hasta humedad 8 ±1% y partículas menores 0,5 mm. Los extractos se obtuvieron mediante agitación 200 rpm/6 horas y ultrasonido 60 Hz/2 horas, el contenido de polifenoles totales se determinó con el método Folin-Ciocalteau, mediante patrón estándar con ácido gálico, la capacidad antioxidante se determinó mediante ORAC, FRAP y ABTS, se realizó una curva patrón con Trolox para los tres casos, el contenido de (-) - epicatequina, teobromina y cafeína se determinó por HPLC. Los resultados obtenidos mostraron que las cáscaras de cacao presentan polifenoles de 16,40-23,01 EAG/g, capacidad antioxidante con valores FRAP de 13660,13-16904,25 µm TE/100 g, ABTS de 11603,12-22961,57 µm TE/100 g y ORAC de 25150,94-34292,71 µm TE/100 g, un contenido de (-) - epicatequina 0,2482-0,3505 mg g-1, cafeína 0,0209-0,0427 mg g-1 y teobromina 0,0200-0,0375 mg g-1.
Downloads
Download data is not yet available.
References
Agrocadenas, 2005. La cadena del cacao en Colombia: una mirada global de su estructura y dinámica. En: http://www.agronet.gov.co; consulta: mayo de 2013.
Alvis, A., W. Martínez y G. Arrazola. 2011. Obtención de extractos hidro-alcohólicos de limoncillo (Cymbopogon citratus) como antioxidante natural. Información Tecnológica 23(2), 3-10. Doi: 10.4067/S0718-07642012000200002
Arranz, S. 2010. Compuestos polifenólicos (extraíbles y no extraíbles) en alimentos de la dieta española: metodología para su determinación e identificación. Tesis de maestría. Universidad Complutense, Madrid.
Beda M., V. Besson, S. Beourou y K. Kouassi. 2014. Optimization of water-extract of phenolic and antioxidant compounds from kinkéliba (Combretum micranthum) leaves. Afr. J. Food Sci. Res. 2(1), 37-43. Doi: 10.1016/j.foodchem.2015.03.047
Benzie, I. y J. Strain. 1996. Ferric reducing ability of plasma (FR AP) as a measure of antioxidant power: The FR AP assay. Anal Biochem. 239(1), 70-76.
Cádiz-Gurrea, M., J. Lozano, M. Contreras, L. Legeai, S. Fernández y A. Segura. 2014. Isolation, comprehensive characterization and antioxidant activities of Theobroma cacao extract. J. Funct. Foods 10, 485-498. Doi: 10.1016/j.foodres.2013.06.019
Carrillo, L., J. Londoño y A. Gil. 2013. Comparison of polyphenol, methylxanthines and antioxidant activity in Theobroma cacao beans from different cocoa-growing areas in Colombia. Int. J. Food Sci. Technol. 60, 1-8.
Cuevas, M., A. Antezana y P. Winterhalter. 2008. Análisis y caracterización de antocianinas en diferentes variedades de maíz (Zea mays) boliviano. Memorias del Encuentro Final Alfa Lagrotech, Cartagena, Colombia, 21-26 de Septiembre 2008.
Cíz, M. y N. Cízová. 2010. Different methods for control and comparison of the antioxidant properties of vegetables. Food Control 21(4), 518-523. Doi: 10.1016/j.foodcont.2009.07.017
Díaz, J. 2011. Optimización de extracción y análisis de la capacidad antioxidante de la piel de kiwi. Tesis de maestría. Universidad Politécnica de Catalunya, ciudad, España.
Eggen, I.B. 1979. Preparation of flavour extract by treating cocoa shells with acidified ethanol. Societe d'AssistanceTechnique pour Produits Nestle, Patent US.
Fernández-López, J., E. Sendra-Nadal, C. Navarro, E. Sayas, M. Viuda-Martos y J. Perez. 2009. Storage stability of a high dietary fiber powder from orange by-products. Int. J. Food Sci. Technol. 44, 748-756. Doi: 10.1111/j.1365-2621.2008.01892.x
Figueira, A., J. Janick y J. BeMiller. 1993. New products from Theobroma cacao: seed pulp and pod gum. pp. 475-478. In: Janick, J. y J.E. Simin (eds.). New Crops. Wiley, New York, NY.
García, J., M. Periago, M. Vida, C. Ramírez y A. Gil. 2004. Evaluación nutricional y estado antioxidante de un grupo de ancianos institucionalizados de Murcia, España. Arch. Latinoam. Nutr. 54(2), 180-188.
Gil, A. 2013. Identificación y cuantificación de catequinas y xantinas por cromatografía liquida de alta eficiencia (HPLC). Tesis de maestría, Universidad de Antioquia, Medellín, Colombia.
Guerrero, M., J. Torres y M. Núñez. 2008. Extraction of polyphenols from white distilled grape pomace: Optimization and modelling. Bioresource Technol. 99(5), 1311-1318.
Hess, E. 1969. Process for manufacturing flavouring material from cocoa shell-containing chocolate manufacturing by products. Bachman Chocolate Manufacturing Co., Patent US 3.
Kalvatchev, Z., D. Garzaro y F.G. Cedezo. 1998. Theobroma cacao L.: un nuevo enfoque para nutrición y salud. Agroalimentaria 6, 23-25.
Kim, H. y P. Keeney. 1984. Epicatechin content in fermented and unfermented cocoa beans. J. Food. Sci. 49(4), 1092-1092.
Kleinert, J. 1982. Process for producing dietary fibre for improving the digestive properties of foods and drinks. Lindt, & Sprungli, A.G., Patent EP 0 068229 A1.
Kuskoski, M., A. Asuero, A. Troncoso y J. Manzini. 2005. Aplicación de diversos métodos químicos para determinar actividad antioxidante en pulpa de frutos. Ciênc. Tecnol. Aliment. 25(4), 726-732.
Leighton, F. y I. Urquiaga. 2001. Polifenoles del vino y salud humana, antioxidantes y calidad de vida. Revista Antioxidantes y Calidad de Vida Online, Pontificia Universidad Católica de Chile. En: www.antioxidantes.com.ar/Home2.htm; consulta: febrero de 2013.
Leighton F., A. Cuevas, V. Guasch, D.D. Pérez, P. Strobel, A. San Martín, M.S. Díez, R. Foncea, O. Castillo, C. Mizón, M.A. Espinoza, I. Urquiaga, J. Rozowski, A. Maiz y A. Germain. 1999. A plasma polyphenols and antioxidants, oxidative DNA damage, and endothelial function, in a diet and wine intervention study in humans. Drugs Exptl. Clin. Res. 25(2-3), 133-141.
Manez, A. y D. Barfuss. 1998. Production of a compound liquor for compound coatings and alternatives to chocolate. Nestec S.A. Vevey, Switzerland, Patent US 5919502.
Márquez, E., N. Pak, H. Araya y J. Rodríguez. 2006. Actividad antioxidante total de algunas hortalizas evaluadas mediante el ensayo FR AP. Cienc. Tecnol. Alimentaria 16(1), 37-41.
Martínez., J. 2007. Evaluación de la actividad antioxidante de extractos orgánicos de semillas de (Heliocarpus Terebinthinaceus). Tesis en Ingeniería de Alimentos. Universidad Tecnológica de la Mixteca, Oaxaca, México.
Mishra, K., H. Ojha y N. Chaudhury. 2012. Estimation of antiradical properties of antioxidants using DPPH assay: A critical review and results. Food Chem. 130, 1036-1043. Doi: 10.1016/j.food-chem.2011.07.127
Murthy, P. y M. Naidu. 2012. Recovery of phenolic antioxidants and functional compounds from coffee industry by-products. Food Bioprocess Technol. 5(3), 897-903. Doi: 10.1007/s11947-010-0363-z
Ortega, N., M. Romero, A. Macia, J. Reguant y M. Motilva. 2008. Obtention and characterization of phenolic extracts from different cocoa sources. J. Agric. Food Chem. 56(20), 9621-9627. Doi: 10.1021/jf8014415
Ou, B., M. Hampsch-Woodill y R. Prior. 2001. Development and validation of an improved oxygen radical absorbance capacity assay using fluorescein as the fluorescent probe. J. Agr. Food Chem. 49(10), 4619-4626. Doi: 10.1021/jf010586o
Payne, M., W. Hurst, K. Miller, C. Rank y D. Stuart. 2010. Impact of fermentation, drying, roasting, and Dutch processing on epicatechin and catechin content of cacao beans and cocoa ingredients. J. Agr. Food Chem. 58(19), 10518-10527. Doi: 10.1021/jf102391
Pal, D. y P. Verma. 2013. Flavonoids: a powerful and abundant source of antioxidants. International J. Pharmacy Pharmaceutical Sci. 5(3), 95-98.
Pereira, G., G. Borges, C. Nagai, M. Jackson, T. Yokota, A. Crozier y H. Ashihara. 2013. Profiles of phenolic compounds and purine alkaloids during the development of seeds of Theobroma cacao cv. Trinitario J. Agr. Food Chem. 61(2), 427-434. Doi: 10.1021/jf304397m
Rodríguez, J., O. Valdez y A. Alemán. 2009. Evaluación de la actividad antioxidante de cinco hierbas aromáticas. En: 8th International Workshop on Natural Products Chemistry, 14-18 September 2009, Havana, Cuba. www.etnomedicina2009.com
Rojano, B., C. Gaviria, M. Gil, J. Saez, G. Schinella y H. Tournier. 2008. Actividad antioxidante del isoespintanol en diferentes medios. Vitae 15(1), 173-181.
Sánchez-Zapata, E., E. Fuentes-Zaragoza, J. Fernández-López, E. Sendra, E. Sayas, C. Navarro y J. Pérez-Álvarez. 2009. Preparation of dietary fibre powder from tiger nut (Cyperus esculentus) milk ("horchata") byproducts and its physicochemical properties. J. Agr. Food Chem. 57(17), 7719-25. Doi: 10.1021/jf901687r
Soler, A. 2009. Estudio de la capacidad antioxidante y la biodisponibilidad de los compuestos fenólicos del aceite de oliva. Primeras etapas en el desarrollo de un aceite de oliva funcional. Tesis de doctorado. Universidad de Lleida, España.
USDA. 2010. Nutrient data laboratory. Database for the Oxygen Radical Absorbance Capacity (OR AC) of Selected Foods. U.S. Department of Agriculture, Washington DC.
Viuda-Martos, M., Y. Ruiz-Navajas, A. Martin-Sánchez, E. Sánchez-Zapata, J. Fernández-López, E. Sendra, E. Sayas-Barberá y C. Navarro. 2012. Chemical, physico-chemical and functional properties of pomegranate (Punica granatum L.) bagasses powder co-product. J. Food Eng. 110, 220-224. Doi: 10.1016/j.jfoodeng.2011.05.029
Vriesmanna, L. y R. Dias de Mello C. Oliveira. 2011. Cacao pod husks (Theobroma cacao L.) Composition and hot-water-soluble pectins. Ind. Crops Prod. 34(1), 1173-1181. Doi: 10.1016/j.indcrop.2011.04.004
Wollgast, J. y E. Anklam. 2000. Review on polyphenols in Theobroma cacao: Changes in composition during the manufacture of chocolate and methodology for identification and quantification. Food Res. Int. 33(6), 423-447. Doi: 10.1016/S0963-9969(00)00068-5
Zapata, S., A. Tamayo y B. Rojano. 2015. Efecto del tostado sobre los metabolitos secundarios y la actividad antioxidante de clones de cacao colombiano. Rev. Fac. Nal. Agr. Medellin 68(1), 7497-7507. Doi: 10.15446/rfnam.v68n1.47836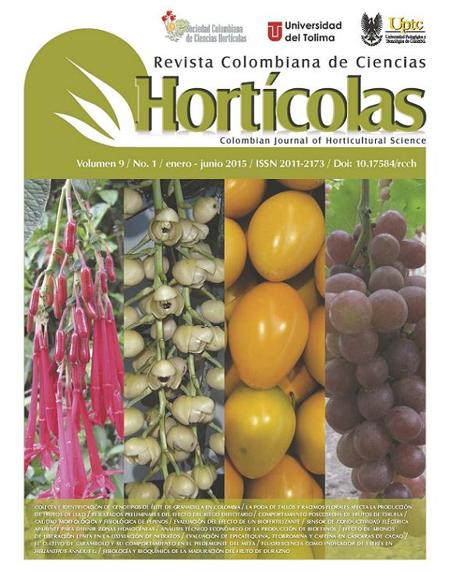 Downloads
Metrics
Views/Downloads
Abstract

3259

PDF (Español)

2396
How to Cite
Sotelo C., L, Alvis B., A, & Arrázola P., G. (2015). Evaluación de epicatequina, teobromina y cafeína en cáscaras de cacao (<i>Theobroma cacao</i> L.), determinación de su capacidad antioxidante. Revista Colombiana de Ciencias Hortícolas, 9(1), 124–134. https://doi.org/10.17584/rcch.2015v9i1.3751
Section
Other species section
License
The copyright of the articles and illustrations are the property of the Revista Colombiana de Ciencias Hortícolas. The editors authorize the use of the contents under the Creative Commons license Attribution-Noncommercial-ShareAlike 4.0 International (CC BY-NC-SA 4.0). The correct citation of the content must explicitly register the name of the journal, name (s) of the author (s), year, title of the article, volume, number, page of the article and DOI. Written permission is required from publishers to publish more than a short summary of the text or figures.