Comportamiento y eficiencia de polinización de <i>Bombus atratus</i> Franklin en pimentón (<i>Capsicum annum</i> L.) sembrado bajo invernadero
Keywords:
Abejorro, cultivos, nativo, polinizador, producción
Abstract
El pimentón es un cultivo promisorio para Colombia, sin embargo está poco tecnificado. La polinización mediada por colonias de abejorros del género Bombus ha sido una técnica utilizada exitosamente en éste y otros cultivos a nivel mundial pero en  nuestro país es una práctica poco conocida. Bombus atratus Franklin es un polinizador eficiente de cultivos hortofrutícolas colombianos como el tomate. Éste trabajo estableció tanto el comportamiento como la eficiencia de la polinización de B. atratus en el pimentón. Se ubicaron tres colonias en un cultivo de 1.500 m2 ubicado en el municipio de Sáchica, Boyacá. Se caracterizó la fenología floral a partir del análisis morfométrico de estructuras reproductivas de la flor (largo de antera, filamento y estilo), receptividad del estigma y volumen de néctar. Adicionalmente se observó y cuantificó el comportamiento de forrajeo de las obreras a partir de observaciones directas y se estableció el efecto de la polinización en la calidad de los frutos (tamaño, peso seco del fruto y número de semillas), en tres estratos de la planta. Se determinaron tres estadios florales (Flor Abierta 1, 2 y 3) diferenciados por las variables tenidas en cuenta. Las obreras mostraron dos tipos de visita, cortas (12,34±5,77 segundos) y largas (82,8±11,14 segundos). Adicionalmente se observó una tendencia de las obreras en visitar el estadio Floral 2, en el que se presentó la mayor cantidad de néctar y la mayor receptividad del estigma. La polinización mediada por B. atratus tuvo un efecto en las variables evaluadas con un incremento mayor al 40%. 
Downloads
Download data is not yet available.
References
Abak, K., H.Y. Dasgan, Ö. Ikiz, N. Uygun, M. Sayalan, O. Kaftanoglu y H. Yeninar. 1996. Pollen production and quality of pepper grown in unheated greenhouses during winter and the effects of bumblebees (Bombus terrestris) pollination on fruit yield and quality. Acta Hortic. 437, 303-308. Doi: 10.17660/ActaHortic.1997.437.37
Aldana, J., J.R. Cure, M.T. Almanza, D. Vecil y D. Rodríguez. 2007. Efecto de Bombus atratus (Hymenoptera: Apidae) sobre la productividad de tomate (Lycopersicon esculentum Mill.) bajo invernadero en la Sabana de Bogotá, Colombia. Agron. Colomb. 25(1), 62-72.
Almanza, M. 2007. Management of Bombus atratus bumblebees to pollinate lulo (Solanum quitoense L.), a native fruit from the Andes of Colombia. Ecology and Development Series, Bonn, Alemania.
Carreño, A., A. Vargas, S. Bernal y S. Restrepo. 2007. Problemas fitopatologicos en especies de familias Solanaceae causados por los géneros Phytophora, Alternaria y Ralstonia en Colombia. Agron. Colomb. 25, 320-329.
Cruz, P., M.T. Almanza y J.R. Cure. 2007. Logros y perspectivas de la cría de abejorros del género Bombus en Colombia. Revista de la Facultad de Ciencias Universidad Militar Nueva Granada 3(1), 49-60.
Delaplane, K. y D. Mayer. 2000. Crop pollination by bees. Cabi Publishing, New York, NY. Doi: 10.1079/9780851994482.0000
Desjardins, E. y D. Oliveira. 2006. Commercial bumble bee Bombus impatiens (Hymenoptera: Apidae) as a pollinator in lowbush blueberry (Ericale: Ericaceae) fields. J. Econ. Entomol. 99(2), 443-449. Doi: 10.1603/0022-0493-99.2.443
Elzinga, J., A. Altan, A. Biere, L. Girgord, A. Wies y G. Bernasconi. 2007. Time after time: Flowering phenology and biotic interactions. Ecol. Evol. 8, 432-439. Doi: 10.1016/j.tree.2007.05.006
FAO. 2002. El cultivo protegido en clima mediterráneo, Food and Agriculture Organization, Roma.
Free, J.B. 1970. Insect pollination of crops. Academic Press, London.
Goulson, D. 2003. Bumblebees behavior and ecology. Oxford University Press. New York, NY.
Jarlan, A., D. De Oliveira y J. Gingras. 1997. Pollination by Eristalis tenax (Diptera: Syrphidae) and seed set of greenhouse sweet pepper. J. Econ. Entomol. 90(6), 1646-1649. Doi: 10.1093/jee/90.6.1650
Kearns, C.A. y D.W. Inouye. 1993. Techniques for pollination biologist. University Press of Colorado, Boulder, CO.
Kevan, P.G. 1991. Pollination: keystone process in sustainable global productivity. Acta Hortic. 288, 103-110. Doi: 10.17660/ActaHortic.1991.288.11
Kwon, Y.J. y S. Saeed. 2003. Effect of temperature on the foraging activity of Bombus terrestris L. (Hymenoptera: Apidae) on greenhouse hot pepper (Capsicum annuum L.). Appl. Entomol. Zool. 38(3), 275-280. Doi: 10.1303/aez.2003.275
Lobatón, J.D., M.T. Almanza y J.R. Cure. 2012. Fenología y oferta floral de trébol rojo Trifolium pratense (Fabales: Fabaceae) en praderas de Kikuyo Penissetum clandestinum (Poales:Poaceae), como fuente de alimento para Bombus atratus (Hymenoptera: Apoidea) en Cajicá, Colombia. Rev. Facul. Cien. Básic. 8, 18-27.
Madjidian, J., C. Morales y H. Smith. 2008. Displacement of a native by an alien bumblebee: lower pollinator efficiency overcome by overwhelmingly higher visitation frequency. Oecol. 156(4), 835-845. Doi: 10.1007/s00442-008-1039-5
Meisels, S. y H. Chiasson. 1997. Effectiveness of Bombus impatiens as pollinators of greenhouse sweet pepper (Capsicun annum sp). Acta Hortic. 437, 425-429. Doi: 10.17660/ActaHortic.1997.437.56
Nates-Parra, G. y V.H. González. 2000. Las abejas silvestres de Colombia: Porqué y cómo conservarlas. Acta Biol. Colomb. 5, 5-37.
Oliveira, D., B. Magalhaes, L. Silva, E. Sarmento e I. Abrahao. 2005. Pollination efficiency of the stingless bee Melipona subitida on greenhouse sweet pepper. Pesq. Agropec. Bras. 40, 1197-1201. Doi: 10.1590/S0100-204X2005001200006
Pacateque, J., P. Cruz, M. Aguilar y J. Cure. 2012. Efecto de la alimentación vía bolsillo en etapas tempranas de desarrollo de Bombus atratus (Hymenoptera: Apidae). Rev. Colomb. Entomol. 38(2), 343-346.
Prys-Jones, O. y A. Corbet. 1991. Bumblebees. Naturalists handbooks Vol. 6. Cambrige University Press, New York, NY.
R Development Core Team. 2015. R: A language and environment for statistical computing. R Foundation for Statistical Computing, Vienna.
Riaño, D., M. Veloza, J.R. Cure y M.T. Almanza. 2014. Desarrollo de dos colonias de Bombus atratus (Hymenoptera: Apidae) mantenidas bajo dos modos de alimentación. Rev. Facul. Cien. Básic. 10(2), 132-141.
Roldán-Serrano, A. y J. Guerra-Sanz. 2006. Quality fruit improvement in sweet pepper culture by bumblebee pollination. Sci. Hortic. 110, 160-166. Doi: 10.1016/j.scienta.2006.06.024
Ruz, L. y R. Herrera. 2001. Preliminary observations on foraging activities of Bombus dahlbomii and Bombus terrestris (Hym.: Apidae) on native and non-native vegetation in Chile. Acta Hortic. 561, 165-169. Doi: 10.17660/ActaHortic.2001.561.24
Schoonhoven, L.M., T. Jermy y J.J. Acarloon. 1998. Insect plant biology. Chapman and Hall, London. Doi: 10.1007/978-1-4899-3200-6
Vallejo, F. y E. Estrada. 2004. Producción de hortalizas de clima cálido. Universidad Nacional de Colombia, Palmira, Colombia.
Velthuis, H.H.W. y A. Van Doorn. 2006. A century of advances in domestication and the economic and environmental aspects of its commercialization for pollination. Apidologie 37, 421-451. Doi: 10.1051/apido:2006019
Vergara, C. 2008. Environmental impact of exotic bees introduced for crop pollination. pp. 145-165. En: James, R.R. y T.L. Pitts-Singer (eds.). Bee pollination in agricultural ecosystems. Oxford UniversityPress, Oxford, UK.
Winter, K., L. Adams, R. Thorp, D. Inouye, L. Day, J. Ascher y S. Buchmann, S. 2006. Importation of non-native bumble bees into North America: Potential consequences of using Bombus terrestris and other non-native bumble bees for greenhouse crop pollination in Canada, Mexico, and the United States. North American Pollinator Protection Campaign, San Francisco, CA.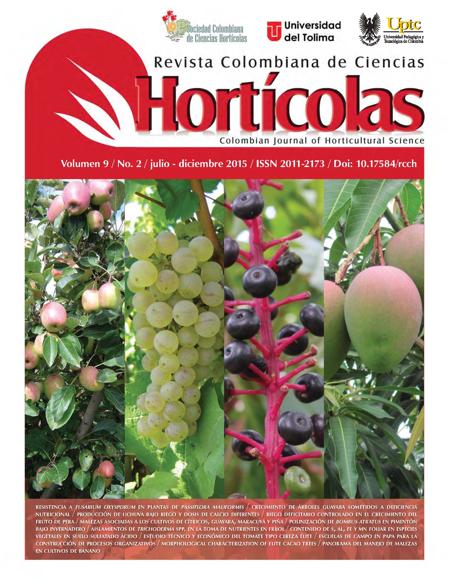 Downloads
How to Cite
Riaño J., D., Pacateque E., J., Cure, J. R., & Rodríguez, D. (2016). Comportamiento y eficiencia de polinización de <i>Bombus atratus</i> Franklin en pimentón (<i>Capsicum annum</i> L.) sembrado bajo invernadero. Revista Colombiana De Ciencias Hortícolas, 9(2), 259–267. https://doi.org/10.17584/rcch.2015v9i2.4182
Section
Vegetable section
License
The copyright of the articles and illustrations are the property of the Revista Colombiana de Ciencias Hortícolas. The editors authorize the use of the contents under the Creative Commons license Attribution-Noncommercial-ShareAlike 4.0 International (CC BY-NC-SA 4.0). The correct citation of the content must explicitly register the name of the journal, name (s) of the author (s), year, title of the article, volume, number, page of the article and DOI. Written permission is required from publishers to publish more than a short summary of the text or figures.