Extracción, purificación y cuantificación de mangiferina en la corteza de algunos cultivares de mango (MANGIFERA INDICA L)
Keywords:
Colombia, Fitoquimica, Metabolitos, Xantonas
Abstract
La mangiferina C19H18O11 (1,3,6,7-Tetrahydroxyxantona-C2-β-D-glucósido), se aisló a partir de la corteza de 40 cultivares del árbol de Mangifera indica L, por extracción líquido/sólido y análisis cuantitativo por espectrofotometría UV-Vis. El producto se caracterizo como un polvo amorfo, amarillo verdoso, soluble en EtOH y MeOH, p.f 270 ± 2 ºC, λmax (EtOH) 370 nm. Los cultivares Pig 693 y Rosa presentan los mayores contenidos del compuesto activo con 5257,9 y 4906,2 (mg/100g bs), los de menor concentración son Bocao y Itamaraca con 698,9 y 893,8 (mg/100g bs) respectivamente. El análisis de conglomerados genero 4 grupos, donde los mangos asiáticos tuvieron un promedio superior en el contenido de mangiferina, seguidos por los estadounidenses y los suramericanos. Este trabajo es la primera investigación exploratoria que se realiza sobre esta xantona en Colombia, sustancia que presenta múltiples y efectivas aplicaciones en las áreas de fitomedicina, cosmetología y nutrición.
Downloads
Download data is not yet available.
References
Beltrán, A.E., Y. Alvarez, F. E. Xavier, R. Hernanz, J. Rodriguez, A.J. Núñez, M.J. Alonso y M. Salaices. 2004. Vascular effects of the Mangifera indica L. extract (Vimang). Eur. J. Pharmacol. 499(3), 297-305. Doi: 10.1016/j.ejphar.2004.07.073
Bhatia, V.K. y T.R. Seshadri. 1968. Synthesis of mangiferin. Tetrahedron Lett. 9(14), 1741-1742. Doi: 10.1016/S0040-4039(01)99040-9
Chavan, J.J., D.M. Ghadage, A.S. Bhoite y S.D. Umdale. 2015. Micropropagation, molecular profiling and RPHPLC determination of mangiferin across various regeneration stages of Saptarangi (Salacia chinensis L.). Ind. Crops Prod. 76, 1123-1132. Doi: 10.1016/j.indcrop.2015.08.028
Faizi, S., S. Zikr-ur-Rehman, M. Ali y A. Naz. 2006. Temperature and solvent dependent NMR studies on mangiferin and complete NMR spectral assignments of its acyl and methyl derivatives. Magn. Resonance Chem. 44(9), 838-844. Doi: 10.1002/mrc.1854
Ferreira, F.d.R., I.B. Valentim, E.L.C. Ramones, M.T.S. Trevisan, C. Olea-Azar, F. Perez-Cruz, F.C. de Abreu y M.O.F. Goulart. 2013. Antioxidant activity of the mangiferin inclusion complex with β-cyclodextrin. LWT-Food Sci. Technol. 51(1), 129-134. Doi: 10.1016/j.lwt.2012.09.032
Gómez-Zaleta, B., M.T. Ramírez-Silva, A. Gutiérrez, E. González-Vergara, M. Güizado-Rodríguez y A. Rojas-Hernández. 2006. UV/vis, 1H, and 13C NMR spectroscopic studies to determine mangiferin pKa values. Spectrochimica Acta Part A: Mol. Biomol.Spectrosc. 64(4), 1002-1009. Doi: 10.1016/j.saa.2005.09.009
Han, D., C. Chen, C. Zhang, Y. Zhang y X. Tang. 2010. Determination of mangiferin in rat plasma by liquid-liquid extraction with UPLC-MS/MS. J. Pharm. Biomed. Anal. 51(1), 260-263. Doi: 10.1016/j.jpba.2009.07.021
Joubert, E., M. Botha, C. Maicu, D. De Beer y M. Manley. 2012. Rapid screening methods for estimation of mangiferin and xanthone contents of Cyclopia subternata plant material. South Afr. J. Bot. 82, 113-122. Doi: 10.1016/j.sajb.2012.07.019
Kawakami, C.M. y L.R. Gaspar. 2015. Mangiferin and naringenin affect the photostability and phototoxicity of sunscreens containing avobenzone. J. Photochem. Photobiol. B: Biol. 151, 239-247. Doi: 10.1016/j.jphotobiol.2015.08.014
Kulkarni, V.M. y V.K. Rathod. 2014. Extraction of mangiferin from Mangifera indica leaves using three phase partitioning coupled with ultrasound. Ind. Crops Prod. 52, 292-297. Doi: 10.1016/j.indcrop.2013.10.032
Kulkarni, V.M. y V.K. Rathod. 2015. A novel method to augment extraction of mangiferin by application of microwave on three phase partitioning. Biotechnol. Rep. 6, 8-12. Doi: 10.1016/j.btre.2014.12.009
Leiro, J.M., E. Álvarez, J.A. Arranz, I.G. Siso y F. Orallo. 2003. In vitro effects of mangiferin on superoxide concentrations and expression of the inducible nitric oxide synthase, tumour necrosis factor-β and transforming growth factor-β genes. Biochem. Pharm. 65(8), 1361-1371. Doi: 10.1016/S0006-2952(03)00041-8
Martínez, G., R. Delgado, G. Pérez, G. Garrido, A.J. Núñez S. y O.S. León. 2000. Evaluation of the in vitro antioxidant activity of Mangifera indica L. extract (Vimang). Phytother. Res. 14(6), 424-427. Doi: 10.1002/1099-1573(200009)14:6<424::AID-PTR643>3.0.CO;2-8
Mishra, B., K.I. Priyadarsini, M. Sudheerkumar, M.K. Unnikrishhnan y H. Mohan. 2006. Pulse radiolysis studies of mangiferin: A C-glycosyl xanthone isolated from Mangifera indica. Rad. Phys. Chem. 75(1), 70-77. Doi: 10.1016/j.radphyschem.2005.05.015
Montes, A., L. Wehner, C. Pereyra y E.J.M. Ossa. 2016. Mangiferin nanoparticles precipitation by supercritical antisolvent process. J. Supercrit. Fluids 112, 44-50. Doi: 10.1016/j.supflu.2016.02.008
Núñez S., A.J., H.T. Vélez C., J. Agüero-Agüero, J. González-González, F. Naddeo, F. De Simone y L. Rastrelli. 2002. Isolation and quantitative analysis of phenolic antioxidants, free sugars, and polyols from mango (Mangifera indica L.) stem bark aqueous decoction used in Cuba as a nutritional supplement. J. Agric. Food Chem. 50(4), 762-766. Doi: 10.1021/jf011064b
Qiu, X., J.-l. Zhao, C. Hao, C. Yuan, N. Tian, Z.-S. Xu y R.- M. Zou. 2016. Simultaneous determination of mangiferin and neomangiferin in rat plasma by UPLC-MS/ MS and its application for pharmacokinetic study. J. Pharm. Biomed. Anal. 124, 138-142. Doi: 10.1016/j.jpba.2016.02.034
Ribeiro, S.M.R., L.C.A. Barbosa, J.H. Queiroz, M. Knödler y A. Schieber. 2008. Phenolic compounds and antioxidant capacity of Brazilian mango (Mangifera indica L.) varieties. Food Chem. 110(3), 620-626. Doi: 10.1016/j.foodchem.2008.02.067
Ruiz-Montañez, G., J.A. Ragazzo-Sánchez, M. Calderón-Santoyo, G. Velázquez-de la Cruz, J.A. Ramírez de León y A. Navarro-Ocaña. 2014. Evaluation of extraction methods for preparative scale obtention of mangiferin and lupeol from mango peels (Mangifera indica L.). Food Chem. 159, 267-272. Doi: 10.1016/j.foodchem.2014.03.009
Scartezzini, P. y E. Speroni. 2000. Review on some plants of Indian traditional medicine with antioxidant activity. J. Ethnopharm. 71(1-2), 23-43. Doi: 10.1016/S0378-8741(00)00213-0
Sethiya, N.K., A. Trivedi y S.H. Mishra. 2015. Rapid validated high performance thin layer chromatography method for simultaneous estimation of mangiferin and scopoletin in Canscora decussata (South Indian Shankhpushpi) extract. Rev. Bras. Farmacognosia 25(3), 193-198. Doi: 10.1016/j.bjp.2015.04.002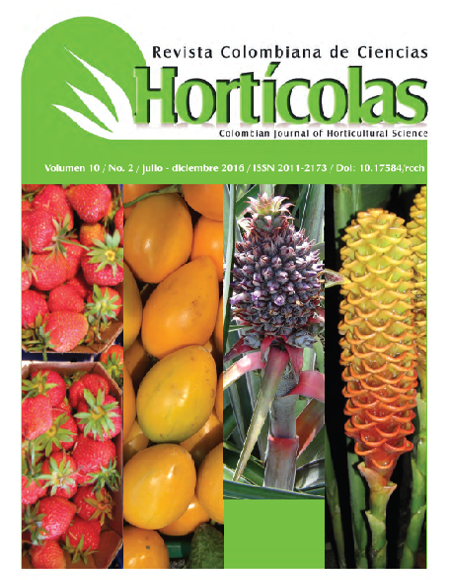 Downloads
How to Cite
Forero L., F., Forero L., F., Pulido D., A. P., & Pulido D., A. P. (2017). Extracción, purificación y cuantificación de mangiferina en la corteza de algunos cultivares de mango (MANGIFERA INDICA L). Revista Colombiana De Ciencias Hortícolas, 10(2), 292–300. https://doi.org/10.17584/rcch.2016v10i2.4652
License
The copyright of the articles and illustrations are the property of the Revista Colombiana de Ciencias Hortícolas. The editors authorize the use of the contents under the Creative Commons license Attribution-Noncommercial-ShareAlike 4.0 International (CC BY-NC-SA 4.0). The correct citation of the content must explicitly register the name of the journal, name (s) of the author (s), year, title of the article, volume, number, page of the article and DOI. Written permission is required from publishers to publish more than a short summary of the text or figures.