Wildlife that affect plantations in Boyaca, and damage control on corn crops
Keywords:
corn, crop protection, crops damage, repellent, squirrel.
Abstract
The objective of this study was to identify the native fauna species that affect crops in the Valle de Tenza, and to test four non—letha| treatments to protect corn crops. The identification was carried out during five months of the year 2014. 150 suweys were applied to farmers from five municipalities in Valle de Tenza, following the "snow ball" method; additionally, 10 Tomahawk traps, 30 Sherman traps, and five digital tracking cameras were used. The test for crop protection was carried out by applying four treatments based on some repellents, in the municipality La Capilla, from October 2014 to lanuary 2015, before and after harvesting the corn. A completely randomized treatment design was applied, and the damage was evaluated by analysis of variance and contrast of medians between treatments.
The interviews indicated that 11 species affect the crops, specially Sciurus granatensis and Didelphis marsupiales. There are significant differences (P<0.01) between the total amount of damaged and healthy corn, regardless the type of treatment used. Nevenheless, no differences were found between treatments (P > 0.05).
Downloads
Download data is not yet available.
References
Romero-Balderas KG, Naranjo EJ, Morales HH, Nigh RB. Daños ocasionados por vertebrados silvestres al cultivo de maíz en la selva Lacandona, Chiapas, México. Interciencia. 2006; 31(4): 276-283.
(2) Elías DJ, Valencia D. La agricultura latinoamericana y los vertebrados plagas. Interciencia. 1984; 9(4): 223-229.
Valencia D, Elías DJ, Ospina JA. Rodent pests in Colombian agriculture. En: Proceedings of the Sixteenth Vertebrate Pest Conference. 1994.
Gómez O, Dredge D. Las ardillas de México. Biodiversitas. 2003; 51: 8-11.
Del Villar-González, D. Principales vertebrados plaga en México: situación actual y alternativas para su manejo. Rev. Chapingo. 2000; 6(1): 41-54.
Atkinson R, Flint J. Accessing Hidden and Hard to Reach Populations: Snowball Research Strategies. Soc. Res. 2001; 33.
Ministerio de Ambiente, Vivienda y Desarrollo Territorial. Guía de Identificación de Fauna Silvestre Colombiana. 2009 (Acceso 10 de junio de 2014):14. Disponible en: http://cam.gov.co/sitio/images/documents/phocadownload/guias_de_identificacion/guia%20identificacion%20fauna%20silvestre%20colombiana.pdf.
FAO. Biopreparados para el manejo sostenible de plagas y enfermedades en la agricultura urbana y periurbana. Primera Edición. 2010 (Acceso 01 de julio del 2014). Disponible en: http://www.fao.org/3/a-as435s.pdf.
Statgraphics Plus 5.1. 1990-1995. Microsoft Corp. USA.
Lamarque F, Anderson J, Fergusson R, Lagrange M, Osei-Owusu Y, Bakker L. Human-wildlife conflict in Africa. Causes, consequences and management strategies. Food and Agriculture Organization of the United Nations. 2009.
ILSA s/a. Caracterización de la economía campesina en Colombia. 2015 (Acceso 2 de agosto del año 2015). Disponible en: http://ilsa.org.co:81/biblioteca/dwnlds/otras/tlc/cap3.pdf.
CDIM ESAP. Centro de acopio campesino municipio de Guateque, Boyacá. Estudio de mercado y orientaciones generales para la administración del centro de acopio. Características socioeconómicas generales de la provincia del Oriente y del municipio de Guateque. 2001. (Acceso 26 de febrero de 2017), pp. 1-27.
González D, Rodríguez P, Montes R, Castillo I. Densidad de Sciurus granatensis en hábitats intervenidos del Valle de Tenza, Boyacá, Colombia. Rev. Cienc Nat Agro. 2015; 2(2): 225-237.
Garcés M, Rodríguez C. Densidad de ardilla roja (Sciurus granatensis) en hábitats con diferentes coberturas vegetales en los Andes de Colombia. Mastozool Neotrop. 2013; 20(2): 381-386.
National Institute of Neurological Disorders and Stroke. Dolor: Esperanza en la Investigación. Instituto Nacional de Trastornos Neurológicos y Accidentes Cerebrovasculares. 2014 (Acceso 31 de julio del año 2014). Disponible en: http://espanol.ninds.nih.gov/trastornos/dolor.htm.
Bucher E. Las Aves como plaga en Argentina. Centro de Zoología Aplicada, Universidad Nacional de Córdoba. 1992.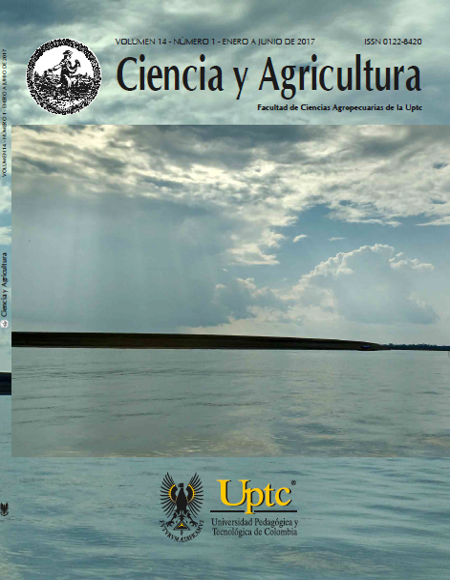 Downloads
How to Cite
Castillo-López, I. F., Rodríguez-Africano, P. E., Montes-Pérez, R. C., & González-Valderrama, D. M. (2017). Wildlife that affect plantations in Boyaca, and damage control on corn crops. Ciencia Y Agricultura, 14(1), 75–84. https://doi.org/10.19053/01228420.v14.n1.2017.6090
License
All papers included in the Revista Ciencia y Agricultura are published under Creative Commons Attribution 4.0 International