La zeatina fomenta la germinación de semillas de anón (Annona squamosa L.)
Abstract
En Colombia el anón es propagado sexualmente, ya que el método asexual no ha alcanzado resultados óptimos. Sin embargo, debido al bajo e irregular potencial germinativo, este método es poco efectivo y los cultivos extensivos son escasos. En semillas de anón común provenientes de Apulo (Cundinamarca), se evaluó el efecto de cuatro concentraciones de zeatina (0,25 mg L-1, 0,5 mg L-1, 1 mg L-1 y 4 mg L-1) sobre la germinación, para lo cual las semillas fueron imbibidas 48 horas en zeatina comercial y posteriormente llevadas a pruebas de germinación en un fitotrón a 35°C. Con el uso zeatina se obtuvieron mejores porcentajes de germinación (69,6% con 1 mg L-1), mayores velocidades de germinación (1,91 semillas germinadas/día con 0,25 mg L-1) y menores tiempos de germinación (9 días con 0,25 mg L-1).
Palabras clave adicionales: Annonaceae, latencia, citoquininas, tratamientos pregerminativos.
Downloads
Download data is not yet available.
References
Baskin, C.C. y J.M. Baskin. 2004. A classification system for seed dormancy. Seed Sci. Res. 14, 1-16.
Baskin, C.C. y J.M. Baskin. 2001. Seeds. Ecology, biogeography, and evolution of dormancy and germination. Academic Press, San Diego, CA.
Bewley, J.D. y Black, M. 1994. Seeds: Physiology of development and germination. Plenum Press, New York, NY.
Bewley J.D. 1997. Seed germination and dormancy. Plant Cell 9, 1055-1066.
Campbell, C. y R. Phillips. 1994. The sugar apple. Horticultural Sciences Department, Florida, Cooperative Extension Service, Institute of Food and Agricultural Sciences, University of Florida. Gainesville, FL.
Chien, C., L. Kuo-Huang y T.P. Lin. 1998. Changes in ultrastructure and abscisic acid level, and response to applied gibberellins in Taxus mairei seeds treated with warm and cold stratification. Ann. Bot. 81, 41-47.
Chrispeels, M.J. y J.E. Varner. 1967. Hormonal control of enzyme synthesis: On the mode of action of gibberellic acid and abscisin in aleurone layer of barley. Plant Physiol. 42, 1008-1016.
Da Silva, E.A.A., D.L.B. de Melo, A.C. Davide, N. de Bode, G.B. Abreu, J.M.R. Faria y H.W.M. Hilhorst. 2007. Germination ecophysiology of Annona crassiflora seeds. Ann. Bot. 99, 823-830.
Dewar, J., J.R.N. Taylor y P. Berjak. 1998. Changes in selected plant growth regulators during germination in sorghum. Seed Sci. Res. 8, 1-8.
Fang, S., Y. Wang, Z. Wei y Z. Zhu. 2006. Methods to break seed dormancy in Ciclocarya paliurus (Batal) Iljinskaja. Sci. Hortic. 110(3), 305-309.
Ferreira, G., P.R. Erig y E. Moro. 2002. Uso de ácido giberélico em sementes de fruta-do-conde (Annona squamosa L.) visando à produção de mudas em diferentes embalagens Rev. Bras. Frutic. 24(1), 178-182.
Finch-Savage, W.E. y G. Leubner-Metzger. 2006. Seed dormancy and the control of germination. New Phytologist 171, 501-523.
Fischer-Iglesias, C. y G. Neuhaus. 2001. Zygotic embryogenesis - Hormonal control of embryo development. pp. 223-247. En: Bhojwani, S.S. y W.Y. Soh (eds.). Current trends in the embryology of angiosperms. Kluwer Academic Publ., Dordrecht, The Netherlands.
Geilfus, F. 1994. El árbol al servicio del agricultor. Manual de Agroforestería para el desarrollo rural. Vol. 2. Guía de especies. Turrialba, Costa Rica.
George, A. y R. Nissen. 1987. Propagation of Annona species: A review. Sci. Hortic. 33, 75-85.
Guerrero, E. 2012. Anón (Annona squamosa L.). pp. 915- 927. En: Fischer, G. (ed.). Manual para el cultivo de frutales en el trópico. Produmedios, Bogotá
Guerrero. E. y G. Fischer. 2007. Manejo integrado en el cultivo de anón (Annona squamosa L.). Rev. Colomb. Cienc. Hortic. 2(1), 154-169.
Hayat, M.A. 1963. Morphology of seed germination and seedling in Annona squamosa. Bot. Gaz. 124(5) (Sep.), 360-362.
Hernández, L.V. 1993. La reproducción sexual y reproducción vegetativa de las Annonaceas. Universidad Veracruzana, Xalapa, México.
Hoyos, J. 1989. Frutales en Venezuela. Sociedad de Ciencias Naturales La Salle. Monografía 36, Caracas. pp. 35-48.
ISTA. 1996. International rules for seed testing, 1996. International Seed Testing Association. Seed Sci. Technol. 24 (Supplement). Zurich, Suiza.
Jeon, J., N.Y. Kim, S. Kim, N.Y. Kang, O. Novák, S.J. Ku, C. Cho, D.J. Lee, E.J. Lee, M. Strnad y J. Kim. 2010. A subset of cytokinin two-component signaling system plays a role in cold temperature stress response in Arabidopsis. J. Biol. Chem. 285(30), 233-283.
Khan, A.A. 1968. Inhibition of gibberellic acid-induced germination by abscisic acid and reversal by cytokinins. Plant Physiol. 43, 1463-1465.
Kucera, B., M.C. Cohn y G. Leubner-Metzger. 2005. Plant hormone interactions during seed dormancy release and germination. Seed Sci. Res. 15, 281-307.
Leubner-Metzger, G. y F. Meins. 1999. Functions and regulation of plant-1.3-glucanases (PR-2). pp. 49-76. En: Datta, S.K. y S. Muthukrishnan (eds.) Pathogenesis-related proteins in plants. CRC Press, Boca Raton, FL.
Lobo, M. Delgado, O. Cartagena, J.R. Fernández y E. Medina, 2007. Categorización de la germinación y la latencia en semillas de chirimoya (Annona cherimola L.) y guanábana (Annona muricata L.), como apoyo a programas de conservación de germoplasma. Agron. Colomb. 25(2), 231-244.
Lotero, B. 1976. Géneros de la flora de Colombia. III. Trabajo de grado. Departamento de Biología, Facultad de Ciencias, Universidad Nacional de Colombia, Bogotá.
Martínez, F. 2012. Caracterización morfoanatómica de semillas de anón (Annona squamosa L.) y evaluación de algunos parámetros fisiológicos del proceso de germinación y latencia. Tesis de maestría. Facultad de Agronomía, Universidad Nacional de Colombia, Bogotá.
Mok, D.W.S. y M.C. Mok. 2001. Cytokinin metabolism and action. Ann. Rev. Plant Physiol. Plant Mol. Biol. 52, 89-118.
Moreno B., N. 2011. Efecto de algunos tratamientos pregerminativos en la germinación de semillas de anón (Annona squamosa L.) (Annonaceae). Trabajo de grado. Departamento de Biología, Facultad de Ciencias, Universidad Nacional de Colombia, Bogotá.
Morton, J. 1987. Sugar apple. pp 69-72. En: Fruits of warm climates. Julia F. Morton, Miami, FL.
Murillo J. y D. Restrepo. 2000. Las anonáceas de la región de Araracuara. Serie Estudios en la Amazonía Colombiana XX. Soporte Editorial, Bogotá.
Navarro, J. 2001. Guía de las frutas cultivadas. Identificación y cultivo. Ediciones Mundi-Prensa, Madrid.
Ojeda M. 2005. Consideraciones sobre anonáceas. II Curso de Actualización de Conocimientos en Fruticultura. Posgrado de Horticultura, Universidad Centroccidental Lisandro Alvarado (UCLA), Lara, Venezuela.
Pinto, A.C. 1976. Influência do hormônio sobre o poder germinativo de sementes de graviola. pp. 415-420. En: Anais Congreso Brasileiro de Fruticultura, Rio de Janeiro, Brasil.
Ranal, M.A. y D. Garcia de Santana, 2006. How and why to measure the germination process? Rev. Brasil. Bot. 29(1), 1-11.
Sánchez, D. 1987. Revisión de las partir de otra manera de la sección Chasmantha del género Guatteria (Annonaceae). Tesis de maestría en Botánica Sistemática, Universidad Nacional de Colombia, Bogotá.
Sanjinés, A., B. Øllgaard y H. Balslev. 2006. Frutos comestibles. Botánica económica de los Andes Centrales. Universidad Mayor de San Andrés, La Paz. pp. 329-346.
Setten, K. y J. Koek-Noorman. 1992. Fruits and seeds of Annonaceae. Morphology and its significance for classification and identification. Bibliotheca Botanica 142, 1-101.
Smith P.M y C.A. 2002. Atkins purine biosynthesis, big in cell division, even bigger in nitrogen assimilation. Plant Physiol. 128, 793-802.
Solís Fuentes, A.A. 2006. Algunos factores que influyen sobre la germinación de semillas de borraja (Borago officinalis L.). Universidad de Concepción, Chillán, Chile.
Stenzel, N.M.C., I.M. Murata y C.S.V.J. Neves. 2003. Superação da dormência em sementes de atemóia e fruta-do-conde. Rev. Bras. Frutic. 25(2), 305-308.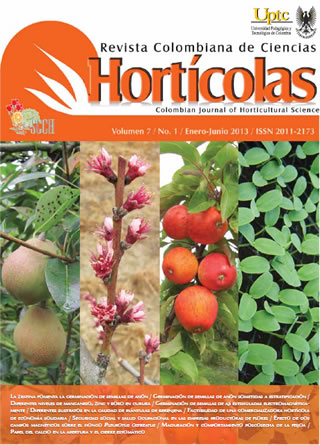 Downloads
How to Cite
Moreno B., N. E., Miranda, D., & Martínez M., F. E. (2013). La zeatina fomenta la germinación de semillas de anón (Annona squamosa L.). Revista Colombiana De Ciencias Hortícolas, 7(1), 9–19. https://doi.org/10.17584/rcch.2013v7i1.2031
License
The copyright of the articles and illustrations are the property of the Revista Colombiana de Ciencias Hortícolas. The editors authorize the use of the contents under the Creative Commons license Attribution-Noncommercial-ShareAlike 4.0 International (CC BY-NC-SA 4.0). The correct citation of the content must explicitly register the name of the journal, name (s) of the author (s), year, title of the article, volume, number, page of the article and DOI. Written permission is required from publishers to publish more than a short summary of the text or figures.