Germinación de semillas de anón (Annona squamosa L.) sometidas a estratificación
Abstract
En esta investigación se estudió el efecto de la estratificación sobre la germinación de semillas de anón, provenientes de cultivos ubicados en Apulo, Cundinamarca. Se evaluó el efecto de la estratificación húmeda fría (8°C) (EHF) y la estratificación húmeda fría seguida de estratificación húmeda caliente (25°C) (EHF+EFC) durante 15, 30 y 45 días para cada tratamiento. Posterior a la aplicación de estos tratamientos se realizaron pruebas de germinación en fitotrones a 30 y 35°C para determinar el efecto de la temperatura de estratificación sobre la germinación. Las semillas presentaron mayores porcentajes de germinación (PG) y velocidad media de germinación (VMG) con la aplicación del tratamiento de EHF durante 45 días a 35°C con PG de 65,6%. La germinación a 30°C tardó más y mostró PG y VMG más bajos que la mayoría de los tratamientos a 35°C. A partir de los resultados se determinó que las semillas de anón mejoran su germinabilidad a temperaturas de 35°C, adicionalmente, la respuesta de las semillas a los tratamientos de estratificación húmeda en frío y calor (EHF y EHF+EHC), podría indicar la presencia de latencia morfofisiológica en este tipo de semillas.
Palabras clave adicionales: temperatura, latencia, tratamientos pregerminativos.
Downloads
Download data is not yet available.
References
Alves, G., V. Pontes, A. Alves, A. Da Silva y A. Medeiros. 2006. Viabilidade de sementes de acerola (Malpighia punicifolia DC) influenciada pelo substrato, temperatura e coloração de frutos. Pesquisa Agropecuária Tropical 36(1), 7-11.
Baskin, C.C. y J.M. Baskin. 2001. Seeds. Ecology, biogeography, and evolution of dormancy and germination. Academic Press, San Diego, CA.
Baskin, C.C. y J.M. Baskin. 2003. When breaking seed dormancy is a problem try a move-along experiment. Native Plants J. 4(1), 17-21.
Baskin, C.C., O. Zackrisson y J.M. Baskin. 2002. Role of warm stratification in promoting germination of seeds of Empetrum hermaphroditum (Empetraceae), a circumboreal species with a stony endocarp. Amer. J. Bot. 89(3), 486-493.
Baskin, J.M. y C.C. Baskin. 2004. A classification system for seed dormancy. Seed Sci. Res. 14, 1-16.
Bewley, J.D. y M. Black. 1994. Seeds: physiology of development and germination. Plenum Press, New York, NY.
Bewley J.D. 1997. Seed germination and dormancy. Plant Cell 9, 1055-1066.
Carvalho, N.M. y J. Nakagawa. 2000. Sementes: ciência tecnologia e produção. 4a ed. FUNEP, Jaboticabal, Brasil.
Chien, C., L. Kuo-Huang y T.P. Lin. 1998. Changes in ultrastructure and abscisic acid level, and response to applied gibberellins in Taxus mairei seeds treated with warm and cold stratification. Ann. Bot. 81, 41-47.
Chen, F., R. Martin, S. Song y H. Nonogaki. 2011. Seed development and germination. Plant Tissue Cult. Dev. Biotecnol. 9, 127-140.
Ferreira, G., P.R. Erig y E. Moro E. 2002. Uso de ácido giberélico em sementes de fruta-do-conde (Annona squamosa L.) visando à produção de mudas em diferentes embalagens. Rev. Bras. Frutic. 24(1), 178-182.
Finch-Savage, W.E. y G. Leubner-Metzger. 2006. Seed dormancy and the control of germination. New Phytologist 171, 501-523.
Guerrero, E.J. 2012. Anón (Annona squamosa L.). pp. 915-927. En: Fischer, G. (ed.). Manual para el cultivo de frutales en el trópico. Produmedios, Bogotá.
Guerrero, E. y G. Fischer. 2007. Manejo integrado en el cultivo de anón (Annona squamosa L.). Rev. Colomb. Cienc. Hortic. 2(1), 154-169.
Hayat, M.A. 1963. Morphology of seed germination and seedling in Annona squamosa. Bot. Gazette 124(5), 360-362.
Hoyos, J. 1989. Frutales en Venezuela. Sociedad de Ciencias Naturales La Salle, Caracas. pp. 35-48.
ISTA. 1996. International rules for seed testing, 1996. International Seed Testing Association. Seed Sci. Technol. 24 (Supplement). Zurich, Suiza.
Leubner-Metzger. 2005. Beta-1,3-Glucanase gene expression low-hydrated seeds as a mechanism for dormancy release during tobacco after-ripening. Plant J. 41, 133-145.
Lobo, M., O. Delgado, J.R. Cartagena, E. Fernández y C.I. Medina. 2007. Categorización de la germinación y la latencia en semillas de chirimoya (Annona cherimola L.) y guanábana (Annona muricata L.), como apoyo a programas de conservación de germoplasma. Agron. Colomb. 25(2), 231-244.
Manjkhola, S., U. Dhar y R.S. Rawal. 2003. Treatments to improve seed germination of Arnebia benthamii: an endangered medicinal herb of high altitude Himalaya. Seed Sci. Technol. 31, 571-577.
Morton, J. 1987. Sugar apple. pp. 69-72. En: Fruits of warm climates. Julia F. Morton, Miami, FL.
Nassif, S. y S. Perez. 2000. Efeitos da temperatura na germinação de sementes de Amendoim-Do-Campo (Pterogyne nitens Tul.). Rev. Bras. Sementes 22(1), 1-6.
Probert, R.J. 2000. The role of temperature in the regulation of seed dormancy and germination. In: Fenner, M. (ed.), Seeds: The ecology of regeneration in plant communities. 2nd ed. Cabi Publishing, Wallingford, UK.
Ranal, M.A. y D. Garcia De Santana. 2006. How and why to measure the germination process?. Rev. Bras. Bot. 29(1), 1-11.
Sanjinés, A., B. Øllgaard y H. Balslev. 2006. Frutos comestibles. Botánica económica de los Andes centrales. Universidad Mayor de San Andrés, La Paz. pp. 329-346.
Sierra P., J. 2005. Fundamentos para el establecimiento de pasturas y cultivos forrajeros. Universidad de Antioquia, Medellín, Colombia.
Solís F., A.A. 2006. Algunos factores que influyen sobre la germinación de semillas de borraja (Borago officinalis L.). Universidad de Concepción, Chillán, Chile.
Stenzel, N.M.C., Murata, I.M. y C.S.V.J. Nemes. 2003. Superação da dormência em sementes de atemóia e fruta-do-conde. Rev. Bras. Frutic. 25(2), 305-308.
Vilar, I., R.A. De Andrade y A. Baldo. 2005. Influência da temperatura na germinação de sementes de Annona montana. Rev. Bras. Frutic. 27(2), 344-345.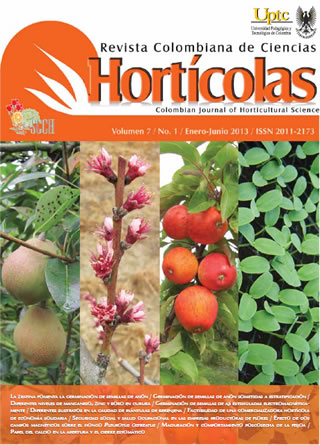 Downloads
Metrics
Views/Downloads
Abstract

2312

PDF (Español)

1720
How to Cite
Moreno B., N E, Miranda, D, & Martínez M., F E. (2013). Germinación de semillas de anón (Annona squamosa L.) sometidas a estratificación. Revista Colombiana de Ciencias Hortícolas, 7(1), 20–30. https://doi.org/10.17584/rcch.2013v7i1.2032
License
The copyright of the articles and illustrations are the property of the Revista Colombiana de Ciencias Hortícolas. The editors authorize the use of the contents under the Creative Commons license Attribution-Noncommercial-ShareAlike 4.0 International (CC BY-NC-SA 4.0). The correct citation of the content must explicitly register the name of the journal, name (s) of the author (s), year, title of the article, volume, number, page of the article and DOI. Written permission is required from publishers to publish more than a short summary of the text or figures.