Estudio de mercado aceite esencial de naranja en Colombia en el período 2009-2014
Keywords:
Aceites esenciales, limoneno, mercado colombiano
Abstract
Los aceites esenciales son productos obtenidos principalmente de material vegetal y además de sus propiedades terapéuticas y curativas, se utilizan como materia prima en la fabricación de productos alimenticios, implementos de belleza y productos de mayor valor agregado. Teniendo en cuenta la variedad de plantas y frutas que se cultivan en Colombia, en este artículo se analiza el mercado de aceites esenciales en el país entre 2009 y 2014, con énfasis en el de naranja ya que este es el principal aceite esencial producido y exportado por Colombia. Para el análisis se usaron fuentes de datos estadísticos de comercio y se realizó una comparación entre importaciones y exportaciones en Colombia, Latinoamérica y el mundo. Se encontró que en Colombia empresas de diferentes sectores importan el aceite esencial de naranja para usarlo como materia prima, también se identificaron los principales productores de naranja y exportadores de este aceite a nivel mundial para el año 2013, siendo Brasil el primero en estas dos clasificaciones, Colombia a pesar de ocupar el puesto 28 en producción de naranja se encuentra en el puesto 44 en la lista de exportadores de este aceite esencial. Se concluye que es posible ampliar la producción de aceite esencial de naranja para suplir el mercado nacional y aumentar las exportaciones, también sería favorable para la agroindustrialización de la naranja, aprovechar de su aceite esencial además del limoneno, otros productos de mayor valor comercial como carvona, carveol y alcohol perílico.
Downloads
Download data is not yet available.
References
Ali, B., N.A. Al-Wabel, S. Shams, A. Ahamad, S.A. Khan y F. Anwar. 2015. Essential oils used in aromatherapy: A systemic review. Asian Pac. J. Trop. Biomed. 5(8), 601- 611. Doi: 10.1016/j.apjtb.2015.05.007
Aronson, J.K. 2016. Limonene. pp. 579-580. En: Meyler's side effects of drugs. 16th ed. Elsevier, Oxford, UK.
Australian Government. 2015. Biodiversity hotspots. Department of the Environment. En: http://www.environment.gov.au/biodiversity/conservation/hotspots; consulta: noviembre de 2015.
Bandoni, A. (ed.). 2002. Los recursos vegetales aromáticos en Latinoamérica: su aprovechamiento industrial para la producción de aromas y sabores. Ciencia y Tecnología para el Desarrollo (CYTED), Madrid.
Baser, K.H.C. y G. Buchbauer. 2015. Handbook of essential oils: science, technology, and applications. 2nd ed. CRC Press, Boca Raton, FL. Doi: 10.1201/b19393
Berger, R.G. 2007. Flavours and fragrances: chemistry, bioprocessing and sustainability. Springer, Berlin. Doi: 10.1007/978-3-540-49339-6
Bernardes, W.A., R. Lucarini, M.G. Tozatti, L.G. Bocalon Flauzino, M.G.M. Souza, I.C.C. Turatti, M.L. Andrade e Silva, C.H.G. Martins, A.A. da Silva Filho y W.R. Cunha. 2010. Antibacterial activity of the essential oil from Rosmarinus officinalis and its major components against oral pathogens. Zeitschr. Naturforsch. - J. Biosci. 65 C (9-10), 588-593.
Bicas, J.L., P. Fontanille, G.M. Pastore y C. Larroche. 2008. Characterization of monoterpene biotransformation in two pseudomonads. J. Appl. Microbiol. 105(6), 1991-2001. Doi: 10.1111/j.1365-2672.2008.03923.x
Biocomercio Sostenible. 2003. Estudio del mercado colombiano de aceites esenciales. Instituto de Investigación de Recursos Biológicos Alexander Von Humboldt, Bogotá.
Borden, J.H., G.R. Sparrow y N.L. Gervan. 2007. Operational success of verbenone against the mountain pine beetle in a rural community. Arboric. Urban For. 33, 318-324.
Buchbauer, G. e I.M. Wallner. 2016. Essential oils: properties, composition and health effects. pp. 558-562. En: Caballero, B., P.M. Finglas y F. Toldrá (eds.). Encyclopedia of food and health. Academic Press, Oxford, UK. Doi: 10.1016/B978-0-12-384947-2.00262-2
Castellanos, F. 2007. Biotransformación de limoneno, α-pineno y aceites esenciales de naranja y mandarina empleando Aspergillus niger. Tesis de maestría. Facultad de Ciencias, Universidad Industrial de Santander, Bucaramanga, Colombia.
Castellanos, F., A. Perea V. y C. Ortíz L. 2007. Obtención de alcohol perílico por biotransformación del limoneno. Sci. Tech. 13(33), 137-140.
Cerón, I. y C. Cardona. 2011. Evaluación del proceso integral para la obtención de aceite esencial y pectina a partir de la cáscara de naranja. Ing. Cienc. 7, 65-86.
Citrotecno. 2015. Tratamiento y valorización del residuo cítrico. En: http://www.citrotecno.com; consulta: octubre de 2015.
Chan, N.L.S., H. Wang, Y. Wang, H.Y. Leung y L.K. Leung. 2006. Polycyclic aromatic hydrocarbon-induced CYP1B1 activity is suppressed by perillyl alcohol in MCF-7 cells. Toxicol. Appl. Pharmacol. 213(2), 98-104. Doi: 10.1016/j.taap.2005.10.002
Chung, B.H., H.-Y. Lee, J.S. Lee y C.Y.F. Young. 2006. Perillyl alcohol inhibits the expression and function of the androgen receptor in human prostate cancer cells. Cancer Lett. 236(2), 222-228. Doi: 10.1016/j.canlet.2005.05.023
De Carvalho, C.C.C.R. y M.M.R. Da Fonseca. 2003. Towards the bio-production of trans-carveol and carvone from limonene: induction after cell growth on limonene and toluene. Tetrahedron: Asymmetry 14(24), 3925-3931. Doi: 10.1016/j.tetasy.2003.09.039
De Carvalho, C.C.C.R. y M.M.R. Da Fonseca. 2006. Carvone: Why and how should one bother to produce this terpene. Food Chem. 95(3), 413-422. Doi: 10.1016/j.foodchem.2005.01.003
Dugo, G. y L. Mondello. 2010. Citrus oils: composition, advanced analytical techniques, contaminants, and biological activity. CRC Press, New York, NY.
Espinal, C. 2005. La cadena de cítricos en Colombia, una mirada global de su estructura y dinámica. Ministerio de Agricultura y Desarrollo Rural Observatorio Agrocadenas Colombia. En: http://www.fondohortifruticola.com.co/archivos/Cadenas/caracterizacion_citricos_2005.pdf; consulta: octubre de 2015.
FAOSTAT. 2015. Food and Agriculture Organization of the United Nations, Statistics Division. En: http://faostaT3.fao.org/home/E; consulta: octubre de 2015.
Farhat, A., A.-S. Fabiano-Tixier, M.E. Maataoui, J.-F. Maingonnat, M. Romdhane y F. Chemat. 2011. Microwave steam diffusion for extraction of essential oil from orange peel: Kinetic data, extract' global yield and mechanism. Food Chem. 125(1), 255-261. Doi: 10.1016/j.foodchem.2010.07.110
Gonçalves, J.A., A.C. Bueno y E.V. Gusevskaya. 2006. Palladium-catalyzed oxidation of monoterpenes: Highly selective syntheses of allylic ethers from limonene. J. Mol. Catal. A: Chem. 252(1-2), 5-11. Doi: 10.1016/j.molcata.2006.02.021
IDEAM, IGAC, IAvH, Invemar, Instituto Sinchi e IIAP. 2007. Ecosistemas continentales, costeros y marinos de Colombia. Bogotá.
ITC. 2015. Trade statistics for international business development. En: http://www.trademap.org; consulta: septiembre de 2015.
Kinai, M. 2013. The essentials of aromatherapy. CreateSpace Independent Publishing Platform. [ Links ]
Linder, S.M. y F.P. Greenspan. 1957. Reactions of limonene monoxide. The synthesis of carvone. J. Organic Chem. 22(8), 949-951. Doi: 10.1021/jo01359a025
Lota, M.-L., D. de Rocca Serra, F. Tomi y J. Casanova. 2001. Chemical variability of peel and leaf essential oils of 15 species of mandarins. Biochem. Syst. Ecol. 29(1), 77-104. Doi: 10.1016/S0305-1978(00)00029-6
Maksimchuk, N.V., M.S. Melgunov, J. Mrowiec-Bialon, A.B. Jarzebski y O.A. Kholdeeva. 2005. H2O2-based allylic oxidation of α-pinene over different single site catalysts. J. Catal. 235(1), 175-183. Doi: 10.1016/j.jcat.2005.08.001
Marulanda, M. 2001. Comminuted de naranja variedad Valencia base para bebidas refrescantes. Tesis de maestría. Posgrado en Ciencia y Tecnología de Alimentos, Universidad Nacional de Colombia, Medellín.
Mira, B., M. Blasco, A. Berna y S. Subirats. 1999. Supercritical CO2 extraction of essential oil from orange peel. Effect of operation conditions on the extract composition. J. Supercrit. Fluids 14(2), 95-104. Doi: 10.1016/S0896-8446(98)00111-9
Morcia, C., G. Tumino, R. Ghizzoni y V. Terzi. 2016. Carvone (Mentha spicata L.) oils. pp. 309-316. En: V.R. Preedy (ed.). Essential oils in food preservation, flavor and safety. Academic Press, San Diego, CA. Doi: 10.1016/B978-0-12-416641-7.00035-3
NCBI. 2015. PubChem Compound - National Center for Biotechnology Information En: http://www.ncbi.nlm.nih.gov/pccompound; consulta: septiembre de 2015.
New Castle, U. 2015. Chemistry trail. En: http://www.ncl.ac.uk/chemistry/outreach/chemistrytrail; consulta: octubre de 2015.
Press, A. 2013. Essential oils for beginners: The guide to get started with essential oils and aromatherapy. Callisto Media Incorporated, Berkely, CA.
Quiroz, N., E.E. Stashenko, E.A. Paez y J.R. Martínez. 1999. Zeolitas NaY intercambiadas con metales de transición (Fe2+, Co2+, Mo2+, y Mn2+) como catalizadores para la oxidación de limoneno. Rev. Colomb. Quím. 28(1), 45-53.
Kroschwitz, J.I. 1997. Kirk-Othmer encyclopedia of chemical technology. Wiley, New York, NY.
Rhind, J.P. 2012. Essential oils: A handbook for aromatherapy practice. 2nd ed. Jessica Kingsley Publishers, London.
Robles-Dutenhefner, P.A., B.B.N.S. Brandão, L.F. de Sousa y E.V. Gusevskaya 2011. Solvent-free chromium catalyzed aerobic oxidation of biomass-based alkenes as a route to valuable fragrance compounds. Appl. Catal. A: General 399(1-2), 172-178. Doi: 10.1016/j.apcata.2011.03.047
Rojas, G.A.A. y G.H.R. Pardo, 2008. Estudio de la estructura de mercado para la comercialización de aceites esenciales en Colombia. Trabajo de grado. Facultad de Ciencias Humanas, Universidad Industrial de Santander, Bucaramanga, Colombia.
Rojas, J.P., A. Perea y E.E. Stashenko. 2009. Obtención de aceites esenciales y pectinas a partir de subproductos de jugos cítricos. Vitae 16, 110-115.
Samaila, D., D.E. Ezekwudo y K.K. Yimam. 2004. Bioactive plant compounds inhibited the proliferation and induced apoptosis in human cancer cell lines. Trans. Integr. Biomed. Inform. Enabling Technol. Symp. J. 1, 34-42.
Sawamura, M. 2011. Citrus essential oils: flavor and fragrance. Wiley, New York, NY.
SBI. 2015. Sistema de información sobre biodiversidad de Colombia. En: http://www.sibcolombia.net/web/sib/cifras; consulta: octubre de 2015.
Sogma-Aldrich. 2015. Sigma-Aldrich: Analytical, biology, chemistry & materials science products and services. En: http://www.sigmaaldrich.com/us-export.html; consulta: febrero de 2016.
Souza, F.V.M., M.B. da Rocha, D.P. de Souza y R.M. Marçal. 2013. (—)-Carvone: Antispasmodic effect and mode of action. Fitoterapia 85, 20-24. Doi: 10.1016/j.fitote.2012.10.012
Stashenko, E.E. 2009. Aceites esenciales. División de Publicaciones, Universidad Industrial de Santander, Bucaramanga, Colombia.
Stratakos, A.C. y A. Koidis. 2016. Methods for extracting essential oils. pp. 31-38. En: Preedy, V.R. (ed.). Essential oils in food preservation, flavor and safety. Academic Press, San Diego, CA. Doi: 10.1016/B978-0-12-416641-7.00004-3
Sun, J. 2007. D-Limonene: Safety and clinical applications. Altern. Med. Rev. 12(3), 259-264.
TRADE-NOSIS. 2015. Trade nosis. Servicio de búsqueda de negocios. En: http://trade.nosis.com/es; consulta: septiembre de 2015.
Wang, J., S. Jaenicke, G.K. Chuah, W. Hua, Y. Yue y Z. Gao. 2011. Acidity and porosity modulation of MWW type zeolites for Nopol production by Prins condensation. Catalysis Comm. 12(12), 1131-1135. Doi: 10.1016/j.catcom.2011.03.034
Warshaw, E.M. y K.A. Zug. 1996. Sesquiterpene lactone allergy. Amer. J. Contact Dermatitis 7(1), 1-23. Doi: 10.1016/S1046-199X(96)90028-7
Worwood, V.A. 2012. The complete book of essential oils and aromatherapy: Over 600 natural, non-toxic & fragrant recipes to create health, beauty, a safe home environment. New World Library, Novato, CA.
Xu, M., H.S. Floyd, S.M. Greth, W.-C.L. Chang, K. Lohman, R. Stoyanova, G.L. Kucera, T.E. Kute, M.C. Willingham y M S. Miller. 2004. Perillyl alcohol-mediated inhibition of lung cancer cell line proliferation: potential mechanisms for its chemotherapeutic effects. Toxicol. Appl. Pharmacol. 195(2), 232-246. Doi: 10.1016/j.taap.2003.11.013
Zarrad, K., A.B. Hamouda, I. Chaieb, A. Laarif y J.M.-B. Jemâa. 2015. Chemical composition, fumigant and anti-acetylcholinesterase activity of the Tunisian Citrus aurantium L. essential oils. Ind. Crops Prod. 76, 121-127. Doi: 10.1016/j.indcrop.2015.06.039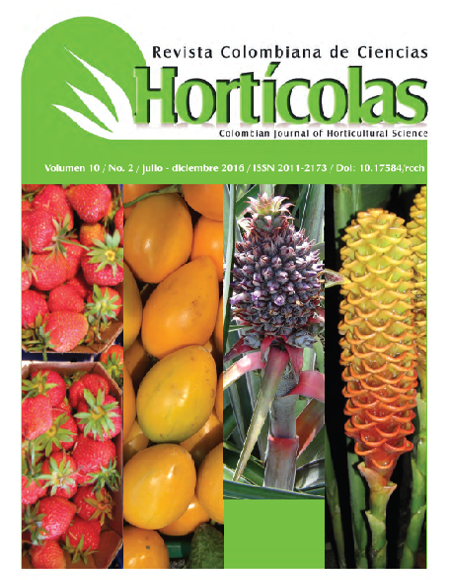 Downloads
How to Cite
Hurtado, E. P., & Villa, A. L. (2017). Estudio de mercado aceite esencial de naranja en Colombia en el período 2009-2014. Revista Colombiana De Ciencias Hortícolas, 10(2), 301–310. https://doi.org/10.17584/rcch.2016v10i2.4653
License
The copyright of the articles and illustrations are the property of the Revista Colombiana de Ciencias Hortícolas. The editors authorize the use of the contents under the Creative Commons license Attribution-Noncommercial-ShareAlike 4.0 International (CC BY-NC-SA 4.0). The correct citation of the content must explicitly register the name of the journal, name (s) of the author (s), year, title of the article, volume, number, page of the article and DOI. Written permission is required from publishers to publish more than a short summary of the text or figures.