Cultivo de cebolla y su comportamiento en la Provincia de Ocaña
Keywords:
cebolla, allium cepa, abono orgánico, gallinaza, ácido húmico, fertilización
Abstract
El artículo tiene como objetivo analizar factores asociados a la producción de la cebolla en la Provincia de Ocaña utilizando cuatro fórmulas de abono.  La investigación siguió un enfoque cuantitativo, diseño experimental y técnicas de análisis factorial, a través de cuatro tratamientos distribuidos en subparcelas con abono orgánico casero gallinaza, estiércol bovino, pulpa de café con bagazo de caña, y, abono orgánico comercial.   Resultados:  cuatro factores se asocian a la producción de la cebolla en la Provincia de Ocaña, variables explicativas son zona, variedad, plagas, tecnología, y canales de comercialización, el mayor desarrollo se obtiene en parcela con abono orgánico comercial.  Conclusión: amenazas, características del terreno, logística, inversión e infraestructura son factores principales.  Existe diferencia significativa en efecto de fertilización entre abonos orgánicos caseros y abono comercial.
Downloads
Download data is not yet available.
References
Álvarez, J., S. Venegas, C. Soto, A. Chávez y L. Zavala. 2014. Uso de fertilizantes químicos y orgánicos en cebolla en Apatzingán, Michoacán, México. Rev. Avanc. Investig. Agropecu. 15 (2), 29-43.
Armendariz, J. 2012. Seguridad e higiene en la manipulación de alimentos. 2a ed. Paraninfo, Madrid.
Coronel, M. y A. Martínez. 2014. Producción y crecimiento de cebolla china (Allium fistulosum) utilizando dos fórmulas de abono orgánico en condiciones ambientales. Cienc. Tecnol. Rev. Desarro. 1(1), 38-45.
Duque, C., C. Perdomo y J. Jaramillo. 2010. Estudio de crecimiento y absorción de nitrógeno, fósforo y potasio en cebolla, Allium cepa L., variedad ocañera. Acta Agron. 39(3-4), 45-53.
Estrada, W., E. Lescay, A. Álvarez y Y. Maceo. 2015. Niveles de humedad en el suelo en la producción de bulbos de cebolla. Agron. Mesoam. 26(1), 111-117. Doi: 10.15517/am.v26i1.16934
Fischer, G., P. Almanza-Merchán y D. Miranda. 2014. Importancia y cultivo de la uchuva (Physalis peruviana L.). Rev. Bras. Frutic. 36(1), 1-15. Doi: 10.1590/0100-2945-441/13
Flaño, A. 2014. El mercado de la cebolla. Oficina de estudios y políticas agrarias (ODEPA). En: http://www.odepa.cl/wp-content/files_mf/1413914996Cebolla201410.pdf; consulta: noviembre de 2014.
Flores, P., F. Gavi, E. Torres y E. Hernández. 2012. Lixiviación de potasio y contenidos nutrimentales en suelo y alfalfa en respuesta a dosis de vinaza. Rev. Mex. Cienc. Agríc. 3(5), 833-846.
FAO. 2013. Faostat. Food and Agriculture Organization, Roma.
Gómez, S., S. Aguirre y N. Piraneque. 2013. Manual de horticultura. Universidad Nacional Abierta y a Distancia, Bogotá.
Goncalves, P., M. Jara y S. Sethuraman. 2015. A stochastic burgers equation from a class of microscopic interactions. Ann. Probab. 43(1), 286-338. Doi: 10.1214/13-AOP878
Hair, J., R. Anderson, B. Barry y W. Black. 2014. Análisis multivariante. 7a ed. Prentice Hall, México.
Hu, L. y P.M. Bentler. 1999. Cutoff criteria for fit indexes in covariance structure analysis: Conventional criteria versus new alternatives. Struct. Equ. Model. 6(1), 1-55. Doi: 10.1080/10705519909540118
Kandil, A., A. Sharief y H. Fathalla. 2013. Effects of transplanting dates of some onions cultivars on vegetative growth, yield and its quality. ESci J. Crop Prod. 2(3), 72-82.
Neira, F. 2014. Rol de la biomasa aérea y subterránea del yuyo moro (Acroptilon repens L.) en la pérdida de rendimiento de la cebolla (Allium cepa L.) cv. Valcatorce INTA. Trabajo de grado. Facultad de Licenciaturas, Universidad Nacional del Comahue, Buenos Aires.
Noor, A., Z. Khan, P. Goel, M. Kumar, G. Agarwal y N. Khan. 2014. Optimization of deep drilling process parameters of AISI 321 steel using Taguchi method. Procedia Mater. Sci. 6(1), 1217-1225.
Ozer, N. y L. Arin. 2014. Evaluation of fungal antagonists to control black mold disease under field conditions and to induce the accumulation of antifungal compounds in onion following seed and set treatment. Crop Prot. 65(1), 21-28. Doi: 10.1016/j.cropro.2014.06.027
Pacheco, E., J. Bohórquez y M. Vergel. 2009. Caracterización del cultivo de cebolla en la provincia de Ocaña. p. 172. En: Memorias Tercer Congreso Colombiano de Horticultura y Simposio Internacional de Cebolla y Ajo en el Trópico. Sociedad Colombiana de Ciencias Hortícolas, Bogotá.
Pinzón, H. 2009. Los cultivos de cebolla y ajo en Colombia: estado del arte y perspectivas. Rev. Colomb. Cienc. Hortíc. 3(1), 45-55. Doi: 10.17584/rcch.2009v3i1.1198
Quintero, R. 2010. La cebolla Ocañera. En: Instituto Colombiano Agropecuario. Manual de Hortalizas. ICA, Bogotá.
Ruiz, C., T. Russián y D. Tua. 2007. Efecto de la fertilización orgánica en el cultivo de la cebolla. Agron. Trop. 57(1), 7-14.
Saini, V., Z. Khan y A. Noor. 2013. Optimization of wire electric discharge machining of composite material (Al6061/SICP) using Taguchi Method. Int. J. Mech. Prod. Eng. 2(1), 61-64.
Sánchez, A.D., V. Barrera, G.E. Reybet y M.C. Sosa. 2015. Biocontrol con Trichoderma spp. de Fusarium oxysporum causal del mal de almácigos en pre y post emergencia en cebolla. Rev. Fac. Agron. 114(1), 61-70.
Secretaria de Hacienda y Crédito Público. 2014. Panorama de la cebolla. En: http://www.financierarural.gob.mx/informacionsectorrural/Panoramas/Panorama%20Cebolla%20(jul%202014).pdf, consulta: noviembre de 2014.
Silva, H., C. Enciso y F. González. 2015. Características morfológicas y cualitativas de variedades de cebolla en tres épocas de trasplante. Rev. Investig. Agr. 17(1), 36- 45. Doi: 10.18004/investig.agrar.2015.junio.36-45
Tesfay, S., I. Bertling, A. Odindo, P. Greenfield y T. Workneh. 2011. Growth responses of tropical onion cultivars to photoperiod and temperature based on growing degree days. Afr. J. Biotechnol. 10(71), 15.875-15.882.
Tutar, M, H. Aydin, C. Yuce, N. Yavuz y A. Bayram. 2014. The optimization of process parameters for friction stir spot-welded AA3003-H12 aluminum alloy using a Taguchi orthogonal array. Mater. Des. 63(1), 789-797. Doi: 10.1016/j.matdes.2014.07.003
Vallejo, F. y E. Estrada. 2004. Producción de hortalizas en clima cálido. Universidad Nacional de Colombia, Palmira, Colombia.
Vergel, M., J. Martínez y S. Zafra. 2015. Validez de instrumento para medir la calidad de vida en la juventud: VIHDA. Rev. Logos Cienc. Tecnol. 7(1), 20-28.
Vergel-Ortega, M., J. Martínez L. y J.F. Nieto. 2016. Validez de instrumento para medir el aprendizaje creativo. Rev. Comun. Estad. 9(2), 239-254. Doi: 10.15332/s2027-3355.2016.0002.04
Yang, F. y L. Miao. 2010. Adaptive responses to progressive drought stress in two poplar species originating from different altitudes. Silva Fennica 44(1), 23-27. Doi: 10.14214/sf.160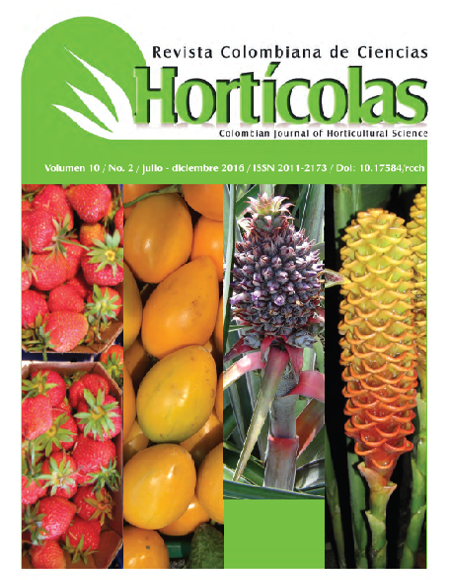 Downloads
How to Cite
Vergel Ortega, M., Martínez Lozano, J. J., & Zafra Tristancho, S. L. (2017). Cultivo de cebolla y su comportamiento en la Provincia de Ocaña. Revista Colombiana De Ciencias Hortícolas, 10(2), 333–344. https://doi.org/10.17584/rcch.2016v10i2.5070
Section
Vegetable section
License
The copyright of the articles and illustrations are the property of the Revista Colombiana de Ciencias Hortícolas. The editors authorize the use of the contents under the Creative Commons license Attribution-Noncommercial-ShareAlike 4.0 International (CC BY-NC-SA 4.0). The correct citation of the content must explicitly register the name of the journal, name (s) of the author (s), year, title of the article, volume, number, page of the article and DOI. Written permission is required from publishers to publish more than a short summary of the text or figures.