Green manure in parsley production and soil fertility in Piracicaba, Brazil
Keywords:
Petroselinum crispum, soil chemistry, soil physics, leguminous.
Abstract
Green manure has been employed successfully in vegetable production as a nitrogen source and for soil conditioning, especially in highly, intensively prepared soils. However, the information on the effects in parsley culture is very limited. The green manure species Mucuna deeringiana, Crotalaria juncea and Crotalaria spectabilis were studied for the physical and chemical soil properties and yield of two cultivars of parsley (Lisa Preferida and Graúda Portuguesa). Two experiments were conducted at the Crop Production Department at the Escola Superior de Agricultura "Luiz de Queiroz", Piracicaba-SP, Brazil. The soil physical properties, such as density, total porosity, macro and microporosity, were not affected by green manure, as compared to the control in both experiments. The chemical properties (pH, organic matter and nutrients content) only changed in the second experiment, significantly increasing the Ca and P concentration and bases sum with the green manure. In soils with high fertility, such as the one in this study, it is difficult to find benefits from a single green manure. The parsley yield increased on average 61% after green manure cultivation, as compared to the control (14.9 t ha-1), regardless of the green manure species used, only in the first experiment. In the second experiment, the parsley yield did not increase because of the green manure effects, as compared to the control, possibly because, in this cycle, the produced green manure biomass and the parsley yield were affected by abiotic conditions.
Downloads
Download data is not yet available.
References
Alcântara, F.A., A.E. Neto, M.B. Paula, H.A. Mesquita y J.A. Muniz. 2000. Adubação verde na recuperação da fertilidade de um latossolo vermelho-escuro degradado. Pesq. Agropec. Bras. 35(2), 277-288. Doi: 10.1590/S0100-204X2000000200006
Almeida, D. 2006. Manual de culturas hortícolas. Vol. 1. 3ª ed. Editorial Presença, Lisboa, Portugal.
Almeida M.M., A. Lixa, E. Silva, P.H. Azevedo, H. Polli y R. Ribeiro. 2008. Fertilizantes de leguminosas como fontes alternativas de nitrogênio para produção orgânica de alface. Pesq. Agropec. Bras. 43(6), 675-682. Doi: 10.1590/S0100-204X2008000600002
Arf, O., L.S. Silva, S. Buzetti, M.C. Alves, M.E. Sá, R.A. Rodrigues y F. Hernández. 1999. Efeito da rotação de culturas, adubação verde e nitrogenada sobre o rendimento do feijão. Pesq. Agropec. Bras. 34(11), 2029- 2036. Doi: 10.1590/S0100-204X1999001100008
Bento, T., M.A. Carvalho y W. Gervazio. 2014. Adubação verde e sistemas de cultivo na produção orgânica de alface. Cad. Agroecol. 9(4), 1-12.
Bruno, R.S., J. Viana, V.F. Silva, G.B. Bruno y M.F. Moura. 2007. Produção e qualidade de sementes e raízes de cenoura cultivada em solo com adubação orgânica e mineral. Hortic. Bras. 25, 170-174. Doi: 10.1590/S0102-05362007000200008
Calegari, A., P.B. Alcântara, S. Muyasaka y T.J.C. Amado. 1993. Caracterização das principais espécies de abonos verdes. pp. 206-319. En: Costa, M.B. (ed.). Adubação verde no sul do Brasil. 2a ed. Asses e Serv a Proj em Agricultura Alternat (AS-PTA), Rio de Janeiro, Brasil.
Carlos, J.A., J.A. da Costa y M.P. da Costa. 2006. Adubação verde: do conceito à pratica. Série Produtor Rural 30. Escola Superior de Agricultura Luiz de Queiroz (ESALQ), Universidade de São Paulo (USP), Piracicaba- SP, Brasil.
Carvalho, M.A., R. Soratto, M.L. Athayde, O. Arf y M. Sá. 2004. Produtividade do milho em sucessão a abonos verdes no sistema de plantio direto e convencional. Pesq. Agropec. Bras. 39(1), 47-63. Doi: 10.1590/S0100-204X2004000100007
Cavalcante, V.S., V.R. Santos, A.L. Neto, M.A.L. Santos, C.G. Santos y L.C. Costa. 2012. Biomassa e extração de nutrientes por plantas de cobertura. Rev. Bras. Eng. Agríc. Ambient. 16(5), 521-528. Doi: 10.1590/S1415-43662012000500008
Cobo, J.G., E. Barrios, D.C.L. Kass y R.J. Thomas. 2002. Decomposition and nutrient release by green manures in tropical hillside agroecosystem. Plant Soil 240, 331- 342. Doi: 10.1023/A:1015720324392
Espindola, J.A., J.G. Guerra y D. Almeida. 2005. Uso de leguminosas herbáceas para adubação verde. pp. 435-451. En: Aquino, A.M. y Assis, RL. (eds.). Agroecologia: princípios e técnicas para uma agricultura orgânica sustentável. EMBRAPA, Brasilia-DF, Brasil.
Favaretto, N., A. Moraes, A.C. Motta y B.M. Prevedello. 2000. Efeito da revegetação e da adubação de área degradada na fertilidade do solo e nas características da palhada. Pesq. Agropec. Bras. 35(2), 289-297. Doi: 10.1590/S0100-204X2000000200007
Fontanétti, A., G.J. Carvalho, L.A. Gomes, K. Almeida, S.R. Moraes y C. Teixeira. 2006. Adubação verde na produção orgânica de alface americana e repolho. Hortic. Bras. 24, 146-150. Doi: 10.1590/S0102-05362006000200004
Heredia, N.A., M.C. Vieira, J. Rech, A. Quast, B.C.A. Pontim y R.P. Gassi. 2008. Yield and gross income of arracacha in monocrop and intercropping with the Japanese bunching onion and parsley. Hortic. Bras. 26, 287-291. Doi: 10.1590/S0102-05362008000200032
Jia, H., W. Aw, M. Hanate, S. Takahashi, K. Saito, H. Tanaka, M. Tomita y H. Kato. 2014. Multi-faceted integrated omics analysis revealed parsley (Petroselinum crispum) as a novel dietary intervention in dextran sodium sulphate induced colitic mice. J. Funct. Foods 11, 438-448. Doi: 10.1016/j.jff.2014.09.018
Koike, S.T., N. Nichole, J. Wolf, P. Van Berkump y O. Daugovish. 2013. Stemphylium leaf spot of parsley in California caused by Stemphylium vesicarium. Plant Dis. 97(3), 315-322. Doi: 10.1094/PDIS-06-12-0611-RE
Mangaravite, J.C., R. Passos, F. Andrade, D. Burak y E. Mendonça. 2014. Phytomass production and nutrient accumulation by green manure species. Rev. Ceres 61(5), 732-739. Doi: 10.1590/0034-737X201461050017
Miyazawa, K., M. Takeda, T. Murakami y T. Murayama. 2014. Dual and triple intercropping: potential benefits for annual green manure production. Plant Prod. Sci. 17(2), 194-201. Doi: 10.1626/pps.17.194
Myers, R.J.K., C.A. Palm, E. Cuevas, I.U.N. Gunatilleke y M. Brossard. 1994. The synchronization of nutrient mineralization and plant nutrient demand. pp. 81- 116. En: Woomer, P.L. y M.J. Swift (eds.). The biological management of tropical soil fertility. John Wiley and Sons, Chichester, UK.
Nascimento, J., I. Silva, R. Santiago y L.F. Neto. 2005. Efeito de leguminosas nos atributos físicos e carbono orgânico de um Luvissolo. Rev. Bras. Ciênc. Solo 29, 825-831. Doi: 10.1590/S0100-06832005000500018
Santos, R.A., P.T. Carneiro, V.R. Santos, L.C. Costa, C.G. Santos y A.S. Neto. 2014. Crescimento de leguminosas utilizadas na adubação verde em diferentes níveis de sais na água de irrigação. Rev. Bras. Eng. Agríc. Ambient. 18(12), 1255-1261. Doi: 10.1590/1807-1929/agriambi.v18n12p1255-1261
Sharifi, M., D.H. Lynch, A. Hammermeister, D.L. Burton y A.J. Messiga. 2014. Effect of green manure and supplemental fertility amendments on selected soil quality parameters in an organic potato rotation in Eastern Canada. Nutr. Cycl. Agroecosys. 100, 135-146. Doi: 10.1007/s10705-014-9633-x
Silva, M.G., O. Arf, M.C. Alves y S. Buzetti. 2008. Sucessão de culturas e sua influência nas propriedades físicas do solo e na produtividade do feijoeiro de inverno irrigado em diferentes sistemas de manejo do solo. Bragantia 67(2), 335-347. Doi: 10.1590/S0006-87052008000200009
Smolinska, U., B. Kowalska, W. Kowalczyk y M. Szczech. 2014. The use of agro-industrial wastes as carriers of Trichoderma fungi in the parsley cultivation. Sci. Hortic. 179, 1-8. Doi: 10.1016/j.scienta.2014.08.023
Souza, J.L., G.P. Guimarães y L.F. Favarato. 2015. Desenvolvimento de hortaliças e atributos do solo com adubação verde e compostos orgânicos sob níveis de N. Hortic. Bras. 33, 19-26. Doi: 10.1590/S0102-053620150000100004
Souza, J.L. y P. Resende. 2006. Manual de horticultura orgânica. 2a ed. Aprenda Fácil, Viçosa-MG, Brasil.
Talgre, L., E. Lauringson, H. Roostalu, A. Astover y A. Makke. 2012. Green manure as a nutrient source for succeeding crops. Plant Soil Environ. 58(6), 275-281. Doi: 10.17221/22/2012-PSE
Villatoro, M.A. 2000. Contribuição da adubação verde como fonte de nitrogênio para as culturas de milho e sorgo. Tesis de maestría. Universidade Federal Rural do Rio de Janeiro, Rio de Janeiro-RJ, Brasil.
Wutke, E.B., E.J. Ambrosiano, L.F. Razera, P.F. Medina, L.H. Carvalho y H. Kikuti. 2007. Bancos comunitários de sementes de adubos verdes: informações técnicas. MAPA, Brasilia-DF, Brasil.
Wutke, E.B., P.E. Trani, E.J. Ambrosiano y M.I. Drugowich. 2009. Adubação verde no estado de São Paulo. Boletim Técnico 249. CATI, Campinas-SP, Brasil.
Ye, X., H. Liu, Z. Li, Y. Wang, Y. Wang, H. Wang y G. Liu. 2014. Effects of green manure continuous application on soil microbial biomass and enzyme activity. J. Plant Nutr. 37, 498-508. Doi: 10.1080/01904167.2013.867978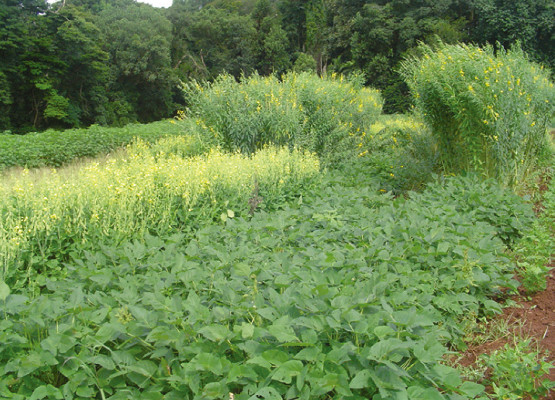 Downloads
Additional Files
How to Cite
Costa-Mello, S. da, Nimi-Kassoma, J., Quesada-Roldán, G., Dantas-da Silva, A., Donegá, M. A., & Santos-Dias, C. T. dos. (2018). Green manure in parsley production and soil fertility in Piracicaba, Brazil. Revista Colombiana De Ciencias Hortícolas, 12(1), 183–191. https://doi.org/10.17584/rcch.2018v12i1.6097
Section
Section on aromatic, medicinal and spice plants
License
The copyright of the articles and illustrations are the property of the Revista Colombiana de Ciencias Hortícolas. The editors authorize the use of the contents under the Creative Commons license Attribution-Noncommercial-ShareAlike 4.0 International (CC BY-NC-SA 4.0). The correct citation of the content must explicitly register the name of the journal, name (s) of the author (s), year, title of the article, volume, number, page of the article and DOI. Written permission is required from publishers to publish more than a short summary of the text or figures.