Dinámica de la acumulación de capital humano en Yopal (Casanare).
Keywords:
Migraciones, dinámica poblacional, petróleo, crecimiento económico. (Migration, population dynamics, oil, economic growth)
Abstract
En Este artículo, que es parte integral de una tesis de maestría en economía de la Universidad Nacional, se plantea una discusión en torno a los cambios estructurales, tanto en lo económico como en lo social, que generó la explotación de petróleo en el departamento de Casanare. En el documento se hace una revisión teórica sobre los fenómenos de migración y su relación con el desarrollo económico y los procesos de acumulación o fuga de capital humano, que al parecer es lo que ha ocurrido concretamente en el municipio de Yopal (Casanare).
 
Se analiza cómo  la diferencia en los salarios que ofrece el sector petrolero, indujeron un proceso creciente de inmigración, lo cual marginó los demás sectores de la economía del departamento. Este mismo fenómeno, con el paso del tiempo introdujo modificaciones importantes en la estructura  poblacional,  así como un visible cambio estructural en la economía local. En el documento se concluye que los fuertes cambios experimentados en la dinámica poblacional de Yopal, asociados a la explotación de petróleo, crearon una dependencia de la economía frente a ese sector, lo cual  permite visualizar las dificultades que enfrentará la población joven en el futuro cuando la explotación de petróleo termine.
ABSTRACT
In this article, which is an integral part of a Masters thesis in economics from the National University, is a discussion around the structural changes, both in economic and social Council, which generated the exploitation of oil in the department of Casanare. In the document is a desk review of the phenomena of migration and its relationship with the economic development and the processes of accumulation or leakage of human capital, which apparently is what has happened specifically in the municipality of Yopal (Casanare).
Discusses how the difference in wages offered by the oil sector, prompted a growing process of immigration, which excluded other sectors of the economy of the department. This same phenomenon, with the passage of time introduced important changes in the population structure, as well as a visible structural change in the local economy. The document concludes that the strong changes in the population dynamics of Yopal, associated with the exploitation of oil, created a unit of the economy in the sector, which allows you to display the difficulties facing the young population in the future when the exploitation of oil finish.
Downloads
Download data is not yet available.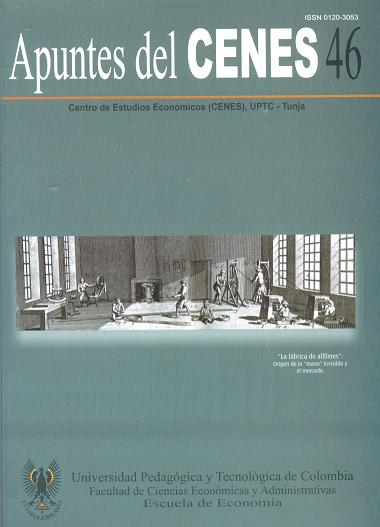 Downloads
Metrics
Views/Downloads
Abstract

619

PDF (Español)

1150
How to Cite
Avila Quiñones, C O. (2008). Dinámica de la acumulación de capital humano en Yopal (Casanare). Apuntes del Cenes, 27(46), 261–198. Retrieved from https://revistas.uptc.edu.co/index.php/cenes/article/view/244
License
Copyright (c) 2008 Cristian Orlando Avila Quiñones
This work is licensed under a Creative Commons Attribution-NonCommercial-ShareAlike 4.0 International License.