El tratado de libre comercio Colombia la Unión Europea
Keywords:
Integración, comercio, exportaciones, competitividad. (Integration, trade, exports, competiveness, growth, infrastructure)
Abstract
Colombia busca la integración económica con el mundo y niveles más elevados de comercio e inversión para promover el empleo y el crecimiento económico.Las exportaciones colombianas al mercado de la Unión Europea se basan principalmente en commodities, lo cual no es bueno para el país. Para cambiar este estado de cosas Colombia debe mejorar la competitividad de sus
exportaciones, recursos humanos y tecnología, dar un fuerte apoyo a la construcción de infraestructura, capacitación técnica, absorción local de tecnología, inversión extranjera directa y la promoción de nuevas exportaciones.
ABSTRACT:
Colombia is seeking for integration with the world and higher levels of trade and investment to promote production, employment and economic growth. Colombian exports to the European Union market are based mainly on commodities. This is not good for the country. To change this situation, Colombia Should improve the competitveness of lts exports, human resources and technology. Strong support should be given to construction of infrastructure, technical training, local technology absortion, Foreign direct investment and promotion of new exports.
Downloads
Download data is not yet available.
References
AREVALO, A &, AREVALO, P (2005), "La unión europea: de la integración económica a la integración política", Revista Apuntes del CENES, Tunja.
BANCO MUNDIAL, (2008) "Informe sobre competitividad" Washington, D.C. Varios números.
CARDENAS, S, Mauricio (2007), Introducción a la economía colombiana, Editorial Alfaomega- Fedesarrollo, primera edición, Bogotá.
COMUNIDAD ANDINA, (2008) "Comunidad andina – unión europea (27): comercio exterior de bienes". Comunidad Andina. Secretaria General, Bogotá.
DOLLAR D, & KRAAY, A (2001 b) "Trade, growth and poverty". Banco Mundial. Documento de Trabajo, No. 26-15, Washington, D.C.
KRUGMAN, Paul & OBSTFELD, Maurice (2000), Economía internacional, teoría y política, 4 edición, Mc – Graw – Hill, Madrid.
NBER, Estadísticas generales. OCDE, Estadísticas generales 2003.
RICARDO, D. (1987) "Principios de economía política y tributación". Fondo de Cultura Económica. Fondo de cultura económica, México D.F.
WINTERS, A &, YUSUF, S (2008), China, india y la economía mundial, primera edición, Banco Mundial, MAYOL ediciones, Bogotá.
WORLD ECONOMIC FORUM. Varios números.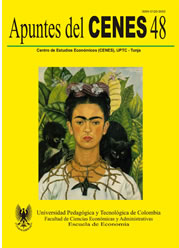 Downloads
How to Cite
Arevalo, W. A., & Mutis, P. L. A. (2009). El tratado de libre comercio Colombia la Unión Europea. Apuntes Del Cenes, 28(48), 95–124. Retrieved from https://revistas.uptc.edu.co/index.php/cenes/article/view/69
License
Copyright (c) 2009 William A. Arevalo, Paula Lucia Arevalo Mutis
This work is licensed under a Creative Commons Attribution-NonCommercial-ShareAlike 4.0 International License.
By submitting articles for evaluation, the author agrees to transfer the publishing rights to Revista Apuntes del CENES for publishing in any format or mean and that the attached partial use license will be signed.
The journal is under licence Attribution-NonCommercial-ShareAlike 4.0 International (CC BY-NC-SA 4.0)