El concepto de pobreza y sus implicaciones en Colombia
Keywords:
Principio de incertidumbre, pobreza, reduccionista, multidimensional. (Principle of uncertainty, poverty, reductionist, multidimensional)
Abstract
El presente artículo pretende explorar algún acervo bibliográfico sobre el concepto de pobreza. Después de las primeras revisiones es posible observar que tal fenómeno se aborda desde dos enfoques o puntos de vista, el primero,se podría definir como reduccionista, mientras que el segundo se podría catalogar como multidimensional. Asimismo, se intentará examinar algunos estudios que se han desarrollado sobre el tema de la pobreza en Colombia (se revisa el último informe publicado por el DNP, acerca de la pobreza). También, se reseñan algunas de las políticas sociales implementadas en Colombia,encaminadas a reducir los niveles de pobreza en el país, a partir del gobierno de Virgilio Barco. Por último, el autor se propone enfocar la temática con la intención de incorporar el principio de incertidumbre en el concepto de pobreza, toda vez que éste puede ser una fuente de malestar y sufrimiento en las personas pobres, pues al parecer este principio no ha sido tratado con claridad en las discusiones sobre la pobreza.
ABTRACT:
This article aims to explore some bibliographic acquits on the concept of poverty. After first revisions is possible to observe that this phenomenon is addressed from two approaches or points of view, the first could be defined as reductionist, while the second could be categorized as multidimensional. Also, will seek to examine studies which have been developed on the subject of poverty in Colombia (reviews the latest report published by the National Planning Department of poverty). Also, deals with certain social policies implemented in Colombia, aimed at reducing poverty in the country, from the Government of Virgilio Barco levels. Finally, the author intends to approach the subject with the intention to incorporate the principle of uncertainty in the concept of poverty, since it can be a source of distress and suffering in poor people, therefore reportedly this principle not been treated with clarity in discussions on poverty.
Downloads
Download data is not yet available.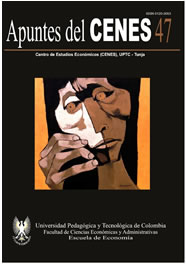 Downloads
Metrics
Views/Downloads
Abstract

1869

PDF (Español)

652
How to Cite
Herrera, J A C. (2009). El concepto de pobreza y sus implicaciones en Colombia. Apuntes del Cenes, 28(47), 41–80. Retrieved from https://revistas.uptc.edu.co/index.php/cenes/article/view/80
License
Copyright (c) 2009 Julián Augusto Casas Herrera
This work is licensed under a Creative Commons Attribution-NonCommercial-ShareAlike 4.0 International License.