Quality of raw milk n doublé purpose system in Cordoba (Colombia), in máximum and minmum precipitation conditions
Keywords:
milk quality, udder health, somatic cell-count (SCC).
Abstract
A concern in agricultural production is to obtain optimal food quality and harmless for human consumption. It has been proposed that excellent quality milk must have high percentages of protein, fat, total solids and low counts of mesophilic, somatic cell-count (SCC) plus free of inhibitors to ensure their safety. The objective was to determine the physicochemical quality and udder health in raw milk, from dual purpose livestock companies in Cordoba Colombia, and at the same time, to compare these data with periods of high and minimal rainfall to see the physicochemical differences and udder health in each period. Using a non—probabi|ity sampling and descriptive study periods of maximum and minimum rainfall, raw milk samples were collected from 127 cattle enterprises. lt was determined: the percentage of acidity, fat, non-fat solids, total solids and somatic cell count. The data obtained were analyzed using descriptive statistics INFOSTAT. These values were within the normal range, with variations related to the time it was sampled.
Downloads
Download data is not yet available.
References
Calderón A, García F, Martínez G. Indicadores de calidad de leches crudas en diferentes regiones de Colombia. Rev. MVZ Córdoba, 2006; 118(1): 725‐737.
Ministerio de la Protección Social de Colombia (MinProtección). Decreto Número 616 de 2006. Por el cual se expide el Reglamento Técnico sobre los requisitos que debe cumplir la leche para el consumo humano que se obtenga, procese, envase, transporte, comercializa, expenda, importe o exporte en el país. Disponible en: http://www.agronet.gov.co/www/Docs_agronet/2006103010449_decreto_616_28_02_06.pdf.
National Mastitis Council. Laboraotry handbook on bovine mastitis. Second printing. Verona, USA. 2005.
Fernández AM, Oliveira CAF. De actividade enzimática relacionada às células somáticas no leite. Revista do Instituto de Laticínios Cândido Tostes, 2007; 62: 17-25.
Fox LK, Shook GE, Schultz LH. Factors related to milk loss in quarters with low somatic cell counts. J Dairy Sci, 1985; 68: 2100-2107. DOI: http://dx.doi.org/10.3168/jds.S0022-0302(85)81074-2.
Ma Y, Ryan C, Barbano DM, Galton, Rudan MA, Boor KJ. Effects of somatic cell count on quality and shelf-life of pasteurized fluid milk. J. Dairy Sci, 2000; 83(2): 264-274. DOI: http://dx.doi.org/10.3168/jds.S0022-0302(00)74873-9.
Andreatta E, Fernandes AM, Veiga dos Santos M, Mussarelli C, Marques MC, Gigante ML, Fernandes de Oliveira CA. Quality of minas frescal cheese prepared from milk with different somatic cell counts. Pesq. agropec. bras., 2209; 44(3): 320-326.
Calderón A, Rodríguez V, Arrieta G, Martínez N, Vergara O. Calidad fisicoquímica y microbiológica de leches crudas en empresas ganaderas
del sistema doble propósito en Montería (Córdoba). Rev. U.D.C.A Act. & Div. Cient. 2012; 15(2): 399‐407.
Barbosa MRC, Regina BJ, Mestieri L, Felício PMA, Veiga dos Santos M. Effect of somatic cell count and mastitis pathogens on milk composition in Gyr cows. BMC Veterinary Research, 2013, 9: 67. DOI: http://dx.doi.org/10.1186/1746-6148-9-67.
Cerón M, Agudelo E, Maldonado J. Relación entre el recuento de células somáticas individual o en tanque de leche y la prueba CMT en dos fincas lecheras del departamento de Antioquia‐Colombia. Rev Col Cienc Pec, 2007; 20(4): 472‐483.
Li N, Richoux R, Boutinaud M, Martin P, Gagnaire V. Role of somatic cells on dairy processes and products: A review. Dairy Sci. & Technol, 2014; 94: 517-538. DOI: http://dx.doi.org/10.1007/s13594-014-0176-3.
Calderón A, Arteaga MR, Rodríguez VC, Javier Arrieta GJ, Bermúdez DC, Villareal VP. Efecto de la mastitis subclínica sobre el rendimiento en la fabricación del queso costeño. Biosalud, 2011; 10(2): 16-27.
Ruiz GAK, Remón DD, Ponce CP. Somatic Cell Count Dairy-Cow Milk. Rev. prod. Anim., 2014; 26 (1) 1-7. Disponible en: http://www.reduc.edu.cu/147/14/1/en/147140101-EN.pdf.
Instituto Colombiano de Normas Técnicas (Icontec). Manual de métodos fisicoquímicos para el control de calidad de la leche y sus derivados. Santafé de Bogotá, Colombia, 1993.
Gerber, N. Tratado práctico de los análisis de la leche y del control de los productos lácteos. España: Gráficas ROA, 1994.
Association of Official Analytical Chemistry (AOAC9. 1990. Official Method of Analysis. Virginia, USA: 16a. Edición.
DeLaval. Manual de instrucciones. DeLaval International Tumba (Sweden), 2005.
Romero PMH, Sánchez VJ. Evaluación de las buenas prácticas ganaderas en bovinos de carne en el centro de Caldas. Biosalud, 2011;
(1): 52-60.
Consejo Nacional de Política Económica y Social. República de Colombia. Departamento Nacional de Planeación. Consolidación de la política sanitaria y de inocuidad para las cadenas láctea y cárnica. Documento Conpes 3676, 2010.
Martínez M, Gómez C. Calidad composicional e higiénica de la leche cruda recibida en industrias lácteas de Sucre, Colombia. Biotecnología en el Sector Agropecuario y Agroindustrial, 2013; 11(2): 93-100.
Briñez W, Valbuena E, Castro G, Tovar A, Ruiz RJ. Algunos parámetros de composición y calidad en leche cruda de vacas doble propósito en el municipio Machiques de Perijá. Estado Zulia, Venezuela. Rev. Cient. Maracaibo, 2008; 18(5): 607-617.
González H, Fischer V, Rocha R, Fainé G, Stumpj W, Adeuda S. Avaliation da qualidadae do elite na bacia leitera de Pelotas, RS. Efeito dos meses do ano. Rev. Bras Zootec, 2004; 33: 1531-1543. DOI: http://dx.doi.org/10.1590/S1516-35982004000600020.
Álvarez FG, Herrera HJG, Alonso BG, Barreras SA. Calidad de la leche cruda en unidades de producción familiar del sur de Ciudad de México. Arch Med Vet, 2012; 44: 237-242. DOI: http://dx.doi.org/10.4067/S0301-732X2012000300005.
Looper M, Stokes SR, Waldner DN, Jordan ER. Managing milk composition: evaluating herd potential. New Mexico State University. 2001. Disponible en: http://aces.nmsu.edu/pubs/_d/D-104.html.
Córdoba C, Naranjo J, Cuartas C. Productividad vegetal y animal bajo sistemas de pastoreo tradicional y sistemas silvopastoriles intensivos
(SSPI) en el Caribe seco colombiano. Memorias VI Congreso Internacional Agroforestería para la Producción Pecuaria Sostenible. Ciudad de Panamá (Panamá); 2010, 18 p.
Concejo Nacional de Mastitis (CNM). Conceptos Actuales de Mastitis Bovina. 3a Edición. 1990. (USA). 47 p.
Blowey R, Edmondson, P. Control de la Mastitis en Granjas de Vacuno de Leche. Ed. Acribia, 1995. S.A. Zaragoza.
Philpot N, Nickerson S. Mastitis: Ganando la lucha contra la mastitis. Babson Bros. Co. USA. 2000. 192 p.
Akerstedt M, Forsback L, Larsen T, Svennersten-Sjaunja K. Natural variation in biomarkers indicating mastitis in healthy cows. J Dairy Res. 2011; 78: 88-96. DOI: http://dx.doi.org/10.1017/S0022029910000786.
Andrade R, Manrique F, Peters K. Características productivas y de gestión de fincas lecheras en Boyacá. Rev. MVZ Córdoba, 2008; 13(2):1333-1342.
Alvarado L, Pardo O, Sánchez J. Evaluación de leche y/o carne de diferentes grupos raciales en el Bajo Trópico Colombiano, Ecosistema Valle Medio del Sinú. 2005. Disponible en: http://hdl.handle.net/11348/6375.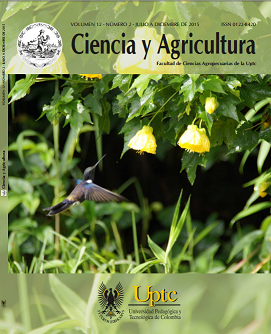 Downloads
How to Cite
Rodríguez-Rodríguez, V. C., Acosta-Ruiz, A. F., & Calderón-Rangel, A. (2015). Quality of raw milk n doublé purpose system in Cordoba (Colombia), in máximum and minmum precipitation conditions. Ciencia Y Agricultura, 12(2), 51–58. https://doi.org/10.19053/01228420.4391
License
All papers included in the Revista Ciencia y Agricultura are published under Creative Commons Attribution 4.0 International