Bovine manure and rock powder and their influences on the chemical characteristics of a Latossolo soil type (yellow oxisols) under butter kale (Brassica oleracea L. var. acephala) cultivation
Keywords:
Biofertilizers, Organic amendments, Organomineral fertilizers, Nutrient availability, Soil suitability
Abstract
Chemical soil quality is one of the factors more quickly affected by anthropogenic degradation processes and is one of the more important components for the development of agriculture. Thus, this study aimed to evaluate the effects of different doses of cattle manure and rock powder on the chemical characteristics of soil cultivated with butter kale. The treatments were arranged in five randomized blocks in a 4´4 factorial for the different doses of bovine manure (60, 120, 180 and 240 g/plant) combined with doses of rock powder (6, 12, 18 and 24 g/plant). Each block was composed of three plots, 18 m long and 1 m wide. The bed was composed of six portions, and each experimental plot consisted of 14 plants spaced at 0.40´0.40 m. At the end of the experiment, the following were analyzed: pH, organic matter, P, K, Na, Mg, exchangeable acidity, cation exchange capacity (CEC), sum of base and base saturation. The doses of bovine manure and MB-4 provided an increase in pH, organic matter, concentration of phosphorus, potassium, sodium, calcium, magnesium, exchangeable acidity, cation exchange capacity, sum of the base and saturation of the soil base. The doses of 240 g of cattle manure and 24 g of rock dust generated an increase in the chemical properties of the soil.
Downloads
Download data is not yet available.
References
Albuquerque Júnior, E.P., J.C.L. Silva Filho, J.S. Costa, S.M. and Santos. 2013. Aspectos relativos à saúde e ao meio ambiente ligados ao consumo de alimentos orgânicos. Rev. Adm. UFSM 6, 295-312. Doi: 10.5902/198346598812

Alovisi, A.M.T., M.M. Taques, A.A. Alovisi, L.K. Tokura, R.S. da Silva, and G.H.L.M. Piesanti. 2017. Alterações nos atributos químicos do solo com aplicação de pó de basalto. Acta Iguazu 6(5), 69-79.

Andrade, F.V.; E.S. Mendonça, V.V.H. Alvarez, and R.F. Novais. 2003. Adição de ácidos orgânicos e húmicos em Latossolos e adsorção de fosfato. Rev. Bras. Ciênc. Solo 27(6), 1003-1011. Doi: 10.1590/S0100-06832003000600004

Andrade, L.O., R.G. Nobre, N. da Silva Dias, H.R. Gheyi, F.A.L. Soares, and E.C.S. Nascimento. 2015. Morfometria de plantas de girassol ornamental e atributos químicos de um solo irrigado com água residuária e adubado com esterco. Científica 43(3), 268-279. Doi: 10.15361/1984-5529.2015v43n3p268-279

Anghinoni, I. and R. L. Salet. 2000. Reaplicação de calcário no sistema plantio direto consolidado. p. 41-59. In: Kaminski, J. (ed.). Uso de corretivos da acidez do solo no plantio direto. Sociedade Brasileira de Ciência do Solo, Pelotas, Brazil.

Barcellos, M., A.C.V. Motta, V. Pauletti, J.C.P.M. da Silva, and J.Z. Barbosa. 2015. Atributos químicos de Latossolo sob plantio direto adubado com esterco de bovinos e fertilizantes minerais. Com. Sci. 6(3), 263-273. Doi: 10.14295/cs.v6i3.527

Batista, N., V. Ragagnin, E. Hack, A. Gorgen, and E.D.S. Martins. 2017. Atributos químicos de um latossolo vermelho amarelo sob cultivo de soja e sorgo submetido ao uso de basalto moído. pp. 241-247. In: Proc. III Congresso Brasileiro de Rochagem. Embrapa Clima Temperado, Pelotas, Brazil.

Braga Junior, S.S., A.R. Veiga Neto, and N.R. Moraes. 2014. Atributos de estilo de vida do consumidor relacionados ao consumo de produtos orgânicos no varejo especializado. Rev. Bras. Mark. 13(5), 36-46. Doi: 10.5585/remark.v13i5.2781

Camargo, C.K., J.T.V. Resende, L.K.P. Camargo, and A.S.T. Figueiredo, and D.S. Zanin. 2012. Produtividade do morangueiro em função da adubação orgânica e com pó de basalto no plantio. Semin. Ciênc. Agrár. 33(Supp. 1), 2985-2994. Doi: 10.5433/1679-0359.2012v33Supl1p2985

Cancès, B., M. Ponthieu, M. Castrec-Rouelle, E. Aubry, and M.F. Benedetti. 2003. Metal ions speciations in a soil and its solution: experimental data and model results. Geoderma 113(3-4), 641-355. Doi: 10.1016/S0016-7061(02)00369-5

Candian, J.S., B.N.M. Martins, and A.I.I. Cardoso. 2015. Doses de composto orgânico no desenvolvimento inicial de couve-flor e nas características químicas do solo. Rev. Cultiv. Saber 8(3), 257-266.

Ceretta, C.A., F. Lorensini, G.L. Brunetto, E. Girotto, L. C. Gatiboni, C.R. Lourenzi, T.L. Tiecher, L. Conti, G. Trentin, and A. Miotto. 2010. Frações de fósforo no solo após sucessivas aplicações de dejetos de suínos em plantio direto. Pesq. Agropec. Bras. 45(6), 593-602. Doi: 10.1590/S0100-204X2010000600009

Clemente, R., D.J. Walker, T. Pardo, D. Martínez-Fernández, and M.P. Bernal. 2012. The use of a halophytic plant species and organic amendments for the remediation of a trace elements contaminated soil under semi-arid conditions. J. Hazard. Mater. 223-224, 63-71. Doi: 10.1016/j.jhazmat.2012.04.048

Cleves-Leguizamo, J.A., J. Toro-Calderón, and L. Martínez-Bernal. 2016. Los balances hídricos agrícolas en modelos de simulación agroclimáticos. Una revisión analítica. Rev. Colomb. Cienc. Hortic. 10(1), 149-163. Doi: 10.17584/rcch.2016v10i1.4460

Conway, G.R. and E.B. Barbier. 2013. After the green revolution: sustainable agriculture for development. Earthscan; Routledge, London. Doi: 10.4324/9781315066820

Dao, T.H. 2004. Ligands and phytase hydrolysis of organic phophorus in soils amended with dairy manure. Agron. J. 96, 1188-1195. Doi: 10.2134/agronj2004.1188

Dick, W.A. and E.G. Gregorich. 2004. Developing and maintaining soil organic matter levels. pp. 103-120. In: Schjønning, P., S. Elmholt, and B.T. Christensen (eds.). Managing soil quality: challenges in modern agriculture. CABI Publishing, Wallingford, UK. Doi: 10.1079/9780851996714.0103

Dutra, L.M.F., F.M. Barbosa, A.S. Melo, P.D. Fernandes, M.S. Vidal, J.I. Baldani, and C.H.S.G. Meneses. 2015. Inoculação de gluconacetobacter diazotrophicus e seu efeito no desenvolvimento de plantas de arroz vermelho. J. Biol. Pharm. Agric. Manage. 10(2), 86-101.
Embrapa, Empresa Brasileira de Pesquisa Agropecuária. 2017. Manual de métodos de análise de solo. 3th ed. Brasilia.

Gliessman, S.R. 2000. Agroecologia: processos ecológicos em agricultura sustentável. Editorial da UFRGS, Porto Alegre, Brazil.

Gotz, L.F., Piovesan, F., Basso, F.J.M., Forte, and C.T. Castamann. 2016. Pó de rocha como fonte alternativa para melhoria de atributos químicos do solo e do potencial produtivo da cultura do feijão em sistemas agroecológicos. In: VI Jornada de Iniciação Cientifica e Tecnológica - Universidade Federal da Fronteira Sul, Chapeco, Brazil.

Hanisch, A.L., J.A.D. Fonseca, A. A. Balbinot Junior, and E. Spagnolo. 2013. Efeito de pó de basalto no solo e em culturas anuais durante quatro safras, em sistema de plantio direto. Rev. Bras. Agropecu. Sustent. 3(2), 100-107.

Hargrove, W.L. and G.W. Thomas. 1981. Extraction of aluminum from aluminum-organic matter complexes. Soil Sci. Soc. Am. J. 45, 151-153. Doi: 10.2136/sssaj1981.03615995004500010032x

Harrison, A.F. 1987. Soil organic phosphorus. CAB, Wallingford, UK.

Li, H., W.-T. Feng, X.-H. He, P. Zhu, H.-J. Gao, N. Sun, and M.-G. Xu. 2017. Chemical fertilizers could be completely replaced by manure to maintain high maize yield and soil organic carbon (SOC) when SOC reaches a threshold in the Northeast China Plain. J. Integr. Agric. 16(4), 937-946. Doi: 10.1016/S2095-3119(16)61559-9

Lima-Filho, D.O. and F. Quevedo-Silva. 2012. Percepção do consumidor sobre produtos orgânicos. Rev. Bras. Mark. 11(1), 29-46. Doi: 10.5585/remark.v11i1.2297

Mantovani, J.R., M. Carrera, J.L.A. Moreira, D.J. Marques, and A.B.D. Silva. 2017. Fertility properties and leafy vegetable production in soils fertilized with cattle manure. Rev. Caatinga 30(4), 825-836. Doi. 10.1590/1983-21252017v30n402rc

Malta, A.O., W.E. Pereira, M.N.N. Torres, A.O. Malta, E.S. Silva, and S.I.A. Silva. 2019. Atributos físicos e químicos do solo cultivado com gravioleira, sob adubação orgânica e mineral. PesquisAgro 2(1), 11-23. Doi: 10.33912/AGRO.2596-0644.2019.v2.n1.p11-23.id212

May, A., S.W. Tivelli, P.F. Vargas, A.G. Samra, L.V. Sacconi, and M.Q. Pinheiro. 2007. A cultura da couve-flor. Série Tecnologia APTA, Boletim Técnico IAC 200. Instituto Agronômico, Campinas, Brazil.

Meirelles, L. 2004. Soberania alimentar, agroecologia e mercados locais. Revista Agriculturas: experiências em agroecología 1, 11-14.

MIBASA, Mineração Barreto. MB4. In: http://mibasa.agenciafish.webfactional.com/produto/mb4/17/; consulted: April, 2018.

Mkhabela, M. and P.R. Warman. 2005. The influence of municipal solid waste compost on yield, soil phosphorus availability and uptake by two vegetable crops, grown in a Pugnash sandy loam soil in Nova Scotia. Agric. Ecosyst. Environ. 106(1), 57-67. Doi: 10.1016/j.agee.2004.07.014

Nascimento, J.A.M., J.S. Souto, L.F. Cavalcante, S.A. Medeiros, and W.E. Pereira. 2017. Produção de melancia em solo adubado com esterco bovino e potássio. Rev. Bras. Ciênc. Agr. 12(2), 122-127. Doi: 10.5039/agraria.v12i2a5427

Nascimento, J.A.M., J.S. Souto, L.F. Cavalcante, F.T. Oliveira, V. Mendonça, A.M.A. Junior, and S.A.S. Medeiros. 2015. Macronutrientes na cultura da melancia cultivada em Neossolo com esterco bovino. Rev. Bras. Ciênc. Agr. 10(2), 224-229. Doi: 10.5039/agraria.v10i2a5058

Pereira, M.B., T.J. Dias, N.R. Lima Neriane, E.D.S.J. Evandra, D.S.O. Daivyd, and M.L.M.V. Mario. 2020. Plant growth and yield of butter kale (Brassica oleracea L. var. acephala), as influenced by the combined application of bovine manure and rock powder. Acta Agron. 69(1), 38-45. Doi: 10.15446/acag.v69n1.75174

Ramos, C.G., A.G. Mello, and R.M. Kautzmann. 2014. A preliminary study of acid volcanic rocks for stonemeal application. Environ. Nanotechnol. Monit. Manage. 1-2, 30-35. Doi: 10.1016/j.enmm.2014.03.002

Resende, Á.V., C.T.T. Machado, É. de Souza Martins, M.C. de Sena, M.T. do Nascimento, L.D.C.R. Silva, and N.W. Linhares. 2006. Rochas como fontes de potássio e outros nutrientes para culturas anuais. Espaç. Geogr. 9(1), 135-161.

Ribeiro, L.S., A.R. Santos, F.S. Souza, and J.S. Souza. 2010. Rochas silicáticas portadoras de potássio como fontes do nutriente para as plantas do solo. Rev. Bras. Ciênc. Solo, 34(3), 891-897. Doi: 10.1590/S0100-06832010000300030

Santos, E.J., S.A. Ferreira, and J.F. Silva Jr. 2002. Geologia e recursos minerais do Estado da Paraíba. Secretaria de Minas e Metalurgia, Ministério de Minas e Energia, CPRM-Serviço Geológico do Brasil, Recife, Brazil.

Silva, R.R., G.A. Freitas, J.S. Silva Carneiro, F.F. Ramalho, A.V. Melo, G. Carmo Alexandrino, and C.A.O. Andrade. 2018. Resíduos orgânicos na recuperação de solo degradado sob pastagens de Brachiaria brizantha cv. Marandú. Global Sci. Technol. 11(2), 49-64.

Silva, J.C.P.M., A.C.V. Motta, V. Pauletti, C.M. Veloso, N. Favaretto, M. Bastos, and A.S. Oliveira, and L.F. Costa e Silva. 2010. Esterco de gado leiteiro associado à adubação mineral e sua influência na fertilidade de um Latossolo sob plantio direto. Rev. Bras. Ciência. do Solo, 34(2), 453-463. Doi: 10.1590/S0100-06832010000200019

Silva, D.J., M.A.C. Mouco, C.A.T. Gava, V. Giongo, and J.M. Pinto. 2013. Composto orgânico em mangueiras (Mangifera Indica L.) cultivadas no semiárido do nordeste brasileiro. Rev. Bras. Frutic. 35(3), 875-882. Doi: 10.1590/S0100-29452013000300026

Silva, J.A., A.P. Oliveira, G.S. Alves, L.F. Cavalcante, A.N.P. Oliveira, and M.A.M. Araújo. 2012. Rendimento do inhame adubado com esterco bovino e biofertilizante no solo e na folha. Rev. Bras. Eng. Agríc. Ambient. 16(3), 253-257. Doi: 10.1590/S1415-43662012000300003

Souza, J.L. and P. Resende. 2014. Manual de horticultura orgânica. Vol. 1. 3th ed. Aprenda Fácil Editora, Viçosa, Brazil.

Sun, Q., Y. Ruan, P. Chen, S. Wang, X. Liu, and B. Lian. 2019. Effects of mineral-organic fertilizer on the biomass of green Chinese cabbage and potential carbon sequestration ability in karst areas of Southwest China. Acta Geochim. 38(3), 430-439. Doi: 10.1007/s11631-019-00320-6

Tito, G.A., L.H.G. Chaves, F.G. Souza, A.R. Cavalcante, J.D. Fernandes, and A.C.F. Vasconcelos. 2019. Efeito do vermicomposto enriquecido com pó de rochas na química do solo e cultura de rabanete. Rev. Verde Agroecologia Desenvolv. Sustent. 14(4), 506-511. Doi: 10.18378/rvads.v14i4.6562

Trani, P.E., S.W. Tivelli, S.F. Blat, A. Prela-Pantano, E.P. Teixeira, H.S. Araújo, J.C. Feltran, F.A. Passos, and M.C.S.S. Novo. 2015. Couve de folha: do plantio à pós-colheita. Boletim Técnico IAC 214. Instituto Agronômico, Campinas, Brazil.

Vergel, M., J. Martínez, and S. Zafra. 2017. Cultivo de cebolla y su comportamiento en la Provincia de Ocaña. Rev. Colomb. Cienc. Hortíc. 10(2), 333-344. Doi: 10.17584/rcch.2016v10i2.5070
Yang, R., Y. Mo, C. Liu, Y. Wang, J. Ma, Y. Zhang, H. Li, and X. Zhang. 2016. The effects of cattle manure and garlic rotation on soil under continuous cropping of watermelon (Citrullus lanatus L.). Plos One 11(6), e0156515. Doi: 10.1371/journal.pone.0156515

Zambrosi, F.C.B., L.R.F. Alleoni, and E.F. Caires. 2007. Aplicação de gesso agrícola e especiação iônica da solução de Latossolo sob sistema plantio direto. Ciênc. Rural 37(1), 110-117. Doi: 10.1590/S0103-84782007000100018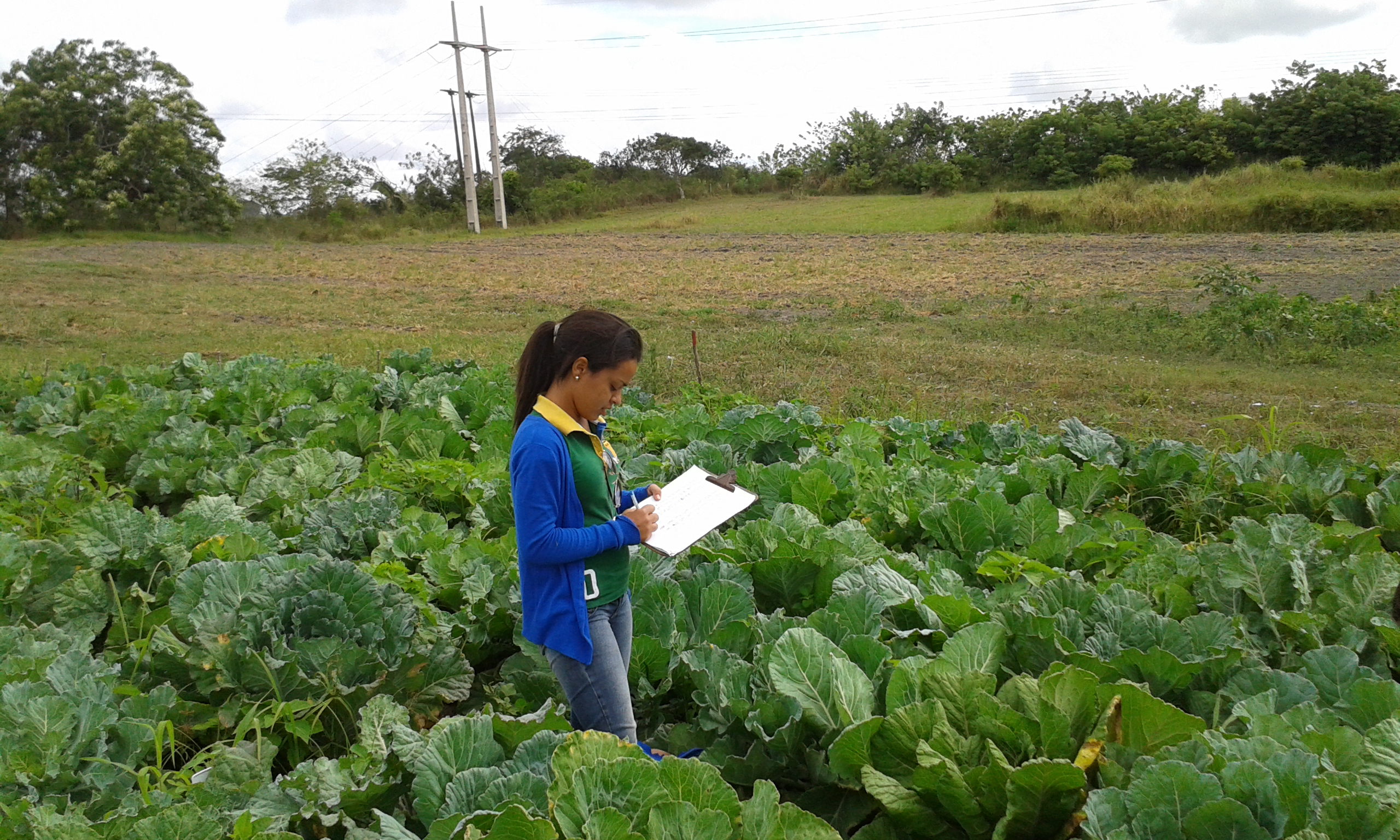 Downloads
How to Cite
Pereira, M. B., Véras, M. L. M., Lima, N. R. de, Santos, L. G. dos, & Dias, T. J. (2019). Bovine manure and rock powder and their influences on the chemical characteristics of a Latossolo soil type (yellow oxisols) under butter kale (Brassica oleracea L. var. acephala) cultivation. Revista Colombiana De Ciencias Hortícolas, 13(3), 448–457. https://doi.org/10.17584/rcch.2019v13i3.10957
Section
Vegetable section
License
The copyright of the articles and illustrations are the property of the Revista Colombiana de Ciencias Hortícolas. The editors authorize the use of the contents under the Creative Commons license Attribution-Noncommercial-ShareAlike 4.0 International (CC BY-NC-SA 4.0). The correct citation of the content must explicitly register the name of the journal, name (s) of the author (s), year, title of the article, volume, number, page of the article and DOI. Written permission is required from publishers to publish more than a short summary of the text or figures.