Creative Writing Activities for Exploring Seventh Graders' Written discourse Competence
Resumen
Abstract
This project proposes Creative Writing as a pedagogical strategy to  improve 7th graders' written discourse competence. Creative Writing is described as a chance to experiment freely with language, and it helps
to develop an efficient composing process in a meaningful environment. This paper describes a research project carried out at Técnico Comercial School in Jenesano Boyacá, with nine 7th graders as a sample. This was an action research study. Students' writing, a final test, and a semi-structured final interview were used as data collection instruments. The findings from this study reveal students' improvements through the
use of strategies to produce coherent and cohesive texts. Furthermore, the findings indicate students' advancements in written production, characterized by the use of discourse elements throughout the body of
the text.  
Key words: creative writing, writing process, writings, writing skills, discourse competence.
Descargas
Los datos de descargas todavía no están disponibles.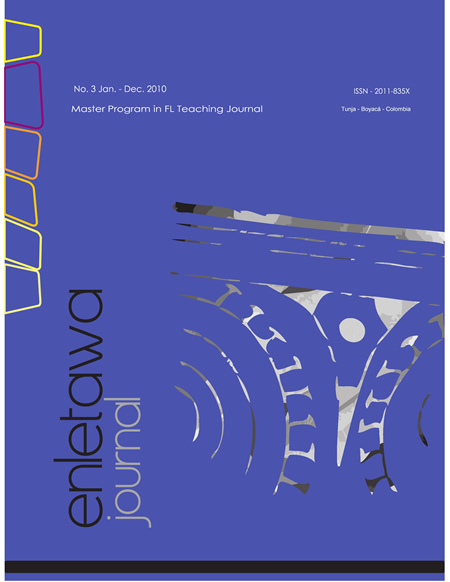 Descargas
Cómo citar
Hurtado Pérez, C. (2013). Creative Writing Activities for Exploring Seventh Graders' Written discourse Competence. Enletawa Journal, (3 Jan). https://doi.org/10.19053/2011835X.1938
Licencia