Didactic Unit Designed Using Critical Thinking: A Way To Improve Your Skills
Abstract
Abstract
Thinking is a human process which sometimes is unclear, superficial and
illogical. Critical thinking plays an important role in creating social changes as it enables people to distinguish a fact from an opinion
and interpret situations or texts taking into account: concepts, values, inferences, and previous knowledge, among other aspects.
This article presents the results of a qualitative research project which was focused on critical thinking skills development and English language level improvement through the implementation of a didactic unit. It was conducted at an NGO with displaced children of elementary English language level. Constructs related to Critical Thinking and a synthetized data analysis will be presented.
Key words: Critical thinking, inference, analysis, interpretation, skill, didactic unit.
Resumen
Pensar es un proceso humano que, en ocasiones, no es claro, es superficial e ilógico. El pensamiento crítico desempeña
un papel importante en la generación de cambios social, ya que éste permite a las personas distinguir entre un hecho y una opinión, e interpretar situaciones o textos teniendo en cuenta conceptos, valores,
inferencias y conocimientos previos, entre otros aspectos. Este artículo presenta los resultados de una investigación cualitativa que se centró en el desarrollo de habilidades del pensamiento crítico y el mejoramiento
del nivel del idioma inglés a través de la implementación de una unidad didáctica. Este estudio se desarrolló en una ONG con niños desplazados quienes manejaban un nivel básico del idioma inglés. Algunos  tructos teóricos relacionados con pensamiento crítico y una breve síntesis del análisis de datos serán presentados.
Palabras claves: pensamiento crítico,inferencia, análisis, interpretación, habilidad, unidad didáctica.
Downloads
Download data is not yet available.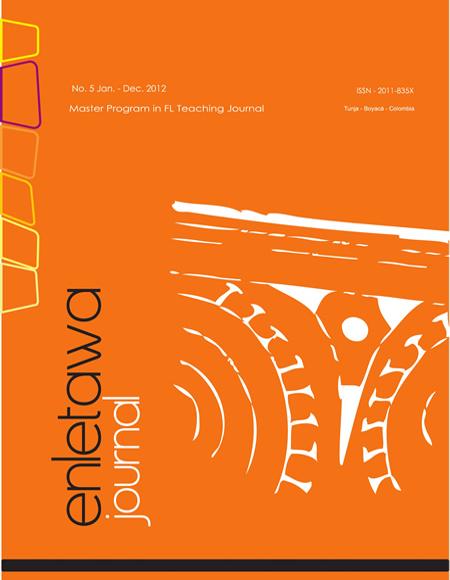 Downloads
Metrics
Views/Downloads
Abstract

514

PDF (Español)

473
How to Cite
Medina, N E C, Poveda, F M, & Sandoval, A C R. (2014). Didactic Unit Designed Using Critical Thinking: A Way To Improve Your Skills. Enletawa Journal, (5). https://doi.org/10.19053/2011835X.2573
License