Some Reflections about the National Bilingualism Plan, its Impacts and Realities in Boyacá
Abstract
Este artículo da a conocer las voces, recogidas a través de encuestas y
entrevistas, de algunos docentes del área de inglés acerca del Programa Nacional de Bilingüismo y sus efectos en el Departamento
de Boyacá. El análisis inicial de estas voces ha dado cuenta, por una parte, del interés regional por realizar alianzas tendientes al
mejoramiento del nivel de competencia en inglés de los profesores y a fomentar el empoderamiento de estos docentes de inglés en su comunidad académica. Por otra parte, los docentes mencionan su papel
pasivo en la formulación de las políticas públicas relacionadas con la promoción de  lenguas extranjeras, la falta de propuestas académicas por parte de los entes encargados de su desarrollo profesional, la pretensión de algunos colegios por volverse «bilingües», la imposibilidad de cumplir con los estándares de inglés y la necesidad de crear espacios de fortalecimiento académico para la zona rural.
Palabras clave: Bilingüismo, Plan Nacional de Bilingüismo, Docentes de Inglés en Boyacá 
Abstract
This article aims to share some English teachers´ voices regarding the effects of the National Bilingualism Plan in Boyacá. Those
voices were collected through interviews and a survey. The initial analysis shows that, on the one hand, teachers acknowledge the regional interest to join efforts to improve their English competence as well as the
empowerment they have had in their academic community. On the other hand, teachers mentioned their passive role in the formulation of public policies related to foreign languages, the lack of academic proposals for teachers' development, the willingness some schools have towards being called «bilingual» schools, the impossibility to achieve the English standards and the need to foster academic spaces for the development of English competences in rural areas.
Key words: Bilingualism, National bilingualism Program, English teachers from Boyacá
Downloads
Download data is not yet available.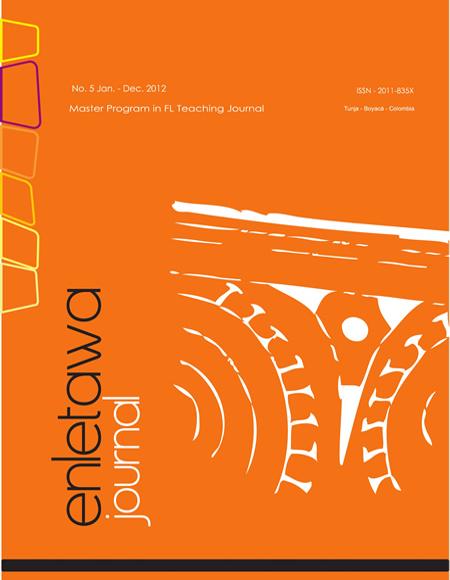 Downloads
Metrics
Views/Downloads
Abstract

237

PDF (Español)

392
How to Cite
Holguín, B R, & Espejo, N V. (2014). Some Reflections about the National Bilingualism Plan, its Impacts and Realities in Boyacá. Enletawa Journal, (5). https://doi.org/10.19053/2011835X.2574
License