Exploring Four Teachers' Perceptions in Relation to the Concept of Bilingualism at the Maria Auxiliadora School- Sogamoso, Boyacá-Colombia
Abstract
Este estudio de caso descriptivo estudia las percepciones de cuatro profesores de lengua extranjera en relación con el concepto de bilingüismo. Los participantes enseñan en una institución de carácter privado. Entrevistas fueron utilizadas como instrumento de investigación. Los resultados confirman que los profesores tienen percepciones
específicas en relación con el concepto de Bilingüismo. Más aún este concepto, tiene un rol importante en sus profesiones y en la
comunidad donde brindan la instrucción como lengua extranjera. Sin embargo, la implementación de este concepto debe ser explicada en aras de buscar el desarrollo educativo de esa comunidad.
Palabras clave: Bilinguismo, percepciones, domino, programa de bilinguismo. 
Abstract
This explorative report documents four EFL teachers' perceptions concerning the concept of bilingualism development in a private school. Phenomenological interviews were conducted. Findings suggest that
teachers have specific perceptions about how bilingualism is taking an important place in their professional development and community. Also the development of this concept is visible in this community.
However, this aspect must be discussed in order to clarify misconceptions and include it in the real practice as a component of improvement in the educative field in that community.

Key words: Bilingualism, Perceptions, Domain, Bilingualism program.
Downloads
Download data is not yet available.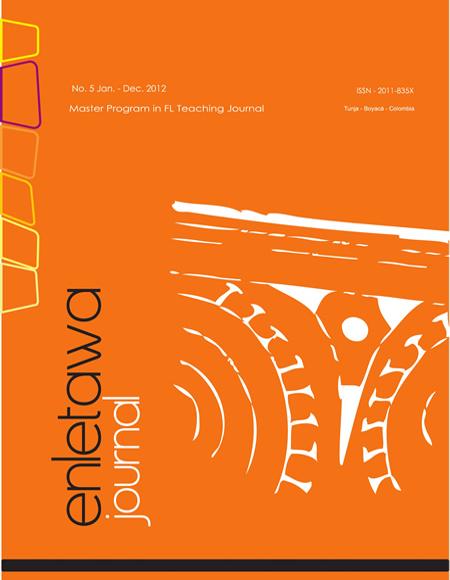 Downloads
Metrics
Views/Downloads
Abstract

258

PDF (Español)

204
How to Cite
Cárdenas, M B. (2014). Exploring Four Teachers' Perceptions in Relation to the Concept of Bilingualism at the Maria Auxiliadora School- Sogamoso, Boyacá-Colombia. Enletawa Journal, (5). https://doi.org/10.19053/2011835X.2578
License