Lo tradicional y lo alternativo en la formación de profesores de lenguas (Inglés): una mirada desde la ventana de la pedagogía crítica
Abstract
Abstract
This article proposes a reflection of the author about the traditional and the alternative as two trends in the field of language teacher education. Such reflection revolves around the question In what lies the gap between traditional and alternative the training of language educators? With this question in mind, the author adopts a favoring attitude of a humanist and critical
approach to explain a vision of education as a social practice as crucial in teaching and language learning. Furthermore, the author gives an account of his construction of a vision informed by some tenets of Critical Pedagogy and his experience in the education of English language teachers. 
Keywords: critical pedagogy, language teacher education, humanistic education, language as social practice
Downloads
Download data is not yet available.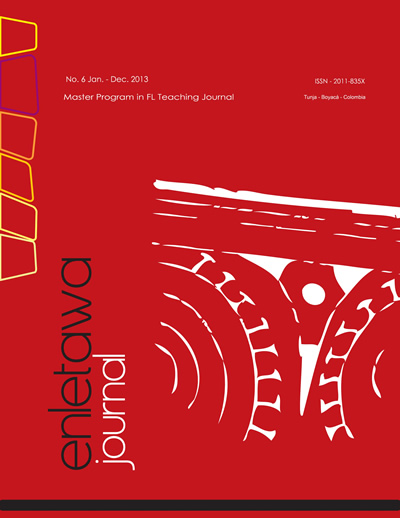 Downloads
How to Cite
Quintero Polo, Álvaro H. (2014). Lo tradicional y lo alternativo en la formación de profesores de lenguas (Inglés): una mirada desde la ventana de la pedagogía crítica. Enletawa Journal, (6). https://doi.org/10.19053/2011835X.3085
Section
Reflective Papers
License