Language learning strategies: a study of learners perceptions
Abstract
This study aims at exploring and analyzing howthree seventh graders atNormal School in Chiquinquirá Boyacá perceive the use of language learning strategies. The Activities applied to this group were focused on grammar, speaking, vocabulary and listening based on theories about memory strategies in charge of creating mental linkages, Cognitive strategies like analyzing,Affective strategies related to feelings students have towards language learning and Social strategies that facilitate interaction (Liu, 2010). Datawas collected through interviews, observation and a survey, the findings showed that students had a preference for the activities that involved visual aids and group work, as well as the common use of thememory strategies, especiallywhen they were evaluated.
Downloads
Download data is not yet available.
References
Abhakorn, J. (2008) The Implications Of Learner Strategies For Second or Foreign Language Teaching. ARECLS, Vol.5, 186-204.
Alanazy, S.(2011). Research methods and statistical techniques employed by doctoral dissertations in education. Wayne State University: ProQuest
databases. http://biblio.uptc.edu.co:2130/media/pq/classic/doc/2439493161/fmt/
prv/rep/NPDF
Cassidy, S(2004). Learning Styles: An overview, models and measures.
Educational Psychology. An International journal of Experimental Pshychology
Chamot, A. et al. (1999). The Learning Strategies Handbook. Ch 3: Instructional Framework.
Chamot, A. (2005). Language Learning Strategy Instruction: Current Issues and Research Annual Review of Applied Linguistics. Printed in the USA. Copyright © 2005 Cambridge University Press
Fandiño, Y. (2010). Explicit Teaching of Socio Affective Language Learning Strategies to Beginner EFL students. IKALA, vol.15.
Freeman, D. (2005). The use of Language data in the study of teachers' knowledge. Ch. 5.
Gallego,A. and Martínez, E. (1999). Estilos de Aprendizaje y E-Learning. Hacia un mayor Rendimiento Académico.
Gómez, M. & Matos (2008) Estrategias de Aprendizaje para la Producción Oral en FLE. Universidad de Los Andes. Synergies. Venezuela no. 4 p 66-89.
Grenfell, M. & Harris, V. (1999). Modern Languages and Learning Strategies : In Theory and Practice. London, GBR: Routledge, 1999. p 49. http://site.e b r a r y. c om/ l i b / b i b l i o t e c a u p t c /
Doc?id=10054574&ppg=49
Griffiths, C. & Parr,J.(2001). Languagelearning Strategies: Theory and
perception.
Kumaravadivelu, B. (2009). Understanding Language Teaching from Method to Postmethod. Ch. 2: Learning Factors and Processes.
Lan, R. (2005). Language Learning Strategies Profiles Of EFL Elementary
School Students In Taiwan. Faculty of the Enletawa Journal 75
Master Program in FL Teaching Graduate School.University of Maryland,
College. requirements for the degree of Doctor of Philosophy.
Liu, J. (2010). Language Learning Strategies and Its training Model. School of Foreign Language. International Education Studies. Quindao, China. Vol. 3.
Macaro, E. (2006). Strategies for Language Learning and for Language Use: Revising Theorethical Framework.
Marshall, C., & Rossman, G. (1995). Designing qualitative research second ed. Thousand Oaks,CA: Sage. Miles, M. B.
McNiff, J. (2010) Action Research for Professional Development: Concise
Advice for New(and Experienced)Action Researchers. Dorset: September. Adeveloped version of the ubiquitousbooklet to be found at http://www.jeanmcniff.com/ar-booklet.asp
O´Malley,M. & Chamot,A. (1990). Learning Strategies in Second Language Acquisition. Ch. 2: A Cognitive Theory of Learning. Cambridge: C.U.P.
Oxford, R. (2003). Language Learning Strategies an Overview. Retrieved from: http://hyxy.nankai.edu.cn/jingpinke/buchongyuedu/learning%20strategies%20by%20Oxford.pdf
Pei-Shi, W. (2012). The effect of learning styles on learning strategy use by EFL learners. Journal of Social Sciences, 8(2), 230-234. Retrieved from http://s e a r c h . p r o q u e s t . c om/ d o c v i ew/
?accountid=4379
Prieto, C. (2007). Improving Eleventh Graders´Oral Production in English class through Cooperative Learning Strategies. Universidad Nacional de Colombia: PROFILE, N° 8.
Protheroe, N. (2002). More Learning Strategies for deeper Student Learning. The Education Digest, 68(4), 25-28. Retrieved from http://search.proquest. com/docview/218163434?accountid=43790
Ryan, R. and Deci, E. (2000). Intrinsic and Extrinsic Motivations: Classic Definitions and New Directions. Contemporary Educational Psychology 25, 54-67doi: 10.1006/ceps.1999.1020, available online at http://www.idealibrary.com on. University of Rochester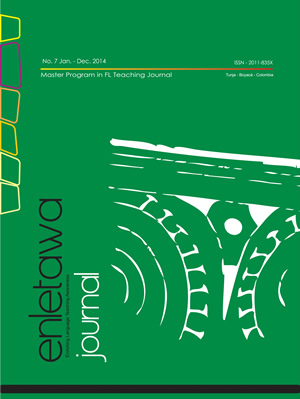 Downloads
Metrics
Views/Downloads
Abstract

1530

PDF (Español)

452
How to Cite
Murcia Sarmiento, M A. (2015). Language learning strategies: a study of learners perceptions. Enletawa Journal, (7). https://doi.org/10.19053/2011835X.3634
License