"De petits promoteurs de la Vie Saine" des émissions de radio pour entendre, se faire entendre et apprendre le français
Abstract
Cet article a pour objectif, présenterle projet " De petits promoteurs de la vie saine " qui
a été réalisé à l'Institution Éducative " Silvino Rodríguez, siège San Antonio " avec les
élèves de CE2. C'est un travail de recherche qui est basé sur des émissions enregistrées
de radiopour promouvoir l'utilisation de la langue française, et améliorer la
compétence communicative des élèves,en particulier la compréhension orale et la
production orale. Les émissions de radio portent sur des sujets mis en rapport au
projet transversal : " Styles de vie saine "de l'Institution Éducative.On a pu constater que
l'enseignement et l'apprentissage d'une langue deviennent plus significatifs quand la langue est un moyen pour accéder àd'autres connaissances. Dans ce cas, le français a été au service du projet transversal de l'institution.
Downloads
Download data is not yet available.
References
Bailey, K. M. (1990). The use of diary studies in teacher education programs Second Language Teacher Education. In J. Richards et D. Nunan. Second Language Teacher Education. New York: Cambridge University Press.
Canale, M., & Swain, M. (1980). Theoretical bases of com-municative approaches to second language teaching and testing. Applied linguistics, 1(1), 1-47.
de l'Europe, C. (2001). Cadre européen commun de référence pour les langues. Paris: Didier.
Hymes, D. H. (1971). Acerca de la competencia comunicativa. En ligne: http://cvc.cervantes.es/ensenanza/ biblioteca_ele/diccio_ele/diccionario/ competenciacomunicativa.htm. Consulté en mai 30.
McTaggart, R., & Kemmis, S. (Eds.). (1988). The action research planner. Deakin university.
Mata, M. C. (2012). La radio una relación comunicativa. Revista académica de la federación latinoamericana de facultades de comunicación social. En ligne: http://palabraradio.org/media/uploads/
documents/la_radio_una_ relacion_comunicativa.pdf
Merchan, E. &Galeano, M. (2013). Ventaquemada accueille le français à travers la radio. Création d'une émission de radio pour l'enseignement du français langue étrangère dans un contexte rural.
Trabajo de grado. Universidad Pedagógica y Tecnológica de Colombia, Tunja
Nunan, D. (1992). Research methods in language learning. London: Cambridge University Press.
Pardo Segura, M. (2014). Pedagogía de la acción en ambientes radiales para la enseñanza y el aprendizaje de la escritura y la lectura en francés. Lenguaje, 42(2), 315-359.
Puren, C. (2014). Approche communicative et perspective actionnelle, deux organismes méthodologiques génétiquement opposés… et
complémentaires En ligne : http://www.christianpuren.com/mes-travauxliste- et-liens/2014a/. Consulté en mai 31
Puren, C. (2013). De l'approche communicative à la perspective actionnelle : deux ruptures décisives En ligne : http://www.christianpuren.com/mes-travaux/2013h/. Consulté en mai 31
Richards, J. C., & Lockhart, C. (1996). Reflective teaching in second language classrooms. New York: Cambridge University Press.
Rosen, E. (2009). Perspective actionnelle et approche par lês tâches en classe de langue. Le Français dans le Monde: França, Paris: CLE Internacional, (45), 487-498.
Shannon, C. E. & Weaver, V. (1949). The mathematical theory of communication. Urbana: The University of Illinois Press.
Van Ek, J. (1986). Objectives for foreign language learning (Vol I.). Strasbourg: Conseil de l'Europe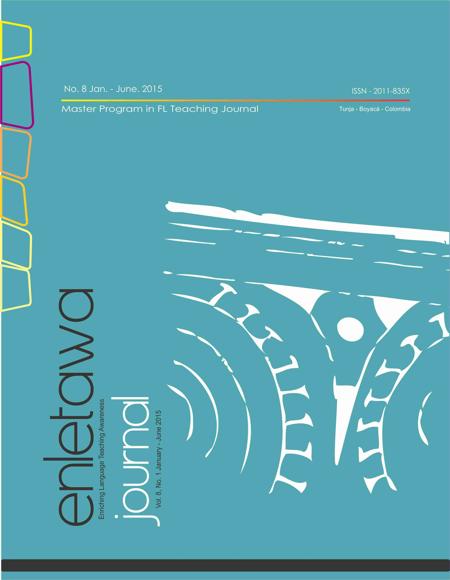 Downloads
Metrics
Views/Downloads
Abstract

328

PDF (Français )

227
How to Cite
Dimas Sierra, M F, González Ruiz, H E, & Alezones Niño, N C. (2015). "De petits promoteurs de la Vie Saine" des émissions de radio pour entendre, se faire entendre et apprendre le français. Enletawa Journal, 8(1). https://doi.org/10.19053/2011835X.4083
License